Brock Purdy did end up beating early post-surgery projections. The second-year quarterback's previously reported plan to throw this week is a go, and John Lynch said no setbacks emerged after the session.
The 49ers will still be, understandably, proceeding cautiously with last year's third-stringer-turned-starter. But Lynch said during a Sirius XM Radio appearance the team is "incredibly encouraged" by Purdy's early recovery stages.
[RELATED: Trey Lance Not Considering Trade Request]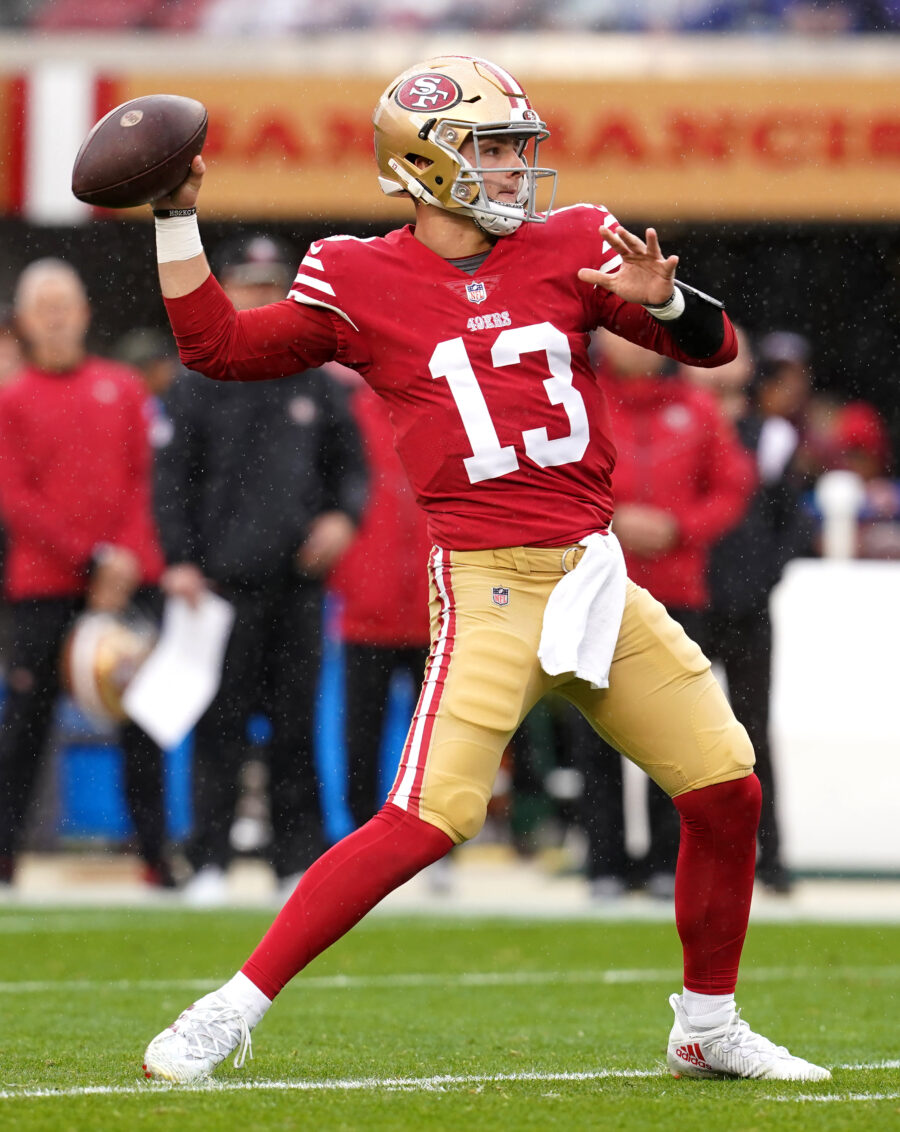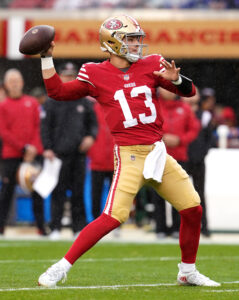 Last year's Mr. Irrelevant underwent UCL surgery March 10, following a slight delay due to swelling, and his recovery timetable could run up against the 49ers' regular-season opener. Should Purdy continue to progress and make it back in time, Lynch said he remains the "leader in the clubhouse" to start. Lynch, as expected, praised Trey Lance — who has taken the bulk of the 49ers' first-team reps during OTAs thus far — and labeled the Purdy-Lance-Sam Darnold setup an open competition.
"Is it a flash in the pan or is it the real deal?" Lynch said, regarding Purdy (h/t The Athletic's David Lombardi). "As we've gone back and studied it, he played at a high, high level. Not only played within the system, he made a lot of plays outside the system by extending plays. He showed tremendous playmaking ability. He showed tremendous ability to run the system efficiently, effectively, push the ball downfield — he just had an incredible first year."
In not chasing an upgrade and letting Jimmy Garoppolo walk in free agency, the 49ers effectively showed that confidence in Purdy building on his stunning rookie-year form. The team did add Darnold but did so after Lance underwent a second ankle surgery. Darnold has also taken first-team reps during OTAs, per the San Jose Mercury News' Cam Inman, and represents a wild card of sorts given the advantages the Kyle Shanahan-orchestrated offense has on the Jets and Panthers' attacks Darnold helmed during his first five seasons.
It will certainly be interesting to see if Darnold's talent level begins to show during Purdy's recovery, as he and Lance are currently slated to back up a former No. 262 overall pick. Purdy's form once he receives full clearance will obviously bring attention, given the healthy options the 49ers now have at quarterback. For now, however, the 2018 and '21 No. 3 draftees are in line for reserve roles — though, it will be difficult to envision either being a third-stringer in the event the 49ers keep all three come September.
Follow @PFRumors