Only the 1992 Oilers and 2013 Chiefs surpass the Chargers' 27-point collapse in Jacksonville. While Sean Payton loomed as a potential HC candidate, GM Tom Telesco elected to give Brandon Staley a third season. The Bolts did overcome more major injury trouble to return to the postseason.
The offseason buzz that annually follows the Chargers has been somewhat muted this year, but once again, the oft-hyped team promises to be a factor in a deep AFC. The Bolts have two new coordinators and made a splashy addition to their skill-position corps in the draft. They also completed a long-rumored extension for their latest star quarterback — this one moving into a new NFL salary bracket compared to the deals handed out to Philip Rivers.
Extensions and restructures:
A longtime Colts exec, Telesco was on-hand to observe how Indianapolis built its rosters around Peyton Manning's 2004 extension. Whereas that deal checked in at seven years and $98MM and the Telesco-constructed Rivers extension at four years and $84MM (2015), Herbert's reflected the cap spikes and the swiftly shifting QB market. Herbert followed Jalen Hurts and Lamar Jackson by agreeing to a deal with a record-setting AAV this offseason.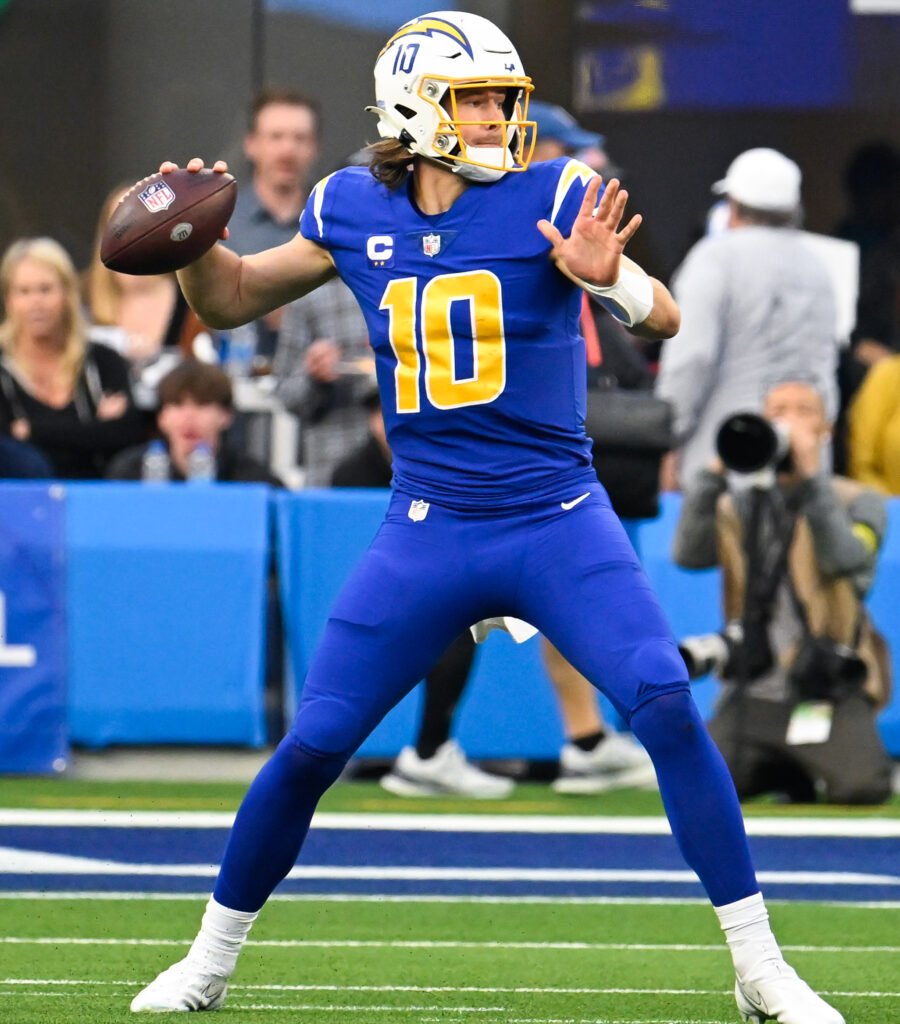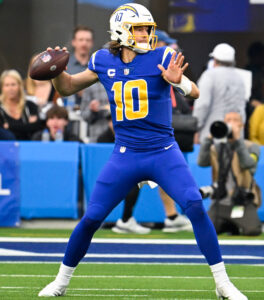 The Packers have received the most attention for forming a transition between two Hall of Fame-caliber passers, with the Brett Favre–Aaron Rodgers run lasting 31 seasons. But the Chargers have rostered three such QBs since 2001. Unlike Drew Brees, Rivers may not be a lock to enter Canton. But he gave the Bolts upper-echelon play during most of his 14 seasons as their starter. Without any gap years, the Chargers have gone from Brees to Rivers to Herbert. That has not resulted in MVPs like the Packers duo brought (seven) or Super Bowl berths (three), but Herbert still has plenty of time on these fronts. And the Bolts now have their latest set-it/forget-it QB signed through 2029.
Jackson's long-running Ravens talks, which began back in 2021, produced a true five-year deal. With Hurts' second-round rookie contract not including a fifth-year option, the Eagles' latest QB extension gives them control for six seasons. Herbert signed off on the Chargers having seven, signing a five-year extension after the team made the automatic call to exercise his option. Only Patrick Mahomes (through 2031) has a contract that extends farther into the future. This structure will help the Chargers build around the $52.5MM AAV, minimizing cap hits along the way.
The Chargers could not accomplish much during Herbert's three rookie-deal seasons, advancing to one playoff bracket and enduring a brutal loss when there. But the strong-armed passer presented immediate franchise-QB signs and, other than a dip following a September 2022 rib fracture, has charted a historic course. Only Dan Marino's 98 touchdown passes better Herbert's through-three-years number (94), illustrating how prodigious the Dolphins legend was for his era; no one tops Herbert's 14,089 passing yards through Year 3. Herbert followed his Offensive Rookie of the Year campaign with a Pro Bowl starting nod. His numbers took a hit last season, as the rib issue and both his top receivers (and left tackle Rashawn Slater) missing extended time hurt the Bolts' cause. But this extension was always on the team's docket.
The Chargers did not attach any void years to this contract (yet), but running it through 2029 will keep Herbert's cap numbers south of $38MM until 2026. As the Chiefs have done on multiple occasions with Mahomes' deal, the Chargers can go to the restructure well once faced with a $46.35MM cap hit in 2026. The team managed to give Herbert that record-setting AAV while keeping the cap hits low enough that rostering two $20MM-per-year receivers (Keenan Allen, Mike Williams) along with two $23MM-plus edge rushers (Joey Bosa, Khalil Mack) is manageable.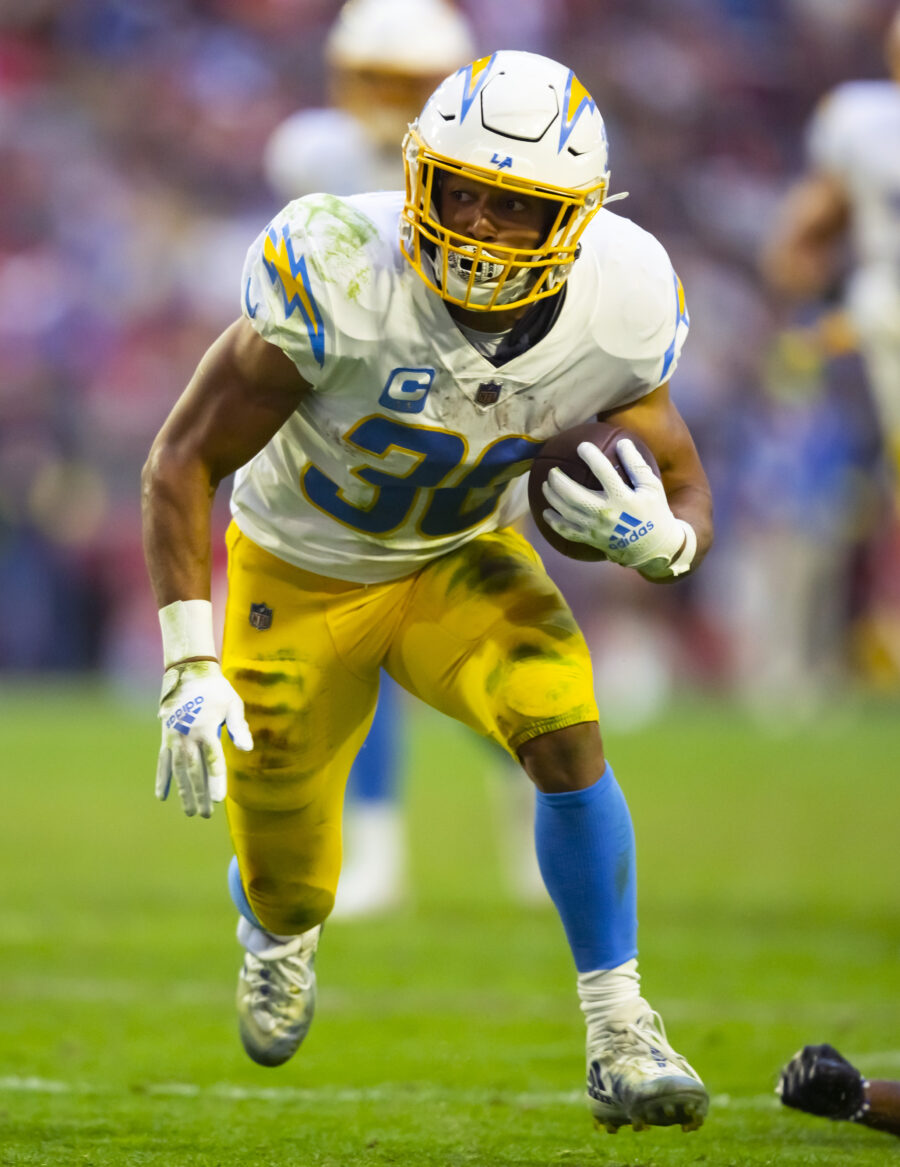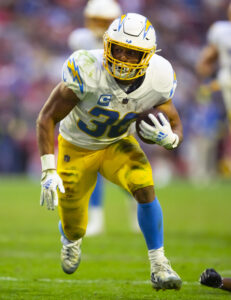 Herbert's $133.7MM guarantee number trails only Deshaun Watson's deal — a contract this year's QB extension candidates helped cement as an outlier — and Jackson's $135MM number. For total guarantees, Herbert's $193.7MM figure leads the non-Watson field by more than $12MM.
Doubling as one of the many flashpoint moments at the running back position this offseason, the Chargers refused to give Ekeler a raise more in line with his contributions. The dual-threat back led the league in touchdowns in 2021 and '22, totaling 38. Ekeler offers top-shelf receiving ability which helped compensate for the injuries elsewhere on offense last season. The Chargers let their UDFA find seek a trade, but as RB value decreased yet again, no serious talks commenced. Ekeler remains tied to the four-year, $24.5MM contract — one given in 2020, as the Bolts said goodbye to Melvin Gordon — he has outplayed.
Ekeler, 28, has not been shy about addressing the value of the modern running back. Unlike some of the other backs to voice frustration about where the market has gone, Ekeler provides a clear passing-game dimension that has made his $6.13MM-per-year deal age incredibly well for the Bolts. Los Angeles was able to ink Ekeler to that extension due in large part to finding him as a UDFA out of a Division II school. Even after this year's market shakeup — which included high-profile releases, two notable pay-cut moves, no free agency deal topping $6.5MM AAV and three franchise-tagged backs not being extended — Ekeler's AAV sits 11th at the position.
The Chargers threw Ekeler a bone in the form of the $1.6MM incentive package, which is based on his scrimmage yards, touchdowns and the elusive Pro Bowl berth. The yardage incentive begins at 1,125 and tops out at 1,639. The TD section ranges from 10-16. He can earn up to $600K in this area. While Ekeler stands to generate interest on next year's market, he is set to join Saquon Barkley, Josh Jacobs, Tony Pollard, Derrick Henry, D'Andre Swift, J.K. Dobbins and Antonio Gibson as free agents-to-be. Another crowded market will likely suppress backs' value once again, and the Bolts will also have the franchise tag available.
Free agency additions: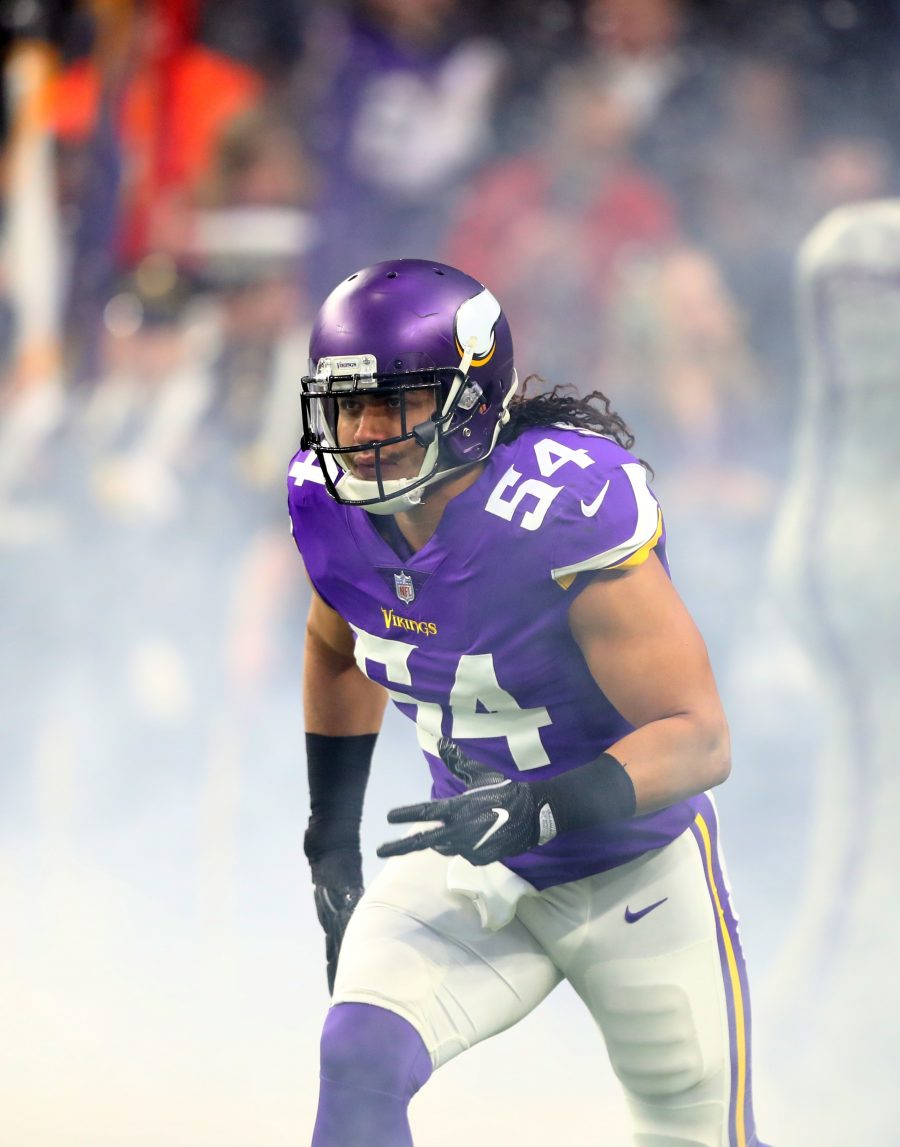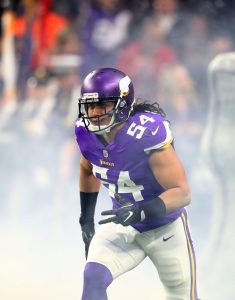 The Vikings reached agreements to keep their other two remaining Mike Zimmer-era defensive cornerstones — Harrison Smith, Danielle Hunter — this offseason, but Kendricks was an early cap casualty. Taking advantage of what became — beyond the Tremaine Edmunds and Bobby Okereke deals — a buyer's off-ball linebacker market, the Chargers will give the ninth-year veteran a chance to bounce back. A UCLA alum, Kendricks has 113 starts under his belt and will provide considerable experience from a Bolts team that has not been able to rely on 2020 first-rounder Kenneth Murray.
A former second-round pick, Kendricks ascended to the All-Pro level in the late 2010s. Pro Football Focus rated the ex-Minnesota middle 'backer as a top-three off-ball LB in 2019 and '20 but viewed the veteran as sliding a bit over the past two seasons. PFF slotted him 50th at the position in 2022. Still, Kendricks totaled 16 tackles for loss from 2021-22 and topped 135 total stops in each of those seasons. He also finished with 10 passes defensed and six sacks, providing some versatility, in that span.
Re-signings: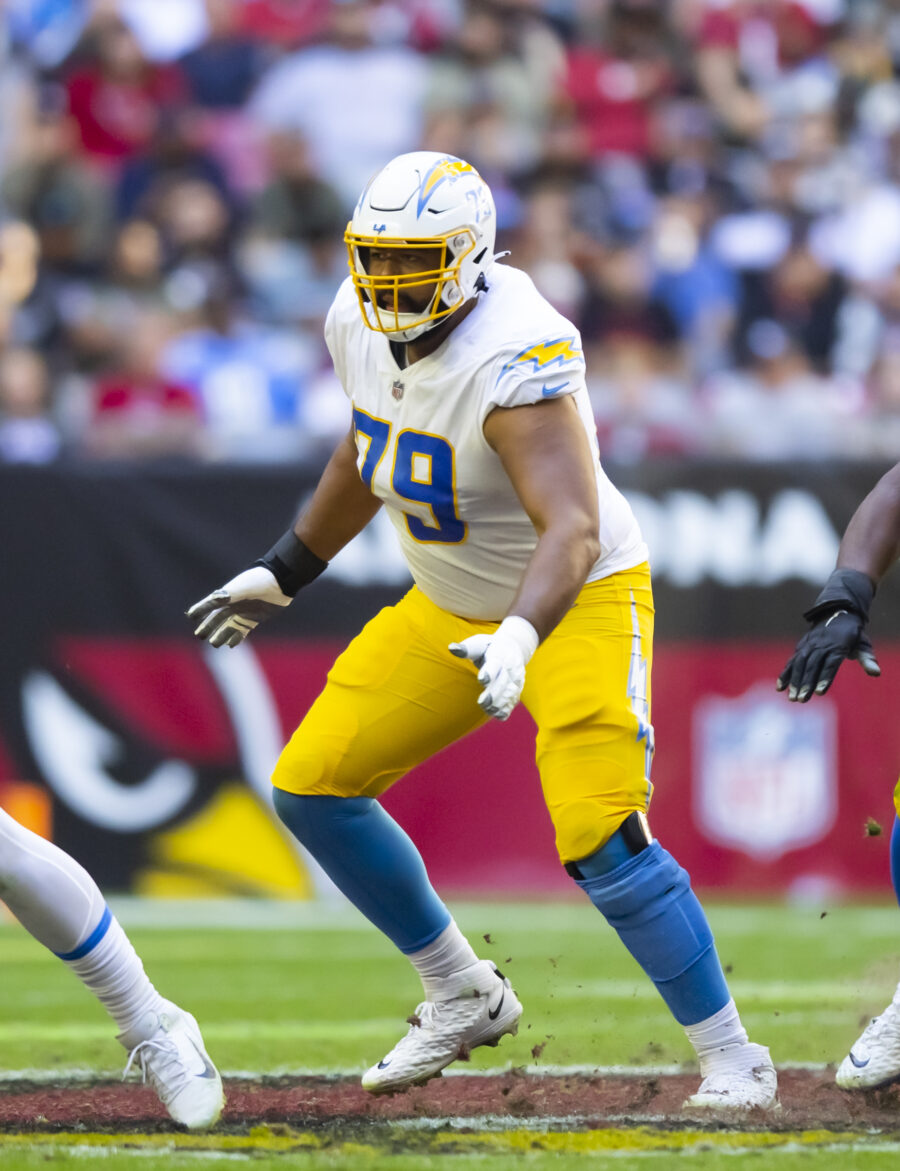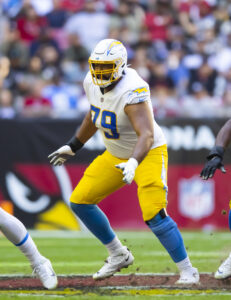 The Chargers' Bryan Bulaga bet backfired, and Storm Norton proved a substandard option in 2021. While Pipkins did not impress early in his career, either, he made some well-timed improvements and landed a nice mid-tier contract as a result. PFF still did not think too much of Pipkins' performance — particularly as a run blocker — slotting him outside the top 60 at tackle last season, but the Bolts disagreed. After seeing the former third-round pick make strides during the '22 offseason, the team's above-referenced restructures cleared cap space to keep the young right tackle off the market.
Heading into his age-27 season, Pipkins presents the Chargers with rare RT continuity. The team has not deployed the same primary right tackle since Sam Tevi manned the spot during the 2018 and '19 seasons. Pipkins' return also gives the Bolts the potential to deploy one of the NFL's best O-lines. Pro Bowlers Slater and Corey Linsley anchor the group, with 2022 first-rounder Zion Johnson set to move from right to left guard to make room for converted tackle Jamaree Salyer, who fared well as Slater's injury substitute last season. With Pipkins now re-signed, each of L.A.'s starters is signed for at least two more seasons. Slater's rookie deal can (and almost certainly will) be extended through 2025 via the fifth-year option.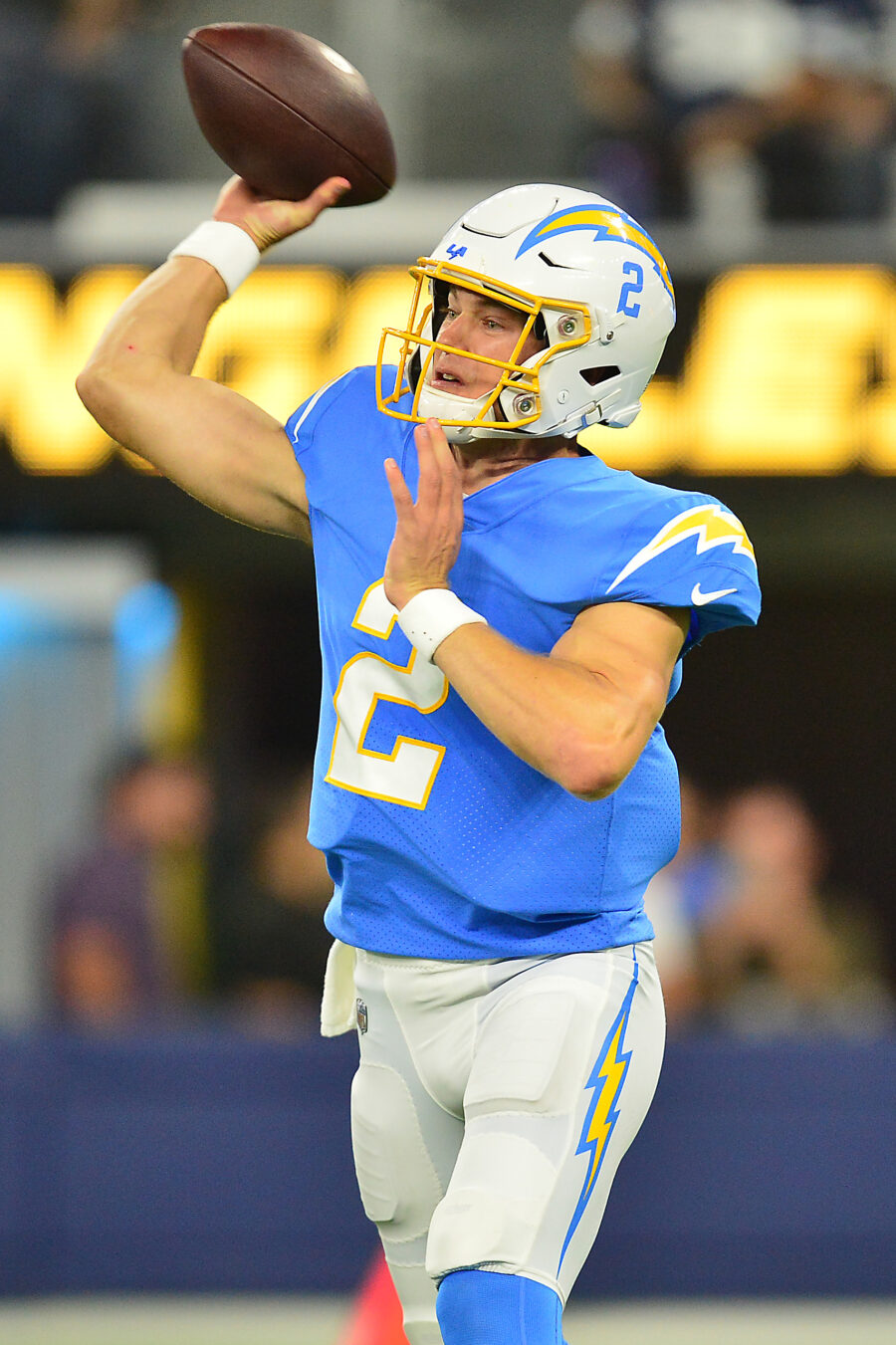 The role of Herbert's backup has not come into play much, despite last season's injury. Since the Tyrod Taylor injection controversy brought Herbert into the Bolts' lineup in Week 2 of the 2020 season, the former No. 6 overall pick has not missed a start. But the team will transition from one of the most experienced backups in recent memory (Chase Daniel) to Stick, a career third-stringer. The North Dakota State starter between Carson Wentz and Trey Lance, Stick went a cool 49-3 as the Bison's QB1, leading the Division I-FCS dynasty to two national championships. As a pro, however, Stick has appeared in one game in four seasons. Still, the Bolts groomed the 27-year-old QB for this role during Daniel's tenure.
The maladies afflicting Herbert, Allen and Williams received more attention, but Guyton going down with an ACL tear in Week 3 hindered the Bolts' deep-passing game. The former UDFA averaged 18.3 yards per catch in 2020 and totaled 448 receiving yards in 2021, scoring six touchdowns — including this rather memorable air strike — in that span. He has yet to come off the active/PUP list, however.
A former Rams cog, Fox is now 2-for-2 in six-sack seasons when playing in Staley's scheme. After a six-sack season under Staley for the Rams in 2020, he produced 6.5 for a team that spent most of last season without Bosa. Last season marked his career high for QB hits (11) as well. Fox also aided a Bolts team that lost Austin Johnson and Otito Ogbonnia for the season. Given the Chargers' injury issues, Fox (no missed games in five seasons) represents important depth up front.
Notable losses:
Nasir Adderley, S (retired)
Bryce Callahan, CB
DeAndre Carter, WR
Chase Daniel, QB
Tyeler Davison, DL
Matt Feiler, G (released)
Storm Norton, T
Troy Reeder, LB
Richard Rodgers, TE
Kyle Van Noy, LB
Drue Tranquill, LB
Joining the team during the offseason in which the Chargers added fellow starters Slater and Linsley, Feiler worked alongside them for two seasons. The Bolts decided to cut costs at guard, shifting money to right tackle. Feiler caught on with the Buccaneers, fetching a lower-cost deal compared to the three-year, $21MM pact the Bolts gave him in 2021. The Chargers saved $6.5MM by cutting Feiler, who joined the rest of this departure contingent in not finding green pastures in free agency.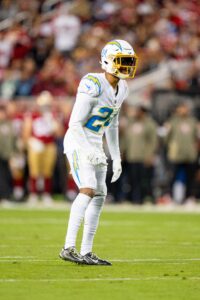 Despite a 146-tackle, five-sack season that undoubtedly thrilled his set of IDP fantasy GMs, Tranquill only received a one-year, $3MM deal from the Chiefs. Carter also relocated to a division rival, signing with the Raiders (one year, $1.5MM). The Chargers are all set to make fourth-round speedster Derius Davis their primary return man. The 5-foot-8 rookie totaled an eye-catching six return TDs at TCU, finishing his career as an All-American for the national championship-bound Horned Frogs.
Callahan and Van Noy joined the Chargers after the 2022 draft and made key contributions. Although injuries marred Callahan's Broncos tenure, the veteran stayed mostly healthy in L.A. Missing only two games, Callahan, 32, patrolled the slot for the Chargers. The Bolts are holding a competition between Asante Samuel Jr. and second-year safety Ja'Sir Taylor to succeed Callahan inside. Samuel has experience at both the slot and outside corner positions, but the team is concerned about the second-generation pro's tackling. Van Noy, 32, stepped into a regular pass-rushing role after Bosa's groin injury. The multi-stint Patriot finished with his fifth five-plus-sack season in six years. Both Callahan and Van Noy are unsigned.
Of the Charger losses, Adderley saw the most playing time. The former second-round pick started 44 games over the course of his rookie contract. The Delaware alum certainly could have scored a decent contract in free agency, making this retirement timing interesting. Considering Derwin James' shaky health history, the Chargers losing Adderley could be somewhat costly. They have former sixth-round pick Alohi Gilman (nine career starts) and 2022 third-rounder JT Woods as the top options alongside the All-Pro.
Draft: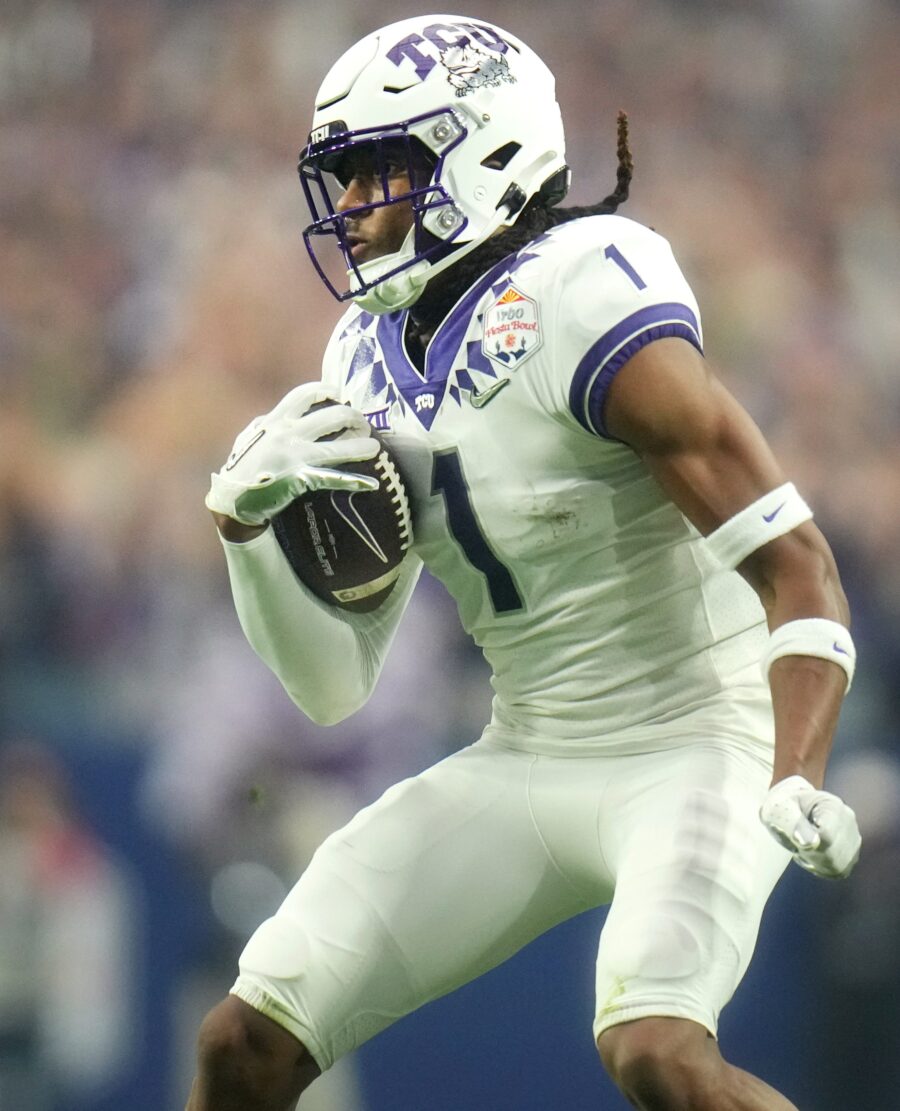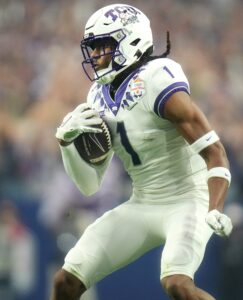 Linked to making an early-round pass-catching upgrade for a while ahead of the draft, the Chargers pounced and made Johnston the second wide receiver off the board. The Bolts passed on Zay Flowers and Jordan Addison to go with Johnston, the biggest of the first-round receiver batch — at 6-foot-2. The addition of the TCU product gives the Chargers a deep cast of receivers, with Guyton back and 2021 third-rounder Josh Palmer having shown improvement both last season and during this year's offseason.
The Ravens expected the Chargers to go with the size-speed performer, waiting rather than trade up for Flowers. Telesco did not disappoint, adding Johnston to a receiving corps already the 6-4 Williams. Johnston struggled with drops in college, and the Horned Frogs' recent run of first-round wideouts — Jalen Reagor, Josh Doctson — has disappointed. But the latest high-end talent played a key role in elevating the Big 12 program to a stunning national championship game appearance. Johnston averaged at least 17.8 yards per catch in each of his three seasons in Fort Worth, finishing with 1,069 yards as a junior.
One of the best skill players in Chargers history, Allen is going into his age-31 season. Telesco shut down the idea of trading the route-running extraordinaire to create cap space, but the steady option is on the back nine. Williams has long offered a boom-or-bust profile, which makes the Johnston pick interesting due to the variance this tools-heavy prospect presents. But having this trio and Palmer in the fold could certainly make the Bolts a handful — when at full strength. When Allen or Williams goes down, Johnston will provide important depth as well. The Chargers sank some investments into TCU's operation, grabbing a Johnston receiver mate and his college QB on Day 3.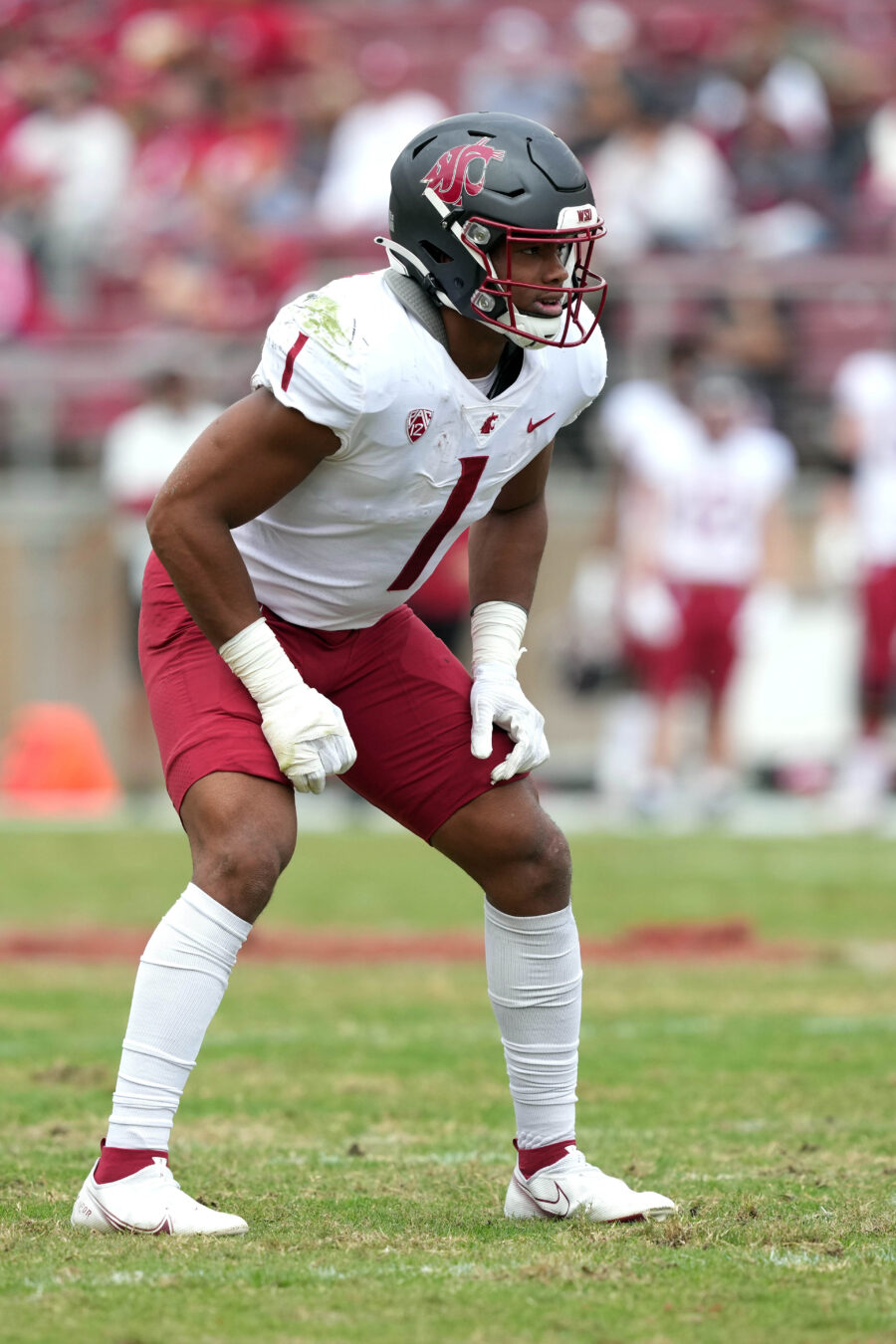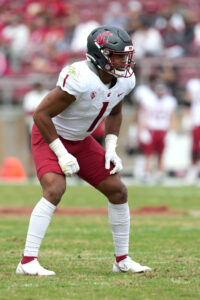 Mack is a year older than Allen, turning 32 this offseason. Two seasons remain on the former Defensive Player of the Year's Bears-built contract, but he is tied to a $38.5MM cap hit for 2024. Moving on from Van Noy, the Chargers have a younger OLB3 option in Tuipulotu. The L.A. native broke through for a 13.5-sack, 22-TFL season in 2022, earning Pac-12 Defensive Player of the Year acclaim.
Tuipulotu offers an intriguing option behind Bosa and Mack, who have each battled injuries in recent years. Mack missed 10 games due to a foot injury in 2021; Bosa missed 12 last year, four in 2020 and nine in 2018. As is the case at receiver, the Chargers needed a quality top backup now and a potential long-term starter later.
Scouts Inc. rated Henley as this year's No. 75 overall prospect. With Murray far from certain to be back in 2024 and Kendricks in his early 30s, the Bolts need more answers on their defensive second level. A former Nevada wide receiver recruit, Henley made the rare transition to linebacker during his college career. He posted a four-INT, 94-tackle season with the Wolf Pack in 2021 and, showing some upside as a pass rusher, made 106 stops (12 for loss) and four sacks during his one-season Washington State stay. Henley may not be needed as a regular this season; that could change by 2024.
Other:
The Chargers dropped from fourth in offensive DVOA in 2021 to 19th in 2022, and as the heat turns up on Staley, he made the common move — for coaches in this position — of firing his top lieutenant. Lombardi received frequent criticism for conservative game plans, despite having one of the game's best talents leading the offense. But the two-year Chargers play-caller elevated Herbert's play in 2021. The Oregon-developed superstar threw 38 touchdown passes and topped 5,000 passing yards that year. Last season, injuries to Herbert, Allen, Williams (at a rather inopportune time) and Slater limited the Bolts' attack.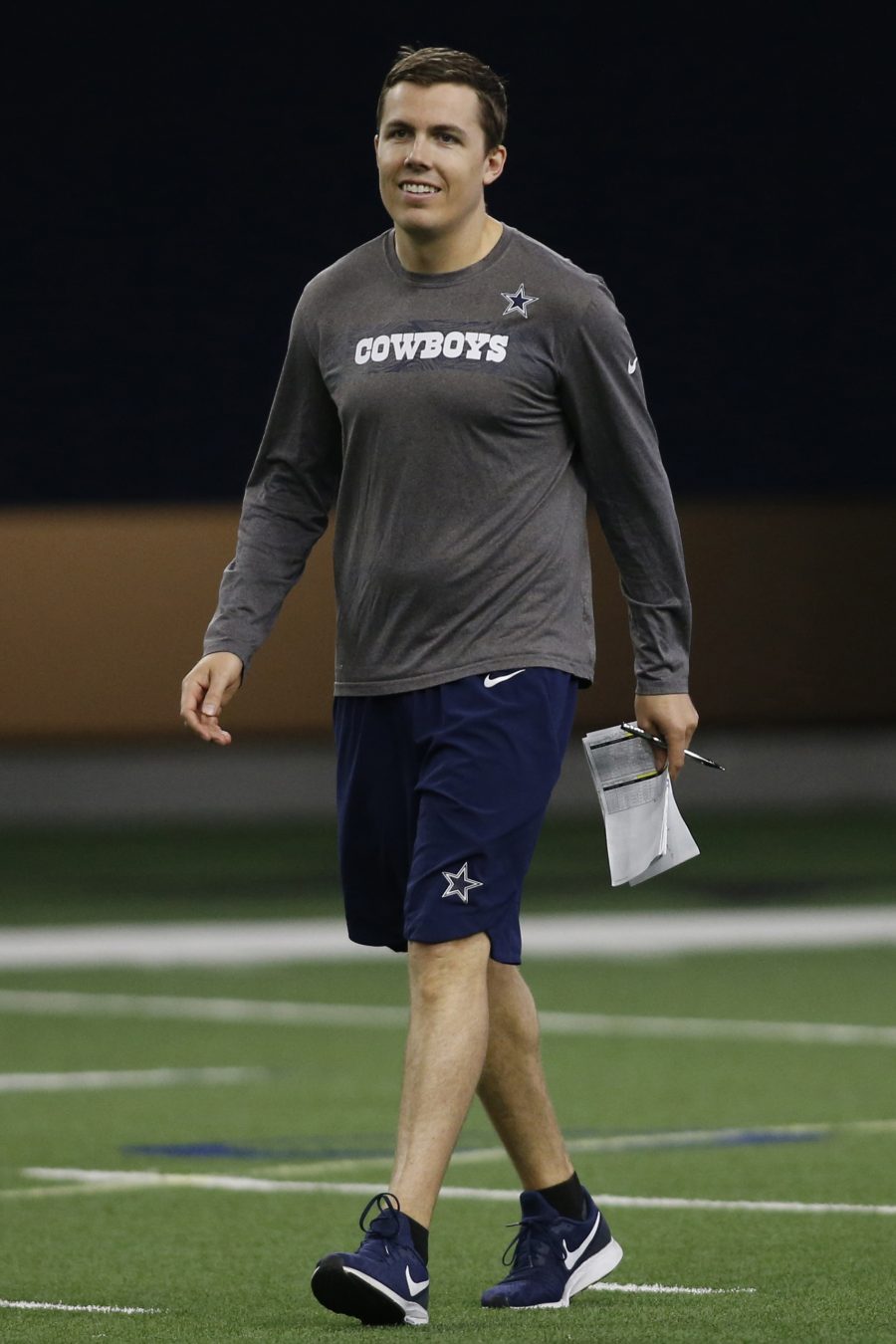 Staley's refusal to yank starters in a meaningless Week 18 game against the Broncos — a decision Telesco belatedly endorsed — led to the injury-prone Williams going down and missing the Jaguars tilt. Stripped of a key playmaker, Lombardi's offense sputtered during the historic collapse. Although Lombardi landed on his feet by becoming Sean Payton's Broncos OC, it is worth wondering if the Chargers still make this move had Williams been available in Jacksonville. Nevertheless, Herbert will have a third OC in four seasons.
Less than a day after the Cowboys jettisoned Moore, reports of a Chargers hire emerged. Mike McCarthy had retained the ex-QB as OC and play-caller over his first three seasons, and the Cowboys ranked first and fourth in points scored during the seasons Dak Prescott finished in this timeframe. Dallas' offense did drop from sixth to 15th in DVOA from 2021 to '22, but the team also operated without Prescott for a stretch and missed Amari Cooper's presence. Moore, 34, still unleashed Tony Pollard and played a lead role in the Cowboys posting back-to-back 12-5 seasons.
McCarthy made scrutinized comments regarding an intent to run more often this season, and Moore went from HC candidate — five teams interviewed him from 2022-23 — to unemployed after the Cowboys' second-round loss. McCarthy's decision to take over Dallas' play-calling duties will lead to a fascinating Moore-Herbert partnership. Rumblings of Herbert taking more downfield shots have circulated during Chargers camp, and Moore could represent one of the top coaching variables in what looks like an AFC gauntlet. Herbert will be entirely directed by ex-Prescott coaches, with Nussmeier — a Jason Garrett hire in Dallas — following Moore after five seasons as a Dallas assistant.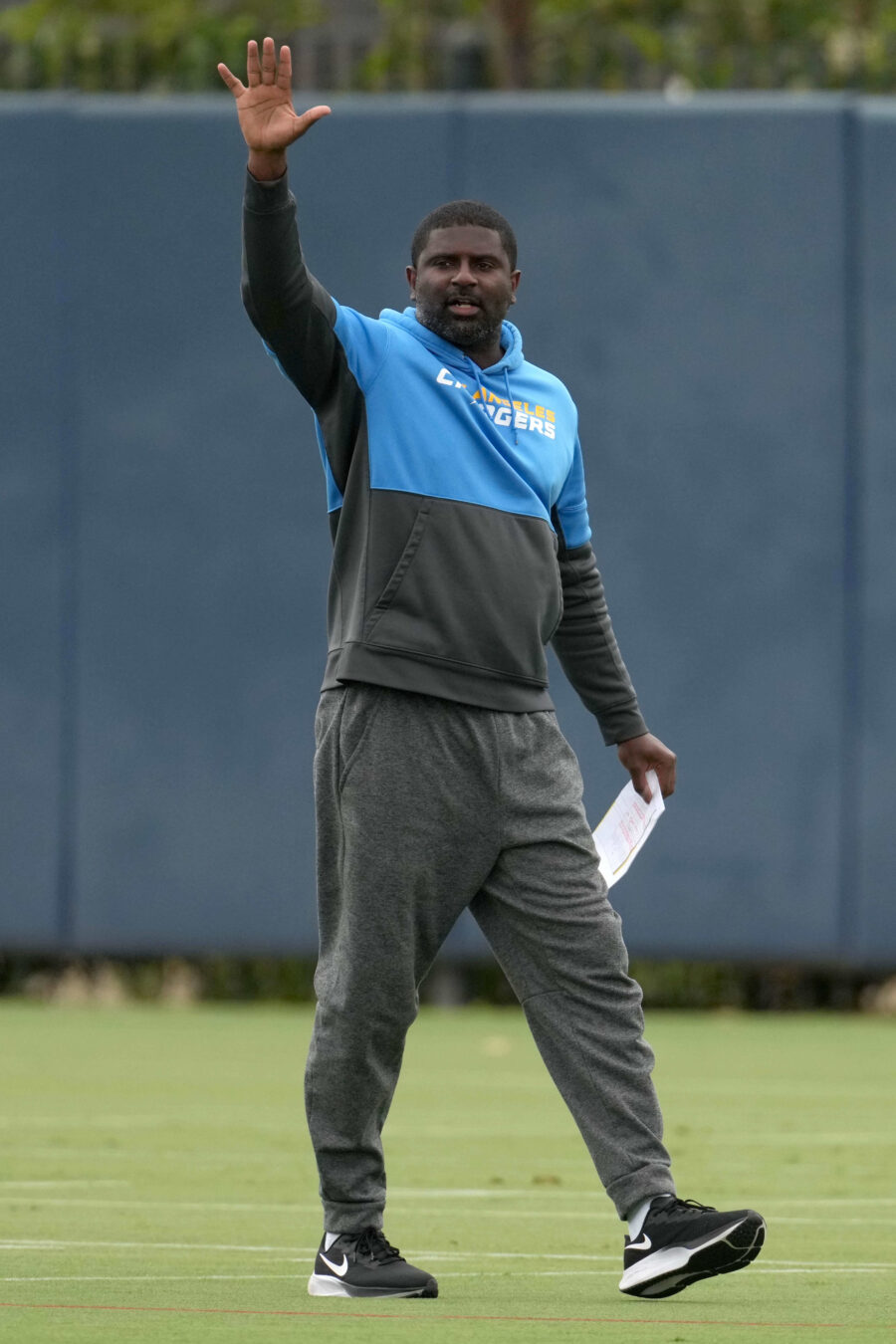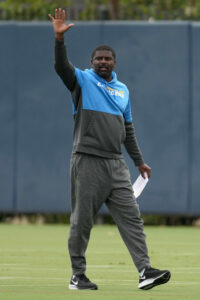 Staley leads the Chargers' defense, but Hill leaving a defensive coordinator post to return to a role under Fangio may not have received enough attention. Hill, a former Broncos defensive backs coach, followed Fangio to Miami. Considering the Dolphins gave Fangio upwards of $4.5MM to elevate their defense, it is possible they dangled a better offer for Hill.
Staley has not generated the defensive improvement his reputation would have suggested. The Bolts have ranked 29th and 21st, respectively, in scoring defense since his arrival. Excepting a one-year stay as the Raiders' DBs coach (2018), most of Ansley's pre-Chargers experience came at the college level. But Staley promoted the DBs coach and gave Tommy Donatell, the son of Ed Donatell, a better gig. The Dolphins are believed to have requested an interview with Tommy Donatell, whose father has worked extensively with Fangio, but the Bolts made retaining him a priority.
Murray staying beyond 2023 may not be a Charger priority. While Murray has offered inconsistent play over three seasons, none of the 2020 first-round linebackers' options were picked up. Rather than see their $12.7MM options exercised, Isaiah Simmons, Patrick Queen and Jordyn Brooks join Murray in contract years. Due to his lower snap count, Murray's option checked in on the lowest LB rung ($11.73MM). Although Murray's playing time ticked up after Staley benched him in 2021, PFF viewed the Oklahoma alum as the NFL's worst run-defending linebacker last season. Of the four linebackers to see their options declined, the Chargers had the easiest call.
Top 10 cap charges for 2023:
Rather than lose his offensive coordinator to an HC job, Herbert saw his second NFL play-caller canned. With the Chargers among the NFL's underachievement hubs in recent years, Staley's seat should be considered one of the hottest. The Bolts gave Anthony Lynn four years, but after the Jacksonville meltdown and the coordinator shakeups, Staley will almost definitely be coaching for his job this season.
Offseason hype has followed the Chargers for years, but as the Chiefs' second Mahomes-era Super Bowl win created more distance between they and their top AFC West competitors, it feels like expectations have been adjusted. With healthy cornerstones and Moore now calling the shots on offense, are the Chargers live underdogs to challenge the defending champions' seven-year AFC West streak? Even if the Bolts cannot mount a serious push there, it would be shocking if they were not in the wild-card mix. Herbert's presence should ensure that.
Herbert's talent and the contract he agreed to will put pressure on the Chargers to parlay their latest franchise QB into legitimate championship pursuits, seeing as their Brees-Rivers period produced just one AFC championship game berth. What could be the final season with the Allen-Williams-Bosa-Mack quartet in place together will double as one of the more important Charger campaigns this century.
Follow @PFRumors