Unavailability has been a constant in the Colts' backfield, which remains without Jonathan Taylor. The team also lost Zack Moss to a broken arm during training camp. While Moss is back, one of Indianapolis' other backups is not expected to return this season.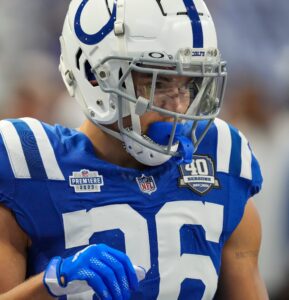 Placed on IR last week, Evan Hull is likely to see his rookie season end early. The fifth-round pick suffered a torn meniscus that is expected to sideline him for the rest of the season, The Score's Jordan Schultz tweets.
With Taylor on the reserve/PUP list and Moss missing Week 1, the Colts used Hull as part of their makeshift backfield in their opener. Teaming with Deon Jackson, Hull played eight snaps in Indy's opener. But the knee injury intervened on a third-quarter carry. As a result, the Colts will need to make more adjustments in their backfield.
Hull showed pass-catching potential during his final Northwestern season, hauling in 55 passes for 546 yards. His rookie contract runs through 2026.
In Week 2, the Colts turned to Moss almost exclusively. The 2022 trade acquisition played 98% of the Colts' offensive snaps in the team's win over the Texans. Jackson remains in place as a backup. Ex-Rams UDFA Jake Funk sits as the third RB on the Colts' 53-man roster. Indianapolis also added Trey Sermon, who did not make Philadelphia's 53-man roster in August, to its practice squad this week. Sermon and recent pickup Tyler Goodson, a 2022 Packers UDFA, reside on the Colts' P-squad.
Taylor is out until at least Week 5. The former rushing champion requested a trade in July and is far from certain to be in a Colts uniform when first eligible, though the disgruntled back has been working out at the team's facility. Taylor can return to practice next week, but the Colts may also revisit the trade talks that cooled ahead of the roster-cutdown deadline.
Follow @PFRumors