6:47pm: Some may notice Corral's presence on the wire today designating that he was taking a visit with his now former team in New England. According to Kyed, this is solely a formality. Kyed informs that "teams are required to report if a free agent is in the building" and Corral was at the facility this morning. His visit, though, had no bearing on his status with the team. Kyed reports that Corral's relationship with the team is currently unchanged.
11:27am: After Matt Corral cleared waivers Tuesday, the Patriots were believed to have added the young quarterback to their practice squad. While this would mark yet another roster designation for the 2022 third-round pick, it has not come to fruition.
Corral has not returned to the Pats on a practice squad deal, Doug Kyed of the Boston Herald notes. While the Ole Miss product was on track to come back on a P-squad pact, Kyed adds he is no longer expected to do so.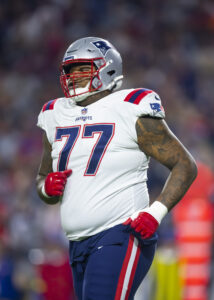 The Pats claimed Corral off waivers from the Panthers shortly after roster cutdown day, and while the raw QB prospect practiced with the team for more than a week, he left the team without providing notice and ended up on the exempt/left squad list. The Patriots removed Corral from that list Monday, and no team claimed him. As of now, the Matt Rhule-era Panthers pickup's career is in limbo.
Mac Jones and Bailey Zappe reside as the quarterbacks on New England's active roster, while rookie UDFA Malik Cunningham is on the team's P-squad. Teams rarely keep two passers on practice squads, but the Pats had intended to develop Corral, who spent all of last season on the Panthers' IR due to a Lisfranc injury. While Carolina was interested in bringing Corral back on a P-squad deal, he is unattached as of Wednesday.
The Patriots briefly demoted Zappe, waiving the 2022 fourth-round pick before extending a P-squad opportunity. Zappe quickly moved back to the active roster, returning after the Corral partnership began to fizzle. Upon returning to the active roster, the Western Kentucky product remains signed through 2025, Mike Reiss of ESPN.com tweets. Zappe's rookie contract ran through 2025, as all drafted players' initial NFL deals span four years. Despite Zappe spending a short time on the practice squad after struggling in Bill O'Brien's system this summer, he is back on track.
Additionally, the Patriots added $2MM in incentives to Trent Brown's contract, ESPN.com's Adam Schefter notes. Brown is attached to a two-year, $13MM deal he signed during the 2022 offseason. It is unclear what benchmarks Brown must hit to cash in, but the Patriots have dangled incentives for the veteran tackle previously. The team put weight-related clauses in Brown's Raiders-constructed, Pats-adjusted deal in 2021 and included more in his current pact. Barring an extension, the team's left tackle starter remains on track to hit free agency again in 2024.
Follow @PFRumors