The Cowboys 2017 season was one of major ups and downs. Though, in the end, America's team will not be in the postseason after losing to the Seahawks at home on Sunday afternoon. However, that doesn't mean that owner Jerry Jones has soured on his head coach. Jones made sure to give Jason Garrett a vote of confidence during his postgame comments, reports Todd Archer of ESPN.com.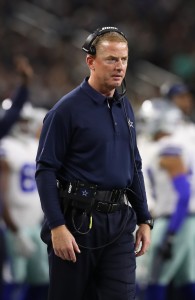 "Just so we're clear about it, I do understand frustration right after you lose a game that has as much meaningfulness as this ballgame, but I get to look at a lot of different things and have been around a lot of head coaches and coordinators," Jones said. "I feel good about our head coach."
Garrett, 51, has been the head coach of the Cowboys since 2010, accumulating a record of 67-55 during his tenure. But on the other hand, he only has two playoff appearances to show for his efforts. In addition, Garrett has not led the team past the divisional round, despite being the number one overall seed in the NFC last year.
However, Garrett was without his star running back Ezekiel Elliott for six games during the stretch run of the season. So while the loss does hurt, especially considering that the team had rallied for three straight wins in the weeks prior, the team is still young and returns many of its key players in 2018.
It would seem like Jones is intent on keeping Garrett at the helm for at least another year, but the pressure will be on if the Cowboys continue to underperform with him at the controls.
Photo courtesy of USA Today Sports Images.