As Khalil Mack prepares to play his former team for the first time in London this afternoon, Mack made it known among then-Raiders teammates that he did not want to play for Jon Gruden after he became the head coach in early 2018, according to FOX's Jay Glazer.
Mack, who has been a force for the Bears defense and was selected to his third first-team All Pro last year, was holding out for a new contract that lasted through Oakland's offseason program, training camp, and preseason last year. Mack was entering the final year of his rookie contract and was scheduled to earn $13.84MM in 2018. Mack ended up getting his wish by becoming the highest paid defensive player in the league after being traded to the Bears in exchange for two first-round draft picks, one in 2019 and one in 2020, a sixth-rounder in 2019, and a third-rounder in 2020.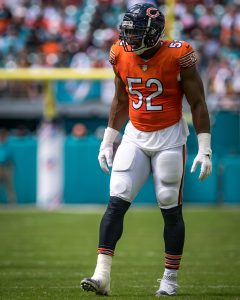 At the time, Gruden was not willing to budge on a deal that would have paved the way for Mack's return to the team. The Rams had just signed Aaron Donald to a record contract at the time, which raised the price tag on Mack considerably.
"That pretty much set the stage of what it was going to be," Gruden said of Donald's deal and its impact on the Mack trade. "And $90 million guaranteed is an astronomical number. It's phenomenal, I think, for the players. Great for him, obviously. But that was something we could not do."
Gruden told The Athletic this past Spring that he "cried for three days" after the deal. His team went 4-12 last season while Mack helped the Bears win the NFC North for the first time since 2010.
Since the trade last year, Mack has played in 18 games, and has 17 sacks, 10 forced fumbles, and a touchdown. In the same time, the Raiders have played 20 games, and their entire defense has recorded 18 sacks, eight forced fumbles, and two touchdowns.