While several players will likely sign extensions before hitting free agency in March, the current crop of wide receivers eligible to be unrestricted free agents in 2015 is impressive. Demaryius Thomas of the Broncos, Dez Bryant of the Cowboys, and pair of Packers wideouts – Jordy Nelson and Randall Cobb – lead a talented group of pass catchers who will certainly cash in if and when they reach the open market.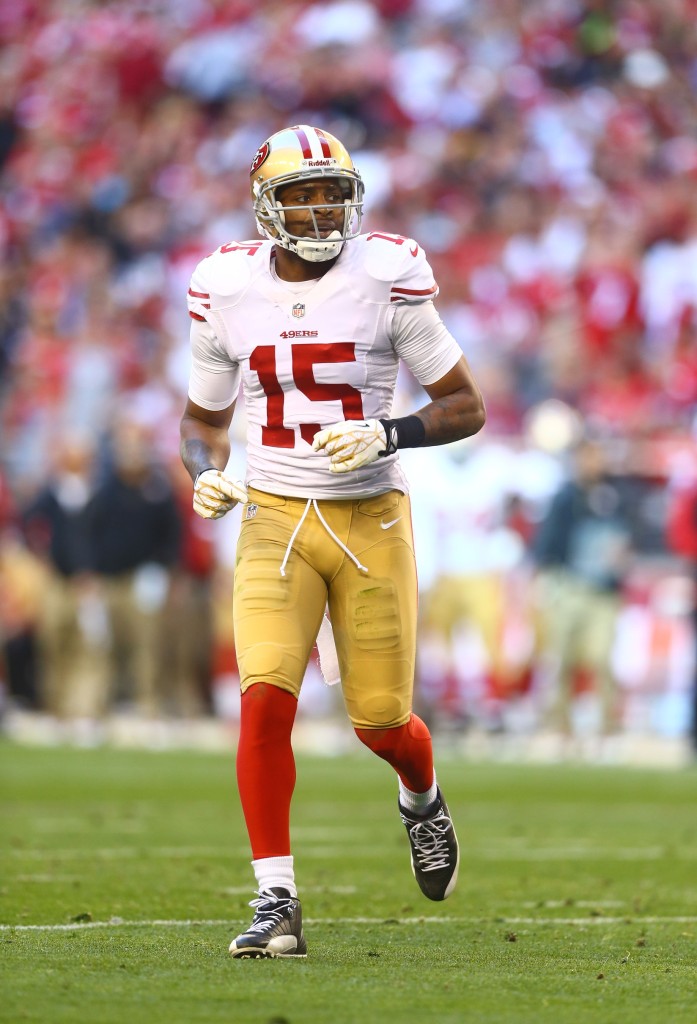 One of the most intriguing names in the group is Michael Crabtree of the 49ers. Richard Sherman's arch-nemesis underwent surgery in the spring of 2013 to repair a torn Achilles tendon, and the injury ultimately sidelined Crabtree for a sizable chunk of the regular season — he didn't return to the field until December.
In 2012, Crabtree enjoyed a breakout season catching balls from Alex Smith and Colin Kaepernick, establishing new career highs in receptions (85), receiving yards (1,105), and touchdowns (9). He was just as dynamic in the postseason, compiling 285 yards and three touchdowns through the air and helping San Francisco reach the Super Bowl, where he nearly hauled in a game-winning touchdown on the team's final drive.
Had he continued to build on 2012's success last season, Crabtree would be eyeing a contract extension that places him among the NFL's highest-paid receivers, and would be challenging Thomas and Bryant to earn the largest contract among in the free agent wideout class of 2015. As is, the Texas Tech product may still be seeking such a deal, but his lost 2013 season clouds his value a little.
There's no doubt that Crabtree, who turns 27 in December, has proven to be a talented and dangerous downfield threat, and is an important part of a 49ers offense whose passing game often struggled last year when he was sidelined. As Crabtree enters a contract year, the club should be interested in working out a new deal to ensure he remains in San Francisco catching balls from Kaepernick for years to come. But 2012 was the first and only season in which it all really came together for the former 10th overall pick, so the modest overall receiving numbers on his career résumé could hurt his leverage in contract negotiations.
A look at other contracts on the Niners' books suggest that Crabtree could run into further roadblocks in negotiations. Vernon Davis and Alex Boone are among the players who have already taken a more active stance in pursuing new contracts this year, having skipped the club's spring workouts and minicamp. As such, addressing those potential extensions may be a priority for the 49ers before they get around to entering serious discussions with Crabtree.
Additionally, the new deal signed by Kaepernick earlier this offseason was a fairly team-friendly one, with only about $13MM of the contract's total $114MM value guaranteed at the time of its signing. While the structure of that extension may not have an impact on signings around the league, the Niners will have it in their back pocket when they negotiate extensions with other players, able to point out that the team's leader was willing to make something of a sacrifice on his new contract.
While these factors will all come into play, none of them are significant enough to diminish Crabtree's value significantly. The largest deals signed by receivers this offseason – Eric Decker's $7.25MM per year contract ($15MM guaranteed) and DeSean Jackson's $8MM per year deal ($16MM guaranteed) – should be a floor for Crabtree, barring another major injury or a disappointing 2014 season. The Niners pass-catcher may not find himself among the top five highest-paid wideouts in 2015 and beyond, but something in the neighborhood of Greg Jennings' current deal ($9MM annually, $17.8MM guaranteed) could make sense, and there's certainly potential for something even bigger.
Ultimately, considering the club has other contracts to address and Crabtree is coming off an injury-shortened 2013 campaign, I'd expect the Niners to take their time negotiating an extension, unless they can lock up the wideout at a bargain price this summer. A full, healthy 2014 season for Crabtree would go a long way toward re-establishing his value, and could make the club even more confident to invest in him in the new year, either via a long-term extension or the franchise tag.
Photo courtesy of USA Today Sports Images.
Follow @PFRumors