Notable signings:
Notable losses:
Extensions and restructures:
Trades:
Draft picks:
Other:
AT&T Stadium is an everlasting reminder that Jerry Jones isn't a fan of the understated. That's why it was rather surprising to see the Cowboys have a relatively quiet offseason in 2014.
The Cowboys made a major upgrade on their defensive line when they inked tackle Henry Melton. The Bears opted not to extend an offer to the 27-year-old before the start of free agency and had hoped to re-sign him after they figured out how much room they had to work with. Chicago never got the chance as Melton signed on with the Cowboys on a multiyear deal. The deal makes a lot of sense for both sides. Melton can earn nearly $28MM over four seasons if everything works out in 2014 and the Cowboys pick him up for another three seasons. If he struggles to stay on the field, as he did in 2013, the Cowboys can simply decline their club option and move on. Melton, who only played in three games last season, was said to be seeking a one-year, make-good contract, but he came away with the potential for a longer commitment. Even though 2013 didn't work out as Melton had hoped, he made 14 starts and racked up a career high 31 tackles with six sacks en route to his first Pro Bowl in the season prior. He'll look to get back to that level this season.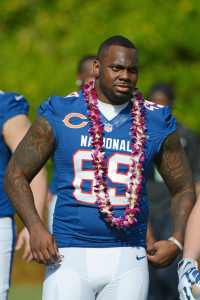 Melton will be filling the space left by the departure of Jason Hatcher and it's hard not to like that trade-off for the Cowboys. Despite the time missed in 2013, Melton is younger and probably better suited for Dallas' defensive scheme. That's not to say there won't be challenges for this Cowboys front seven. Hatcher has joined up with the rival Redskins, longtime Dallas mainstay DeMarcus Ware is with the Broncos, and linebacker Sean Lee is done for the season after suffering an injury during OTA's. On the defensive line, the Cowboys are expected to trot out a front four of George Selvie, Melton, Nick Hayden, and free agent pickup Jeremy Mincey. The Cowboys dropped Ware because of his $16MM cap number for 2014 and Mincey comes in at a much more reasonable $3MM over two years with just $500K guaranteed. Further down the depth chart, the Cowboys added former Texans defensive tackle Terrell McClain on a three-year deal, re-signed pass rusher Anthony Spencer to a one-year deal, and defensive tackle Amobi Okoye, a former No. 10 overall pick.
In the wake of Lee's injury, the speculation starting coming in fast and furious as to which high-profile linebacker the Cowboys would sign. Would it be former Bears star Brian Urlacher? Would they coax London Fletcher out of retirement? Or how about Jonathan Vilma who was coming off of a 2013 knee injury? The answer: none of the above. Justin Durant will man the middle linebacker position, Kyle Wilber and Bruce Carter will likely be on either side, and rookies DeMarcus Lawrence and Anthony Hitchens will be among those in support.
On the other side of the ball, the conversation is more about who won't be there in 2014 rather than the additions. New Jersey native Miles Austin, who enjoyed a breakout season with the Cowboys in 2009, has been plagued by a pesky hamstring in recent years and hasn't been the same player. Not many would have guessed that backup quarterback Kyle Orton would be the center of attention in Dallas throughout the spring and summer, but that's exactly what happened. After a standoff where Orton intimated that he wouldn't suit up for the Cowboys and Dallas badly wanted him to play, the Cowboys wound up cutting the bearded QB loose earlier this month. Now, it turns out Orton doesn't plan on retiring at all and will look to play elsewhere while still enjoying his signing bonus money. It's a crummy situation for the Cowboys who are without a strong backup behind starter Tony Romo, but on the bright side, they have a little additional cap flexibility this year which could help facilitate extensions for Dez Bryant or Tyron Smith.
The Cowboys didn't make massive changes this offseason but then again, in a wide open NFC East after an 8-8 season, they didn't necessarily have to.
Spotrac and Over The Cap were used in the creation of this post. Photo courtesy of USA Today Sports Images.

Follow @PFRumors