Notable signings:
Notable losses:
Extensions and restructures:
Draft picks:
Other:
The Giants didn't renovate this offseason, they practically knocked their house down and built a brand new one. Nearly half of the G-Men roster hit free agency following the 2013 season and, predictably, their 2014 incarnation will look rather different. The Giants historically like to build from within, but they had little choice after a 7-9 showing last season.
Big Blue's biggest move of all was signing cornerback Dominique Rodgers-Cromartie to a five-year, $35MM deal as a part of their rebuild of the secondary. After signing a one-year deal with the Broncos last year, DRC enjoyed a strong season in Denver, snagging three interceptions and breaking up 19 passes while ranking fifth overall among 110 qualified cornerbacks, according to Pro Football Focus' metrics (subscription required). A $35MM pact is far from cheap, but it's certainly not an overpay for Rodgers-Cromartie, even with nearly $12MM guaranteed. The Broncos made a six-year, $54MM offer to him before landing Aqib Talib, though that offer didn't include enough guaranteed money to make him want to stay put.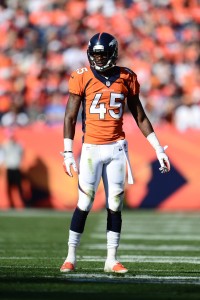 Joining Rodgers-Cromartie in the overhauled secondary will be cornerback Walter Thurmond and safety Quintin Demps. Thurmond, who missed a quarter of last season thanks to a violation of the league's substance abuse policy, recorded 24 tackles to go along with one interception and one sack for the defending Super Bowl champs. Thurmond won't be as integral as DRC or Prince Amukamara, of course, but he should fill the slot role nicely after the departure of Terrell Thomas. Demps, who signed at a discount price, will start at free safety with Antrel Rolle at the other safety spot.
For all of the change happening in East Rutherford, NJ, the Giants maintained some stability when it comes to their linebackers. Jon Beason, who was widely viewed as the No. 1 priority for the Giants amongst their own free agents, was retained with a three-year, $17MM deal (~$6MM guaranteed). It's a nice deal for the 29-year-old University of Miami product and he won't have to dole out an extra 10% to anyone since he represented himself in negotiations. The advanced metrics weren't kind to Beason as Pro Football Focus' stats ranked him 47th out of 55 qualified inside linebackers last season. Even though his pass coverage might have been lacking, he still registered 93 tackles and an interception in just 12 games with the Giants. One new face joining Beason will be former Ravens LB Jameel McClain. McClain will be moving from a 3-4 scheme to a 4-3 defense but should be a disruptive force for his new team if he stays healthy. The 28-year-old has missed nine games over the last two seasons. A familiar face, Spencer Paysinger, will be back in the fold after accepting a $1.43MM restricted free agent tender. Linebacker Mathias Kiwanuka accepted a pay cut in the offseason, keeping him in place as well. Keith Rivers and Marcus Dowtin, meanwhile, will be plying their craft elsewhere in 2014.
The Giants also moved on from a pair of expensive veterans on the defensive line this offseason in Justin Tuck and Linval Joseph. To help replace Tuck, the Giants inked Robert Ayers to a very reasonable two-year, $3.75MM contract. The former first round pick started 27 games in Denver over five seasons and has a reputation for stuffing the run like few others can and registered 5.5 sacks last season. On the interior, third-round pick Jay Bromley and Mike Patterson (signed to a minimum deal) will be there to support projected starters Johnathan Hankins and Cullen Jenkins. Those men will have to step their games up considerably after Joseph was plucked by the Vikings.
Aside from Rodgers-Cromartie, the Giants' biggest free agent signing was offensive guard Geoff Schwartz. The Giants' guard situation left much to be desired with mediocre options such as Kevin Boothe. Schwartz, on the other hand, was both a pass-blocking force and a strong run-blocker for Kansas City last season once he was brought into the starting lineup. The Giants also made a very interesting move when they picked up center J.D. Walton, who hasn't seen the field since Week 4 of the 2012 season. When he was healthy, Walton was viewed as a high-upside talent, but it's been a long time since he's seen the gridiron. If he's healthy, the Giants may have pulled off two of the best o-line signings of this offseason.
Schwartz and Walton will look to open up holes for the returning Peyton Hillis and new addition Rashad Jennings. After years of backing up NFL notables Darren McFadden and Maurice Jones-Drew, Jennings is looking to establish himself as a feature back. He's coming off of a season in which he ran for a career-high 733 yards last season and he should surpass that total easily as the Giants' No. 1 option at tailback. Eli Manning, who was less-than-stellar in 2013, will need a strong running game to help keep defenses honest. The addition of first-round pick Odell Beckham Jr. should help make his job easier as well. The speedy LSU wide receiver vaulted up boards in the weeks leading up to the May draft and a number of teams were drooling over his skill set, including MetLife Stadium's other tenants.
The NFC East wasn't all that imposing last season and if the trend carries into 2014, the Giants could have an easier path to the postseason than a lot of other teams in the NFL. No matter how things play out, you can't fault GM Jerry Reese for a lack of trying. Big Blue has turned things upside-down in search of their fifth franchise Super Bowl.
Spotrac and Over The Cap were used in the creation of this post. Photo courtesy of USA Today Sports Images.
Follow @PFRumors