It may be little more than a formality at this point, but D. Orlando Ledbetter of the Atlanta Journal-Constitution writes that current Seahawks DC Dan Quinn will be named the new head coach of the Falcons on Monday, February 2 in Atlanta.
We learned last week that Atlanta planned to hire Quinn whenever Seattle's season ends, and, one way or another, the Seahawks' season will be over at the end of Super Bowl XLIX on February 1. It has been clear for several weeks that Quinn was the Falcons' top choice to replace Mike Smith, and they have demonstrated all along they were willing to wait for their man. In the meantime, Atlanta named Kyle Shanahan as the team's new offensive coordinator, and it was also reported that Seahawks defensive backs coach Kris Richard could follow Quinn to Atlanta to become the Falcons' new defensive coordinator.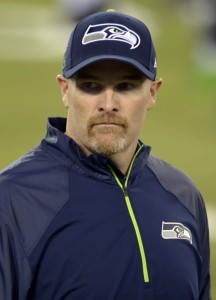 However, Ledbetter also reports that the Falcons plan to hire Washington defensive backs coach Raheem Morris for a hybrid assistant-defensive coordinator position. Quinn himself is expected to call the defensive plays, so it remains unclear if Morris' hiring will affect Richard in any way.
As for Quinn himself, he has engineered two excellent defenses in his two seasons as Seattle's defensive coordinator, defenses that have played a starring role in at least one, and perhaps two, Super Bowl victories. As our Dallas Robinson recently wrote, "Both of [Quinn's] Seahawks defenses have finished first in DVOA per Football Outsiders, and in 2014, Seattle allowed just 268 yards per game and 15.9 points per game, both first in the league." The 44-year-old also brings a decade of NFL experience with him, much of which came as a defensive line coach for the 49ers, Dolphins, and Jets.
Quinn also worked as defensive line coach for Seattle from 2009-2010 before moving to the college ranks as Florida's defensive coordinator during the 2011 and 2012 seasons. But after returning to the NFL as the Seahawks' defensive coordinator in 2013, Quinn has met with nothing but success, and he immediately established himself as one of the top assistants in the league.
The Falcons, of course, were once considered the favorite to land Rex Ryan, who ultimately became head coach of the Bills, and Lions defensive coordinator Teryl Austin was also frequently linked to Atlanta's top job. The Falcons also interviewed Adam Gase, Josh McDaniels, Doug Marrone, and Keith Armstrong, but Quinn boasted the strongest defensive background of any head coaching candidate this year, with the possible exception of Ryan. For a team that has talent on the offensive side of the ball but a porous defense, Quinn seems to be an almost perfect fit. And, as of February 2, he can begin going to work for his new club.
Photo courtesy of USA Today Sports Images
Follow @PFRumors