Hundreds of NFL players have found themselves on the free agent market at some point this offseason, but few seem to have had as much fun with the process as Greg Jennings.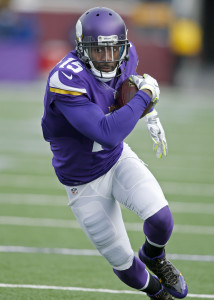 The veteran wideout has kept his fans up to date on his latest free agent visits by not-so-subtly alluding to them on Twitter — during a week that included meetings in Jacksonville and New Orleans, he wrote that he had the urge to visit a Jaguar dealership, and suggested he had a craving for some Popeyes. Of course, earlier in the process, Jennings indicated that he was set to announce his new team at 10:00pm pacific time on March 31, but that "announcement" was ultimately an April Fool's gag.
At some point though, Jennings will find a new home, and it will be interesting to see where he lands and how he adjusts to his new situation. The ex-Packer was one of Aaron Rodgers' top weapons in Green Bay, where he spent the first seven years of his NFL career. During the three seasons in which he played all 16 games, from 2008 to 2010, the former second-round pick posted three straight 1,100-yard seasons, averaging about 75 receptions, 1,223 yards, and eight touchdowns per year.
That production in Green Bay earned Jennings a massive five-year, $45MM deal from the Vikings which almost immediately looked like a mistake. With the quarterback situation in Minnesota unsettled, Jennings was catching passes from a combination of Matt Cassel, Christian Ponder, and even Josh Freeman during his first year with the Vikes, and never appeared to be an ideal fit. Even after Teddy Bridgewater emerged as the starter in 2014, Jennings' production was unspectacular — he recorded just 59 receptions for 742 yards last season.
With his cap number on the rise and his performance on the decline, Jennings was an unsurprising cap casualty last month, as the Vikings opted to add another pricey veteran wideout – Mike Wallace – in his place. Now, as Jennings searches for his next NFL team at age 31, potential suitors will attempt to determine whether the veteran is past his prime, or if he could have a bounce-back season in the right situation.
Within the last few weeks, Jennings has been linked to a number of receiver-needy teams, including the Panthers, Dolphins, Jaguars, and Saints — all of whom he's visited, and all of whom are certainly logical fits. Miami and New Orleans jettisoned many of their top pass catchers from a year ago, as the Fins parted ways with Wallace, Brandon Gibson, and Brian Hartline, while the Saints traded Kenny Stills and Jimmy Graham. Jacksonville has some promising young wideouts on the roster, including Marqise Lee, Allen Robinson, and Allen Hurns, but the Jags could use a veteran presence in that group. As for the Panthers, their receiving corps was depleted last year, and adding Jarrett Boykin in free agency didn't change that.
If Jennings is going to bounce back, it will likely be in situation opposite to the one he found himself in with the Vikings two years ago — in that instance, he was the go-to target, but didn't have a top quarterback capable of getting him the ball consistently. If he were to join a team like the Saints or even the Panthers, Jennings wouldn't be at the top of the receiver depth chart, but he could become a steady, reliable weapon for a QB like Drew Brees or Cam Newton.
I think the 31-year-old could also be a fit for a veteran team like the Patriots or the Ravens. Oakland doesn't really meet my criteria, and the team just signed another veteran receiver in Michael Crabtree, but the Raiders shouldn't be ruled out entirely — after all, GM Reggie McKenzie was in Green Bay's front office when the Packers drafted Jennings, and Raiders offensive coordinator Bill Musgrave was the OC in Minnesota when the Vikes signed Jennings in 2013.
At this point in his career, the days of five-year, $45MM contracts are long behind Jennings, who will likely have to settle for a modest one-year pact. A team with plenty of cap space, like the Jaguars, would probably be more willing to spend a few extra bucks on the veteran wideout this spring, but he may be better off settling for something closer to the minimum with a team like the Saints, where he could catch balls from a Pro Bowl quarterback and improve upon his Minnesota numbers. That sort of bounce-back year could potentially buoy him to one last multiyear deal with a little guaranteed money a year from now.
Photo courtesy of USA Today Sports Images.
Follow @PFRumors