SATURDAY, 8:42am: The breakdown of Hilton's extension, courtesy of ESPN.com's Field Yates (on Twitter), shows the Colts' top wideout attached to just a $3.14MM cap number this season.
Hilton's dues skyrocket beginning in 2016, however, with an $11MM cap figure slated for next season. The number plummets to $10MM in 2017, before the current version of this contract peaks the following year at $15MM. It finishes at $14.54MM in 2019.
Forty-four wideouts have greater cap hits in 2015 than does Hilton. The fourth-year receiver's previous number resided at $1.67MM, less than $200K above 2015 first-rounder Phillip Dorsett.
THURSDAY, 8:20am: The Colts announced that they have have reached agreement on a five-year extension with T.Y. Hilton. It's a $65MM extension with $39MM guaranteed, according to ESPN.com's Adam Schefter.
"It's a great day for the Indianapolis Colts, T.Y. Hilton and his family," Colts general manager Ryan Grigson said in a statement. "We're extremely happy as an organization to ensure that T.Y. will continue to be a part of our journey for many years to come. His daily excellence on and off the field is a shining example of an individual striving for greatness and what it truly means to be a Colt."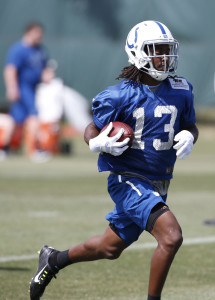 Hilton's $39MM guaranteed is nearly twice as much guaranteed money as any other player on the Colts roster. Quarterback Andrew Luck is second on the team in that category at $22.1MM, though his next contract could catapult him back to No. 1. Hilton, 25, enjoyed his best season to date in 2014, hauling in 82 catches for 1,345 yards and seven touchdowns. That performance earned him his first career Pro Bowl selection and the Colts were eager to lock him up even though he still had a year to go on his third-round rookie contract.
It'll be interesting to see the exact breakdown on Hilton's guarantees and get a clearer picture on how his deal stacks up against the likes of Dez Bryant and Demaryius Thomas. Right now, we know that Hilton's deal came a little bit shy of both players on overall value since both players got five-year, $70MM deals from their respective teams.
Still, with an AAV just $1MM lower than Bryant and Thomas, the deal sounds like a solid one for agent Drew Rosenhaus. After all, one could argue that the 5'10" Hilton isn't an elite No. 1 receiver or a red-zone threat like Bryant or Thomas and someone like Randall Cobb might be a more apt comparison for what he does. Cobb, who hauled in 91 balls and scored 12 touchdowns in 2014, signed a team-friendly four-year, $40MM deal with the Packers earlier this year.
Photo courtesy of USA Today Sports Images.
Follow @PFRumors