Two years ago, during Jason Licht's first few months as the Buccaneers' general manager, the team was one of the league's top spenders in free agency, signing Michael Johnson, Anthony Collins, Alterraun Verner, Josh McCown, and others to big, multiyear contracts. In 2016 though, Licht and the Bucs plan on taking a more cautious approach to free agency, as Rick Stroud of the Tampa Bay Times details.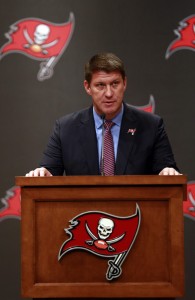 "We'll be selective and strategic," Licht said on Thursday. "We don't want to put ourselves into a position where if you take the wrong guy and give him too much money, it can disrupt your team. I've said since Day 1, we are going to build through the draft. And from Day 1, the most success we've had is with draft picks.
"We still believe the best way for us to go is to draft and develop players. You can't think you're going to put yourself over the top by signing these high-dollar guys."
According to Stroud, the Buccaneers still intend to get involved in free agency to some extent. However, a deal like Johnson's two years ago, which was worth $43.75MM in total, including $16MM in guaranteed money, seems unlikely. Johnson, of course, was released by Tampa Bay 12 months after signing that five-year contract.
Here's more from Stroud on the Bucs:
There's a good chance that Doug Martin will make it to free agency and test the open market, according to Stroud, who says that the running back is "hoping to hit the jackpot" after a 1,400-yard season. The club has had "great discussions" with Martin's camp, per Licht, and it seems like there's genuine mutual interest in an extension. But if the Bucs don't meet Martin's asking price, the only way to keep him off the open market would be to franchise him, and that would be a pricey solution — the franchise tag for RBs is expected to exceed $11MM.
As we've heard before, the Buccaneers are unlikely to trade Mike Glennon. Stroud suggests that an extension for the team's backup quarterback may actually be more probable than a trade.
The Buccaneers want to keep wide receiver Vincent Jackson and guard Logan Mankins around for 2016, per Stroud. However, Mankins hasn't yet made a final decision on whether he'll continue his career, and there's no guarantee the club wouldn't want to make some adjustments to Jackson's and Mankins' contracts if they return. Verner and linebacker Bruce Carter are also candidates for potential restructures.
Photo courtesy of USA Today Sports Images.
Follow @PFRumors