Pending free agents:
Top 15 cap hits for 2016:
Notable coaching/front office moves:
Draft:
Other:
Overview:
Last offseason, the Falcons' hiring of Dan Quinn as head coach was the worst-kept secret in football for what felt like forever. After the Super Bowl, however, the Seahawks defensive coordinator finally was able to put pen to paper with Atlanta.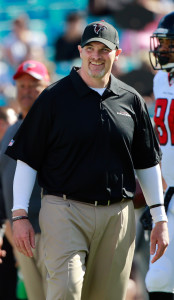 A former defensive line coach, Quinn led the league's top defense in Seattle in each of the last two seasons as the club's defensive coordinator. While his stint with the Seahawks had an unfortunate ending, Quinn was regarded as one of the leading head coaching candidates of the offseason. Some expected that the highly touted defensive mind would vault the Falcons to the NFC South title, but it wound up being an up-and-down season in Atlanta, one that resulted in an 8-8 record.
At the outset of the year, it looked as though the Falcons and Panthers would go neck and neck for supremacy in the division and conference. However, after a 5-0 start, the Falcons started slipping. By Week 13, Atlanta had gone from undefeated to .500, and that's exactly where they finished.
Even though the Falcons did not meet the expectations set for them in the fall, there were still a number of bright spots. On offense, Julio Jones turned in another stellar season and once again proved why he's one of the league's premier wide receivers. In the backfield, the Falcons got production at the running back position, but not from the running back they were banking on. Rookie tailback Tevin Coleman won the starting job in training camp but those plans were scuttled when he suffered a concussion in Week 2. From that point forward, Devonta Freeman took over the job and established himself as a rising star. For the season, Freeman racked up 1,061 yards on the ground and added 578 receiving yards.
On defense, Desmond Trufant turned in one heck of a performance, finishing the year as the No. 13 cornerback in the league according to the advanced metrics at Pro Football Focus (subscription required). Trufant allowed only 32 receptions, putting him right behind Patrick Peterson and Richard Sherman's league-leading 31 (among qualified corners). Overall, though, the Falcons' defense finished in the middle of the pack in both passing and rushing yards allowed.
Can Quinn & Co. overtake the Panthers as NFC South champions in 2016? Here's a look at their options this spring:
Key Free Agents:
Restricted free agent tackle Ryan Schraeder may require at least a second-round tender for Atlanta to keep him after an impressive third season. Schraeder receiving the second-round tender would cost the Falcons ~$2.47MM, but would allow another team to sign him while surrendering only a second-round pick. An ex-UDFA, Schraeder made $585K last season. A first-round tender figures to cost in the neighborhood of $3.5MM, and that could be the safer route for the Falcons to take if they really want to make sure they keep Schraeder.
Fellow RFAs Paul Worrilow and Nathan Stupar will probably be retained as well. Worrilow may have started for the Falcons out of necessity in 2015, but he was a starter nonetheless. Stupar, meanwhile, had a solid year for the Falcons under the minimum salary and he could be back on something a little more lucrative in 2016.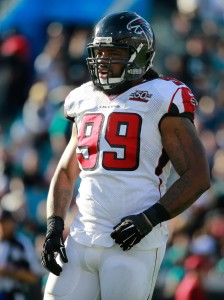 In 2014, Adrian Clayborn was hoping to establish himself in his contract year, but he didn't get the opportunity to show what he could do before hitting the open market. The defensive end played only one game in '14 before being placed on IR by the Buccaneers. Clayborn later landed a one-year deal with the Falcons, giving him an opportunity to bring his value back up to where it should be.
Clayborn, 28 in July, turned in a full 16-game season and showed that he can be an effective rotation piece. Even though he's not the player that the Bucs envisioned when they took him No. 20 overall in 2011, Clayborn has given himself some juice heading into free agency this time around. Clayborn could go for another one-year deal to try and get paid in the spring of 2017, but he might be better served by getting the best of both worlds and going for a modest two-year deal. Either way, the Falcons should have some interest, once they take care of their more pressing priorities.
Kroy Biermann has been with the Falcons ever since his entry into the league in 2008. Last year, Biermann had an opportunity to leave but re-signed with Atlanta a few weeks after the opening of free agency. Will he re-up again? Quinn will probably look to bring more of his type of guys into the mix, and that could mean a departure for the 30-year-old (31 in September).
Biermann started a career-high 15 games for the Falcons in 2014, racking up 77 tackles and 4.5 sacks to go along with a forced fumble. In 867 defensive snaps, he recorded a -5.7 grade on Pro Football Focus (subscription required), but that was largely due to a poor rating in pass coverage — he was an above-average run defender and held his own as a pass rusher. This past season, he played in a reserve role, and that's probably what awaits him with his 2016 team, whether it's the Falcons or another club.
In September 2015, the Falcons landed Jake Long on a one-year deal. Unfortunately, the former No. 1 overall pick could not give the team a full season of production. Long did not make his debut until December 13th, giving him a combined 11 games of action over the last two years. Now, Long is eligible for free agency once again and he could be on his way to team No. 3. If he stays with the Falcons, he likely won't have an opportunity to start, with Jake Matthews and Schraeder penciled in at the two tackle spots.
O'Brien Schofield followed Quinn to Atlanta and it wouldn't be a surprise to see him re-sign for another season. The linebacker probably won't be getting a starting job with the Falcons in 2016, but he can provide the team with some veteran leadership and some guidance, given his familiarity with Quinn's defensive scheme.
Veteran linebacker Philip Wheeler could be back for another season. Cornerback Phillip Adams, meanwhile, seems less likely to return after a so-so 2015. Center Gino Gradkowski, whom Atlanta plucked off waivers in September, could be welcomed back once the team takes care of its top free agents.
Possible Cap Casualties:
The Falcons will reportedly release defensive tackle Paul Soliai on or after the start of the new league year on March 9. By waiting until March 9, the Falcons will absorb Soliai's dead money hit — a charge of $4.2MM — on their 2016 salary cap. If the club opts to designate Soliai as a post-June 1 cut, it will take on dead money totals of $1.4MM in 2016 and and $2.8MM in 2017.
Having just finished the second season of a five-year deal, the 32-year-old Soliai was poised to earn a base salary of $4.5MM, accompanied by a cap figure of $6.9MM. From the Falcons' perspective, that cap charge was likely excessive, as Soliai's snap count in Dan Quinn's defense had dropped to 357 in 2015 (down from 502 in Mike Smith's unit in 2014). Add in the fact that Soliai wasn't overly effective, grading as just the No. 57 interior defender last season per Pro Football Focus, and it probably makes sense that Atlanta is cutting bait. The Falcons did try to get Soliai to take a pay cut, but the two sides could not come to terms.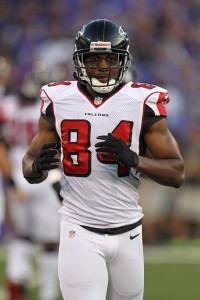 Could Roddy White be the next veteran to go? The wide receiver was once the heart and soul of the Falcons' passing attack, but he slumped through his worst season as a starter in 2015. After catching 43 passes for 506 yards in 16 games, White could be a cap casualty.
White's salaries for 2016 and 2017 are relatively modest – $2.75MM and $3MM, respectively – but he can earn $1.5MM in bonuses each season as well — $1MM for making the 53-man roster, then up to an additional $500K in per-game roster bonuses. Throw in $1.888MM in annual prorated signing bonus money and White's cap numbers for the next two seasons exceed $6MM, making him the sixth-most expensive player on the roster. In order for those cap charge to be viable, the Falcons would have to count on White bouncing back and exceeding his 2015 numbers, but it's not clear that sort of rebound is in the cards for the veteran wideout.
The Falcons acquired veteran guard Andy Levitre from the Titans in early September with the hopes that he could get back to his old form. Unfortunately, Levitre didn't do much to help hold down the fort on the interior of the offensive line. Levitre restructured his deal shortly after joining the Falcons, but that might not be enough to save his place with the squad this year. If they cut him, the Falcons can save roughly $4MM against the cap.
Positions Of Need:
The Falcons were supposed to have an aggressive defense just like Quinn's in Seattle. That, ultimately, didn't turn out to be the case. After some promising results early on, the Falcons' D wound up finishing last in the NFL in sacks with 19 in total. The Falcons badly need an edge rusher and there are free agent options out there. If he reaches the open market somehow, then Muhammad Wilkerson would make a tremendous addition for the Falcons. Fellow Meadowlands resident Jason Pierre-Paul is probably more likely to reach the open market, however, and he wouldn't break the bank.
Linebacker Bruce Irvin told the media in January that he would take less money on his second contract to stay with the Seahawks. However, one has to wonder if that's really the case with the Falcons lurking and in need of linebackers. Atlanta could offer Irvin a reunion with Quinn and also a return to his hometown. If they can't land Irvin, someone like Rolando McClain would also be an intriguing pickup, provided that he is not retained by the Cowboys. For what it's worth, defensive coordinator Richard Smith previously served as the Broncos' linebackers coach, so he's familiar with pending free agent Danny Trevathan.
When Matt Ryan had Tony Gonzalez as a security blanket, things were clicking in Atlanta. In his five seasons in Atlanta, Gonzalez secured 409 receptions for 4,187 yards and 35 touchdowns. Last year, Jacob Tamme recorded 59 receptions for 647 yards, but that didn't quite replicate the spark that the team has been missing since 2013. The Falcons would like to figure something out at tight end as they look to resuscitate their once lethal passing attack.
In the secondary, the Falcons have to figure out a solution at safety. William Moore, a former Pro Bowler, was lackluster in 2015 and he was handed his walking papers earlier this month. Eric Berry would be nothing short of a home run for the Falcons, but he seems likely to get the franchise tag from the Chiefs if the two sides can't hammer out a multi-year deal. The Falcons may have to aim lower, but we expect that they'll still spend to bolster the position.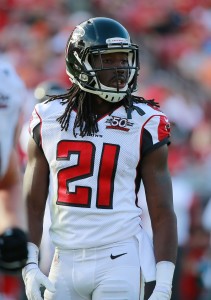 If the Falcons say goodbye to White this offseason, then they'll have to look into getting some new blood at wide receiver. Travis Benjamin seems less and less likely to stay with the Browns at this point and he'd make one heck of a No. 2 option opposite of Julio Jones.
Extension Candidates/Contract Issues:
Former first-round pick Desmond Trufant could be an extension candidate for the Falcons this offseason. The cornerback is coming of a strong year in which Pro Football Focus (sub. req'd) rated him as the 13th-best corner in the NFL. Trufant appears to be a hit from the 2013 draft class and the Falcons would be wise to lock him down before he could get really big bucks down the road.
Still, Trufant is eligible for a fifth-year option in 2017, meaning that if the Falcons can't reach common ground with him on a longer-term deal this offseason, they could simply exercise their option and revisit negotiations a year from now.
Overall Outlook:
Quinn's first year in Atlanta didn't go quite as planned, but the early portion of the season showed that there's plenty to get excited about going forward. If the Falcons can use their cap space and flexibility wisely, they can put themselves in position to get back to the postseason in 2016.
Information from Over The Cap was used in the creation of this post. Photos courtesy of USA Today Sports Images.
Follow @PFRumors