7:38pm: Armando Salguero of the Miami Herald reports that the Suh restructure saves the Dolphins $18.18MM in 2016, while reworking Misi's contract created another $1.7MM. Add in the $4MM saved by the release of Jennings, and Miami should now have ~$14.9MM in cap room (though, by using Over the Cap's figures, that number is closer to $20MM).
6:06pm: The Dolphins have created some extra cap space heading into free agency, announcing today that they've released receiver Greg Jennings and restructured the contract of defensive tackle Ndamukong Suh. Miami also confirmed the previously-reported restructuring of linebacker Koa Misi's deal.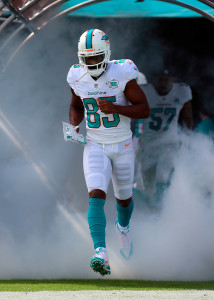 [RELATED: DE Mario Williams visits Dolphins]
The 32-year-old Jennings was widely expected to be a cap casualty this offseason, as the results of his first season with the Dolphins was wholly uninspiring. He posted career-lows in nearly every statistical category, catching just 19 passes for 208 yards and one touchdown. Jennings signed a two-year contract prior to the 2015 season that did contain some signing bonus money, so while Miami will save $4MM on its salary cap, it will also incur $1.5MM in dead money.
That $4MM savings is a relative pittance compared to what the Dolphins figure to save by restructuring the contract of Suh, however. Suh, entering the second year of his deal with Miami, was set to count $28.6MM against the cap in 2016, the second-highest cap figure in the NFL behind only Drew Brees. But Suh's pact contains a built-in restructure option for the Dolphins, and as we learned in January, the club had been fully expected to exercise that clause.
The Dolphins didn't announce the exact terms of the Suh restructure, but as Jason Fitzgerald of Over the Cap noted in that link above, Miami could create about $18MM worth of cap space by doing a full restructure — converting most Suh's base salary into a signing bonus and spreading that hit over the course of the next several seasons. Such a drastic move is obviously kicking the can down the road, but if the Dolphins want the cap room necessary to be aggressive in free agency, it may have been their only option.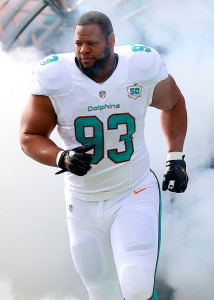 Misi had reportedly agreed to rework his deal earlier in the week, and while no specific terms of the new deal have been announced, previous reports indicated that no additional years would be added to Misi's contract, which runs through 2017. As such, Misi has likely agreed to a simple paycut that will lower his cap charge from its current $4.88MM, perhaps in exchange for some increased guarantees.
As a result of these three moves, the Dolphins should now have around $20MM to work with when free agency begins on March 9.
Photos courtesy of USA Today Sports Images.
Follow @PFRumors