A little over 15 months ago, the Rams acquired Nick Foles from the Eagles and quickly locked him into a two-year extension worth $24.5MM, handing him more than $12MM in guaranteed money. After starting 11 games, and completing less than 57% of his passes while posting a 7:10 touchdown-to-interception ratio, Foles was benched for Case Keenum, and remained on the sidelines for the rest of season.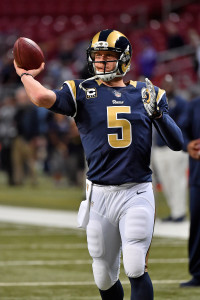 Given that Los Angeles traded up to acquire the No. 1 overall pick and select Jared Goff, Foles is clearly not in the club's plans, as Keenum and 2015 draft choice Sean Mannion are projected to make the squad. Foles is unhappy with his position on the club and didn't attend OTAs, and with the Rams exploring a trade, Foles isn't expected to be with the team at the start of training camp — at the very least, he'll be dealt away (or possibly released) before Week 1.
Foles, 27, drew trade interest around draft time, but ultimately wasn't moved. Albert Breer of The MMQB recently reported that Los Angeles is holding onto Foles for the time being in the hopes that he could accrue more value as training camp approaches. An injury could spur other teams to inquire about Foles, but his contract is also a plus. Because the Rams already paid out Foles' guaranteed $6MM roster bonus, an acquiring club would only be on the hook for Foles' $1.75MM base salary — a palatable figure for a backup quarterback.
With that preamble out of the way, let's take a look at a few teams that could express interest in Foles…
Dallas Cowboys — The 2015 Cowboys season showed just how valuable a backup quarterback can be, as Dallas ran through Matt Cassel, Brandon Weeden, and Kellen Moore as Tony Romo dealt with injury. That threesome posted a combined 1-11 record, leaving Cowboys fans wondering what could have been had the club had a competent No. 2 signal-caller. Moore is set to return as the backup, with fourth-round rookie Dak Prescott scheduled to handle clipboard duties, as Roster Resource shows. Foles would be an improvement over both of those options, and Dallas was one of several teams that Ian Rapoport of NFL.com linked to Foles at the beginning of the league year.
Detroit Lions — The Lions re-signed backup Dan Orlovsky this offseason, but they only handed the veteran $160K guaranteed on a one-year, minimum salary benefit contract, so they could easily move on if they were to acquire Foles. Elsewhere on the roster, Detroit boasts 2016 sixth-round pick Jake Rudock, who has yet to inspire confidence. "There's not a phase that he has under control at this point in time," head coach Jim Caldwell said of Rudock earlier this month. Matthew Stafford has been remarkably durable since a lost 2010 season, as he hasn't missed a single start over the past five years, so giving up anything of value for Foles might not be worth it.
Indianapolis Colts — Like the Lions, the Colts have a somewhat reputable backup option in Scott Tolzien, whom they signed to a two-year deal that contains $500K guaranteed. Because of that amount of guaranteed cash, Indianapolis is highly unlikely to move on from Tolzien at any point this season, so they're probably among the least likely teams on this list to go after Foles. But I included them here because Tolzien is far from a lock as a No. 2 quarterback. He's probably gained some recognition over the years for serving as Aaron Rodgers' backup, but Tolzien has only attempted 91 passes during his career — most of those attempts came back in 2013, when he tossed five interceptions against just one touchdown.
Kansas City Chiefs — Andy Reid is a known developer of quarterback talent, and the Chiefs have brought in several backup options over the past couple years, investing draft capital in Kevin Hogan and Aaron Murray, while signing (and then extending) undrafted free agent Tyler Bray. The only problem? None of those signal-callers have ever taken a snap in an NFL game, which means Kansas City could be in a precarious position if Alex Smith goes down. Foles, then, would represent a bit more certainty at the No. 2 position.
New York Jets — Though negotiations between the Jets and Ryan Fitzpatrick continue to drag on, it still seems like the two sides will eventually come to an agreement. If that happens, New York clearly won't be in the market for another quarterback. But as things currently stand, Foles would represent an upgrade over Christian Hackenberg and Bryce Petty, and is perhaps on par with fellow starting option Geno Smith. General manager Mike Maccagnan said during the draft that he wasn't aiming to acquire another quarterback, but that was before talks with Fitzpatrick stalled.
San Francisco 49ers — Whether or not the Rams would be open to trading within their division is an open question, but Foles had the most success of his career under current 49ers head coach Chip Kelly, tossing 27 touchdowns in 2013 when the duo was with the Eagles. Still, San Francisco looks set to go forward with a competition between Colin Kaepernick and Blaine Gabbert, so Foles might not be the best fit, especially given that Kaepernick's base salary is fully guaranteed.
Seattle Seahawks — Again, it's not clear if Los Angeles would want to trade Foles to another team in the NFC West, but the Seahawks have very little between Russell Wilson. Tarvaris Jackson doesn't look to be an option after being arrested on Friday, so it looks as though the club will go with undrafted free agent Trevone Boykin as their backup signal-caller. Boykin, like Wilson, offers mobility in and outside the pocket, so Seattle might prefer him to Foles, who sometimes resembles a statue under center.
Some of these clubs make more sense than others — the Cowboys, for example, stand out as a club that could certainly use an upgrade at backup quarterback. Additionally, it's reasonable to expect that the Rams find they can't acquire anything of value in exchange for Foles, and are instead forced to release him. If that's the case, this list simply becomes a catalog of clubs who could express interest in signing the veteran quarterback.
Photo courtesy of USA Today Sports Images.
Follow @PFRumors