Von Miller went dancing with the stars, but will he be running with the Broncos in 2016? Right now, it doesn't sound like much progress has been made in contract talks between the two sides. Miller and the Broncos have not engaged in contract negotiations since early June, according to Josina Anderson of ESPN.com (via Twitter).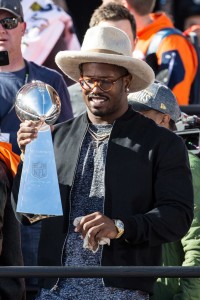 [RELATED: Broncos, Emmanuel Sanders Exchange Contract Figures]
Early June was right around the time when Miller turned down a six-year, $114.5MM deal from Denver. In theory, the total value of that deal would have edged out the free agent contract signed by Ndamukong Suh, but Miller's camp balked at the cash flow of the deal and the relatively paltry $39.8MM guaranteed in the first two years. The Broncos were said to have pulled the offer from Miller (which doesn't mean much) while the outside linebacker claims that he will hold out if he does not get a suitable offer rather than play under the $14MM+ one-year franchise tender.
If Miller opts to sit out the 2016 season, the Broncos will only be able to use the non-exclusive franchise tag on him and will not have the exclusive franchise tag at their disposal. Furthermore, because of the holdout, the compensation for a team signing Miller would drop from two first-round picks to a first and a third. No team is eager to surrender a first- and third-round pick, of course, but that's an easier pill to swallow and a price that at least a few teams should be willing to pay.
In a Twitter poll on Thursday, 31% of PFR readers said that Miller would be the first of four high-profile franchise-tagged players to sign a long term deal. Chiefs safety Eric Berry (29%) was a close second, followed by Redskins quarterback Kirk Cousins and Bears wide receiver Alshon Jeffery (20% each).
Photo courtesy of USA Today Sports Images.
Follow @PFRumors