2:41pm: The players in question are and have been willing to submit to interviews, but things have been delayed due to the bureaucratic differences between the two sides on the scope of the interviews and other factors relevant to the process, a source tells Mike Florio of PFT. The NFLPA is concerned about the precedent that these interviews could set, given the credibility issues that have been raised about the documentary. Going forward, the union is concerned that something as arbitrary as accusations of drug use via social media could lead to league examination, which is the type of thing the NFLPA does not want to invite.
12:09pm: The NFL has informed the NFLPA that league officials will show up on the first day of training camp to interview three players named in the Al-Jazeera America documentary linking them to performance enhancing drugs, according to USA Today's Tom Pelissero.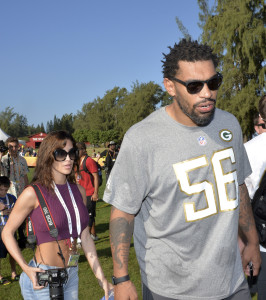 [RELATED: NFL, NFLPA Clashing Over PED Investigation]
Packers linebackers Julius Peppers and Clay Matthews and Steelers linebacker James Harrison are all scheduled for interviews the day camps open. For Peppers and Matthews, that means interviews on July 26th. The Steelers, meanwhile, open camp on July 29th. Former Packers linebacker Mike Neal is currently without a team, but he'll be interviewed on or before July 22nd, per the letter.
Conspicuously absent from the notice, however, is any mention of former Broncos quarterback Peyton Manning. However, a source tells Pelissero that the investigation into Manning's involvement is ongoing.
Since Manning is no longer an active player, he cannot be forced to speak to the league about the accusations though, by the same token, he is free to discuss anything he wants with the league without being hindered by the NFLPA. However, Manning is reportedly hoping to hold a front office position at some point, and that could motivate him to discuss things with the NFL.
Neal, meanwhile, still wants to play football and he believes that the documentary has "heavily, heavily, heavily, heavily, heavily" influenced his extended free agency.
Photo courtesy of USA Today Sports Images.
Follow @PFRumors