After two years of uncertainty under the management of former GM Phil Emery and head coach Marc Trestman, the Bears seem to be on the upswing under John Fox, Ryan Pace, and the rest of the club's new leadership. The key area of focus for Chicago this offseason was defense, and the club made a significant investment to add talent for coordinator Vic Fangio, but a new voice on the offensive side of the ball could go a long way towards building on last year's 6-10 record.
Notable signings:
The Bears' defense actually got a little better in 2015 under new coordinator Vic Fangio, improving from 15.6% below average to 11.6% below the league norm (according to Football Outsiders' DVOA metric), but the unit still needed a lot of work. Heading into last offseason, Andy Benoit of TheMMQB.com wrote that Chicago needed to replace 10 of its 11 starters on the defensive side of the ball, with cornerback Kyle Fuller representing the only option who could stay in his current role. Nearly 18 months later, general manager Ryan Pace and the rest of the front office have reached that goal, replacing every starter besides Fuller while also accruing depth.
After inking do-it-all front-seven player Pernell McPhee last offseason, the Bears this year signed a pair of linebackers who will play more conventional roles, and former Bronco Danny Trevathan may have been the least surprising addition of the spring. Trevathan, 26, played under Chicago head coach John Fox when the pair was in Denver, and Trevathan had long stated that he expected the Bears to show interest in him.
Chicago faced stiff competition for Trevathan, as both the Falcons and Titans also were intrigued by the idea of adding the former sixth-round pick to their linebacking corps. Still, Trevathan wasn't all that expensive, as his $6.125MM annual average ranks just 12th among inside 'backers. His market may have been somewhat stunted by his recent injury history, as a broken kneecap ended his 2014 campaign. But Trevathan stayed healthy for 15 games and 73 tackles last season, and he'll act as a stabilizing presence in Chicago.
Joining Trevathan in the middle of the field will be fellow linebacker Jerrell Freeman, who was lured away from the Colts by a three-year, $12MM pact. Though he just hit free agency for the first time, Freeman is actually 30 years old, having spent the first three years of his professional career in the Canadian Football League. But he's been remarkably productive during his NFL stint, and last year he graded out as the fourth-best linebacker in the league, according to Pro Football Focus, which also ranked him as the No. 1 LB against the run.
Like Trevathan, Freeman has a recent injury record, missing seven games over the past two seasons while dealing with nagging hamstring and concussion issues. But the Bears structured Freeman's contract in such a way that they can get out of it after 2015 if Freeman's production suffers, as Chicago would only carry $1.5MM in dead money if it made Freeman a post-June 1 cut next year. But that's a worst-case scenario, obviously, as the club hopes that Freeman will follow in the footsteps of Ray Lewis, Brian Urlacher, Derrick Johnson, and London Fletcher, fellow linebackers who performed well after crossing age-30.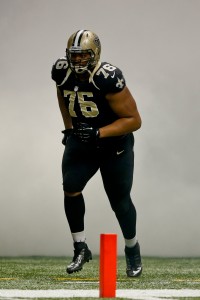 The Bears didn't stop adding to their front seven after signing Trevathan and Freeman, as the team also inked defensive lineman Akiem Hicks, who figures to immediately slot in at end. Hicks spent most of last year with the Patriots, but prior to that was a member of the Saints, so Pace — who started his career in the New Orleans front office — has a familiarity with the fifth-year pro. Mitch Unrein, a capable run-plugger, will rotate with rookie Jonathan Bullard at the other end spot in Chicago's 3-4 scheme after re-upping on a two-year deal.
Cornerback Tracy Porter was also re-signed after a solid 2015 campaign that saw him earn 13 starts. Porter will turn 30 next month, and didn't grade all that well according to PFF (No. 78 CB among 111 qualifiers), but Bears coaches were insistent that Porter was not only a steady force in the secondary, but added a veteran presence in a young defensive locker room. Still, for another $1MM per year or so, Chicago could have signed someone like Patrick Robinson or Casey Hayward, who would probably offer more upside. Elsewhere in the defensive backfield, Sherrick McManis will be back to act primarily as a special teams ace after playing the third-most ST snaps among all Bears last season.
On offense, the key storyline of the offseason was clearly the status of wide receiver Alshon Jeffery, who was set to enter free agency for the first time. Jeffery, 26, dealt with injuries all season long, and ultimately missed seven games. But when he was on the field, Jeffery was tremendous, acting as a target monster and topping 80 yards receiving six times. On a yards per game basis, 2015 was the best season of Jeffery's career.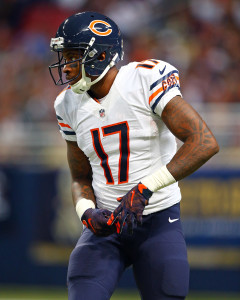 But given his lengthy history of physical ailments, Jeffery was going to have trouble finding common ground on a long-term contract with the Bears. Jeffery likely wanted $14-15MM per year, the same average earned by A.J. Green, Dez Bryant, Julio Jones, and Demaryius Thomas, but Chicago was never going to commit that much to a pass-catcher who struggles to stay on the field. The franchise tag was the only other option, and it's probably a good deal for both sides, as the Bears can limit their long-term risk, while Jeffery can earn nearly $15MM for one year while aiming to cash out next offseason.
The Bears also acted quickly to re-sign another one of Jay Cutler's weapons, agreeing to terms with veteran Zach Miller a few days after free agency opened. Miller had reportedly been looking for $5MM per season on the open market, but as a 31-year-old with one productive season under his belt (until 2015, Miller hadn't played a down since 2011!), he wasn't going to come close to that figure. Instead, Miller inked a deal that will pay him $5.5MM over the next two years, and should step into a more consistent role on offense now that Martellus Bennett has been traded.
Miller will line up frequently next to new right tackle Bobby Massie, whom the Bears signed after a productive platform year in Arizona. Chicago's offensive line was pretty decent last year, ranking seventh in adjusted line yards and 12th in adjusted sack rate, but the front five will have a very different look during the upcoming season. In addition to Massie, whose signing will allow Kyle Long to move back to guard, the Bears inked fellow former Cardinal Ted Larsen and former Panther Amini Silatolu to compete at left guard. Larsen has been one of the worst offensive lineman in the league during his career, and Silatolu has seen his time in the NFL derailed by injuries, meaning neither should be a serious threat to overtake rookie Cody Whitehair.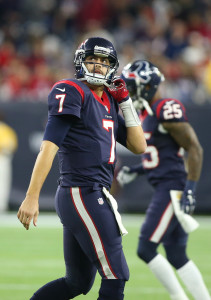 While the offensive line will be blocking for Cutler, new signee Brian Hoyer would step in if Chicago's starter went down, giving the Bears their most respectable backup quarterback since Josh McCown. Hoyer posted the best season of his career in 2015, leading the Texans to the playoffs before suffering an embarrassing defeat to the Chiefs in the Wild Card round. Still, he was the most sought-after No. 2 QB on the open market, and the Bears had to fend off the Steelers and Cowboys by offering Hoyer $750K guaranteed.
One final note: For the second year in a row, Pace and his staff made use of the minimum salary benefit, bringing in veterans at a low cost and letting them compete for jobs. I praised the strategy last season, and the Bears unearthed several contributors, including Porter, Miller, and linebacker Sam Acho, without having to shell out big bucks. The club has taken the same approach this season, re-signing Acho while adding or keeping players such as Tony Moeaki, Rob Housler, and Chris Prosinski on the cheap. Not every one of these veterans is going to hit, but they don't have to — employing the minimum salary benefit enables a team to throw things against the wall and see what sticks, and Chicago has mastered this concept over the past two offseasons.
Continue reading about the Bears' offseason…
Notable losses:
The Bears have a lengthy history of legendary running backs, as Walter Payton and Gale Sayers are among the most notable backs in the history of the NFL. But Matt Forte will be added to that list, as he ranks second in Chicago history in both rushing yards and receptions after finishing eight years with the club. Since his rookie season in 2008, Forte leads the league in yards from scrimmage, racking up 12,718 yards during that time. The former second-round pick was the perfect back for the modern NFL, as Forte also ranks first in receptions (487) since '08. In 2014, his age-29 season, Forte finished fourth in receptions…not among running backs, but in the entire league, trailing only Antonio Brown, Demaryius Thomas, Julio Jones.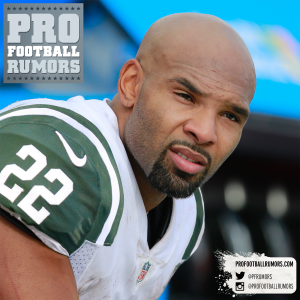 But for a club that's in the middle of a semi-rebuild like the Bears, it simply doesn't make financial sense to retain a running back who's already over 30 years old. Chicago told Forte prior to the free agent period that it wouldn't be re-signing him, and clubs like the Packers and Dolphins expressed early interest. Forte ultimately landed with the Jets, agreeing to a three-year deal worth $12MM — not an exorbitant total, but not a figure that the Bears should have matched.
Chicago's other offensive losses were all up front, including interior option Matt Slauson, who, while he doesn't have the name recognition of Forte, was quite critical to the Bears' offense in both 2013 and 2015 (Slauson missed all but five contests in 2014 due to injury). Only 30 years old, Slauson was due $3.4MM during the upcoming season, and Chicago surprisingly didn't even give him a chance to accept a pay cut. Versatile enough to handle every position on the interior offensive line, Slauson graded as the league's fifth-best center in 2015 (per PFF), and that's the spot he'll handle in San Diego. The wiser move, from my vantage point, would have been to retain Slauson and let him start at center over Hroniss Grasu, who struggled in his rookie campaign.
Tackle Jermon Bushrod had lined up next to Slauson for the past several seasons, but after suffering a concussion and ceding his starting job to Charles Leno, Bushrod's time in Chicago was clearly nearing its end. The Bears took on $4.4MM in dead money by releasing Bushrod, but it was the right move, as the veteran was never a top-level performer for the club. Journeyman center/guard options Vlad Ducasse (who actually started 11 games last season) and Will Montgomery also won't return.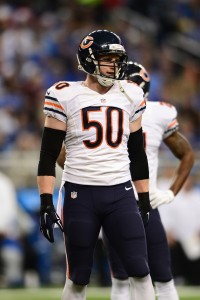 Moving to the defensive side of the ball, the Bears didn't make a serious effort to re-sign former first-round pick Shea McClellin, who had bounced all around the front seven but failed to make an impact at any position. Chicago had already declined his fifth-year option, so he hit the open market and landed a nice deal with the Patriots. If McClellin is able to carve out a role in New England, it could be a bad look for Chicago's coaching staff.
In the secondary, Alan Ball was signed to add a veteran presence to a young defensive backfield, but he only ended up playing about a quarter of Chicago's snaps as his starting role was usurped by Tracy Porter. Now 31 years old, Ball's time in the league could be coming to an end. Likewise, safety Ryan Mundy might not have much left, as although he started all 16 games in 2014, he missed all of last season with a hip injury, a devastating ailment for an athlete, and especially a back-end defender.
Along with McClellin, end Jarvis Jenkins was the only other Bears defensive loss who actually played a meaningful role last season, and like McClellin, Jenkins was similarly ineffective, ranking among the bottom-20 interior defenders in the NFL, according to PFF. Jenkins is probably more suited to a situational pass-rushing role, which is the part he'll play with the Jets. On a macro level, it speaks to the level of Chicago's revamp that none of their defensive defections will hurt.
Trades:
The 2014 campaign was, without question, the best season of Martellus Bennett's career, as the veteran tight end hauled in 90 passes for 916 yards while scoring six touchdowns, earning a spot on the Pro Bowl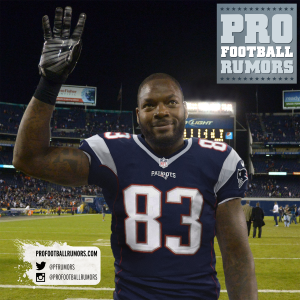 roster for the first time. But trade rumors began floating around Bennett as early as April 2015, as the Bears were reportedly not willing to entertain Bennett's request for a new deal.
Bennett continued to express displeasure with both his contract status and his role in Chicago's offense throughout the 2015 season, and his disdain for his standing with the club became so public that Bennett's agent was forced to publicly deny that any rift existed. However, after a season which saw Bennett land on injured reserve, it appeared that his time in the Windy City would soon come to an end, and it did, as he was shipped to the Patriots after the division rival Packers reportedly showed interest in signing Bennett were he to be released.
The Bears moved up roughly 80 spots in the draft by trading Bennett to New England, and they also acquired a good deal of draft capital through various deals made during the event itself. General manager Ryan Pace did very well for himself by pick-pocketing both the Bills and the Seahawks, picking up 167 cents on the dollar from Buffalo and 132 cents on the dollar from Seattle, according to Chase Stuart of Football Perspective. Meanwhile, Chicago gave up a much smaller haul (117 cents on the dollar, per Stuart) to swap first-rounders with the Buccaneers, leaping the Giants who were also though to be targeting edge rusher Leonard Floyd.
Draft picks:
By most accounts, the Bears wrangled one of the best draft classes of any club this year, as both Pro Football Focus and Mel Kiper of ESPN.com handed Chicago an "A-" grade for its efforts. First-rounder Leonard Floyd is the riskiest pick of the bunch,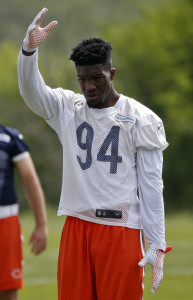 as the 6'6″ edge rusher needs to add weight and could be limited to sub packages during his rookie year. But he's an excellent athlete, having graded as the second off-ball linebacker in SPARQ score, and the fact that he won't be asked to do too much during his rookie season might actually Floyd, as he'll play behind McPhee, Willie Young, and Lamarr Houston for the time being.
Cody Whitehair, on the other hand, figures to start immediately, as his only competition at left guard is Ted Larsen and Amini Silatolu, a pair that has — more often than not — been either been ineffective or hurt. Offensive line expert Lance Zierlein of NFL.com praised Whitehair's work ethic during the pre-draft process, and noted he is "almost always in complete control of his body thanks to outstanding core strength and balance." While noting that he could be susceptible to the bull rush, Zierlein named Whitehair a potential All Pro, and comped him to Cowboys guard Zack Martin.
In the third round, Chicago found a steal, selecting Florida end Jonathan Bullard, whom many analysts had projected to go in the first round. At 6'3″, 285 pounds, Bullard has the size to play end in Vic Fangio's 3-4 scheme, and he can help out on early downs given that he posted the best collegiate grade against the run last season, per PFF. Bullard will rotate with Mitch Unrein, Will Sutton, and others as he gets his footing, but it wouldn't be a surprise if he earns more playing time as the season goes along.
While Deiondre' Hall and DeAndre Houston-Carson will likely be relegated to special teams role during their rookie campaigns, defensive back Deon Bush is a strong candidate to start in 2016. The Bears released veteran Antrel Rolle earlier this year, opening up a spot at strong safety next to Adrian Amos. Bush's main competition is Chris Prosinski, a career special teamer who is only guaranteed $80K this year.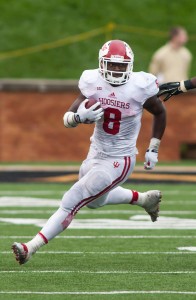 A few later round picks, running back Jordan Howard and receiver Daniel Braverman, could see time on offense during the upcoming season. The Bears are expected to use a committee to replace Matt Forte, with Howard joining Jeremy Langford, Jacquizz Rodgers, and Ka'Deem Carey in an effort to rush the ball. Braverman, meanwhile, was a favorite of several draftiks, but he won't get on the field unless Eddie Royal gets hurt, as both are strictly slot receivers. Royal missed seven games last season, however, so the opportunity could be there for Braverman.
Other:
Adam Gase followed John Fox from Denver to Chicago after missing out on several head coaching opportunities, and helped rehabilitate the career of quarterback Jay Cutler. Now that Gase has moved onto Miami, Cutler has hand-picked the successor at offensive coordinator, as former QBs coach Dowell Loggains was promoted. Loggains does have previous play-calling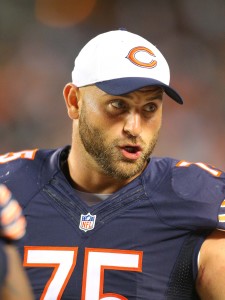 experience with the Titans in 2012-13, and helped a Tennessee offense rank 16th in offensive DVOA with Ryan Fitzpatrick and Jake Locker under center (no small accomplishment). The Bears' defense figures to improve in 2016, but the club's offense needs to maintain its top-10 DVOA rating if it wants to seriously compete.
A key part of that offense will be offensive lineman Kyle Long, who figures to stay at right guard now that Chicago has signed tackle Bobby Massie. Long has made the Pro Bowl in each of his three NFL seasons, and although the rest of the Bears' interior line could see some reshuffling this season, Long will stabilize the front five at right guard. Using Pro Football Reference's approximate value metric, Long has been the second-most valuable member of the entire 2013 draft class, so Chicago's decision to pick up his 2017 fifth-year option was an easy call. Extensions talks should begin soon, and Long could easily reset the market at right guard, which is currently topped by Brandon Brooks' $8MM per year.
The Bears added or re-signed quite a few tight ends this offseason after trading away Martellus Bennett, signing Zach Miller, Tony Moeaki, and Rob Housler, but the team also tried to bring in Saints restricted free agent Josh Hill. New Orleans had already inked free agent tight end Coby Fleener to a large contract, and given the Saints' constant cap trouble, it seemed inconceivable that the club would be able to match any offer sheet. But they did, and because the specific structure of Chicago's offer isn't known, it's fair to wonder if the Bears could have manipulated the deal in such a way to make it impossible for the Saints to counter.
Top 10 cap hits for 2016:
Aaron Schatz of ESPN.com recently posted Football Outsiders' initial forecasts for the 2016 season, and the Bears are projected to finish last in the NFC North with seven wins. Chicago is certainly in a tough division, as both the Vikings and Packers should be considered favorites to return to the postseason once again. But I'd take the over on seven wins for the Bears, as the club's defense has improved so much that that it shouldn't struggle to reach a .500 record.
Information from Over the Cap, Spotrac, and Roster Resource was used in the creation of this post. Photos courtesy of USA Today Sports Images.
Follow @PFRumors