SUNDAY, July 31: The Dolphins will place the newly-reinstated Jordan on the non-football injury list, according to Mike Florio of Pro Football Talk, and Jordan will not earn his $1.7MM roster bonus. Per Florio, Jordan failed a physical on Saturday and is currently recovering from a knee problem that required arthroscopic surgery. Armando Salguero of The Miami Herald tweets that Jordan is expected to be back on the field within two to three weeks.
FRIDAY, July 29: Dion Jordan has been reinstated to the NFL, according to Ian Rapoport of NFL.com (on Twitter). However, Jordan's reinstatement is conditional. The defensive end will be in counseling and will be reevaluated before the start of the season.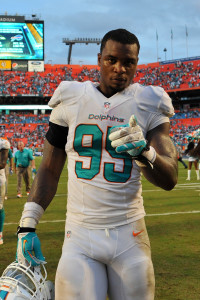 [RELATED: Armando Salguero Of The Miami Herald Talks To PFR About Jordan, Dolphins Offseason]
The 26-year-old needs to prove to the league office that he can stay on the straight and narrow. When it comes to the Dolphins, he needs to prove that he can produce on the field. Through 26 games in 2013 and 2014, Jordan registered only 46 tackles and three sacks.
Jordan is not the only notable name to run afoul of the league's policy on substance abuse. In recent years, Josh Gordon, Justin Blackmon, Martavis Bryant, Aldon Smith, and Daryl Washington have all been sidelined by the NFL and as Jordan has witnessed, those missteps can sometimes be career threatening or ending. For his part, Jordan has said that he's not going to squander that opportunity if it is given to him.
"I'm not about to waste it. I can't waste it. And I (expletive) love doing it," Jordan said in May. "Who doesn't love running out in front of 30,000-plus fans and you get that rush? But it's also things that you can get that rush from that can be very satisfying and can carry you on to a successful life after football…I just turned 26 years old, so life starts to hit you in the face. Who are you outside of those shoulder pads and helmet? And it's weird, but I feel like it's a blessing for me at this point in time to think about it, instead of waiting 'til they really tell me I can't play football no more."
In recent weeks, there was a great deal of talk as to whether the Dolphins would pay Dion Jordan his $1.69MM roster bonus if were to be reinstate. As it turns out, the Dolphins don't really have a decision to make with regards to that payout. While the Dolphins will be required to pay that bonus on Aug. 1, Jordan must also repay his $3.35MM signing bonus to the team as a result of his suspensions. That money has not been fully returned yet and Jordan owes the Dolphins more money than they owe him. So, a reinstated Jordan would not be cut by the team in an effort to save money. However, the Dolphins could theoretically release or trade Jordan if they do not want him on the roster for football reasons.
Photo courtesy of USA Today Sports Images.
Follow @PFRumors