With the season fast approaching, we're chatting with beat writers from around the league to gain insight on each team's offseason and how those moves will impact the season ahead.
Now, we continue the series by discussing the Seahawks with Bob Condotta of the The Seattle Times. You can follow Bob on Twitter @bcondotta and check out his stories here.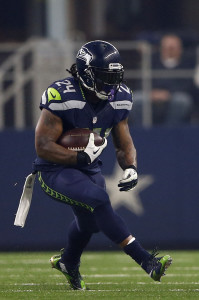 Zach Links: Marshawn Lynch dominated headlines this offseason after he announced his retirement in February and reportedly may have waffled a bit on the decision in May. Was Marshawn giving real thought to playing in 2016? If so, did he want to play somewhere other than Seattle?
Bob Condotta: My understanding is no, that he was never thinking of playing this season in Seattle or anywhere else.
Zach Links: Recently, the Seahawks extended coach Pete Carroll through 2019 and GM John Schneider through 2021. Did the Seahawks attempt to get Carroll to sign through 2021 to match up with Schneider?
Bob Condotta: I haven't been able to determine that. But years on contracts has not seemed to matter much to Carroll since his initial deal. He also signed a three-year extension following the Super Bowl win in 2013, so the one he just got matches that one. Despite whatever chatter is out there, there's no real thought that Carroll would ever leave Seattle for another job. But with Schneider being 20 years younger than Carroll, there was a thought it was important to sew him up for as long as possible. So I think that accounts for the difference in contracts.
Zach Links: In 2014, Michael Bennett signed a team-friendly deal to stay in Seattle. In 2015, he began complaining about his under-market contract and he continues to be unhappy with the pact. Do you think the Seahawks will cave and give him a significant pay bump this summer?
Bob Condotta: Hard to tell. I do know Bennett would like them to. His agent and the team have continued to have negotiations. But the Seahawks have worries about setting a precedent of giving new deals to players with more than a year remaining on their contracts. That's the only reason they have hesitation about giving Bennett a new contract.
Continue reading about the Seahawks..
Zach Links: Doug Baldwin's new four-year, $46MM extension ($24.25MM in guarantees) makes him one of the highest-paid wide receivers in the NFL. Were you at all surprised by the size of the deal? 
Bob Condotta: No. Baldwin is one of those players whose value to the Seahawks may be hard for people outside of Seattle to really ascertain. Baldwin in a lot of ways embodies everything that the Seahawks preach — an undrafted free agent who initially forged his way on to the roster via special teams and has embraced every role the team has given him on the way to becoming one of the most productive receivers in the NFL. Given the way the Seahawks play, merely judging him by his stats is to miss the point of all that Baldwin does for the Seahawks. But the Seahawks understand that, and also know that the other Seahawks understand what Baldwin's value is to the team. Seattle has been aggressive about rewarding its own core players, those who grew up in the organization. Baldwin was simply the latest to get his reward.
Zach Links: The Seahawks signed former Pro Bowl guard Jahri Evans late last week. What, in your opinion, does he have left in the tank at this point?
Bob Condotta: Really hard to tell at this point, with Evans just one practice in to being a Seahawk. Ask me in a week or so and I can give a better answer. It may be especially hard to tell in the first week since the Seahawks are initially working Evans at left guard while he played right guard during his New Orleans career. Seattle is doing that cause it wants to see if Evans can be a swing guard — it's unlikely he would beat out Germain Ifedi to be the right guard at this point. But if he can play left guard or show some versatility, that's what the Seahawks want to see.
Zach Links: Do you think the Seahawks will wrestle the NFC West crown away from the Cardinals this year?
Bob Condotta: I certainly think they can. Seattle had a lot of issues last season that they don't have entering this season — a hold out, injuries to every key player in the secondary, to name two — and also have a quarterback and receiving group entering the prime of its career. Seattle and Arizona may be the two best teams in the NFC by the time the season is done. But while the Seahawks certainly respect Arizona they don't fear the Cardinals. The Seahawks feel if they are healthy and playing right they can beat anybody.
Photos courtesy of USA Today Sports Images.
Follow @PFRumors