With the exception of the Rams, perhaps no team in the NFL defines mediocrity more than the Dolphins. Since winning the AFC East with an 11-5 record in 2008, Miami has not earned another postseason appearance, posting a 49-63 record during that time while never winning more than eight games in a single season. A new coaching staff is now in place, and tasked with the same assignment that prior regimes have failed to complete time and again: dethrone the Patriots as division champions.
Notable signings:
Perhaps no club swung and missed more often while searching for help at a single position than the Dolphins as they trawled for a new running back after losing Lamar Miller during free agency. Miami eyed options such as James Starks and Chris Johnson, offering the latter more money than did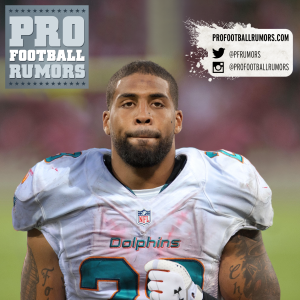 the Cardinals (with whom he ultimately re-signed), and even signed the Broncos' C.J. Anderson to a restricted free agent offer sheet. But after Denver matched on Anderson, the Dolphins did little to augment their backfield over the next four months except select Kenyan Drake — who doesn't project as a starter in 2016 — in the third round of April's draft.
In mid-July, however, Miami finally struck a deal with veteran back Arian Foster, whom the club had first met with all the way back in March. Foster will turn 30 years old before the regular season begins, and the torn Achilles he suffered last season was just the latest in a long line of injuries that have limited him throughout his career. But, when he's healthy, Foster is electric. In the four seasons when he's managed to play 13+ games, Foster has rushed for at least 1,200 yards and eight touchdowns, adding an average of 50 receptions during those campaigns.
Second-year pro Jay Ajayi, Foster's direct competition for snaps, is no beacon of health himself, as knee issues worried some draft observers in 2015 and caused Ajayi to fall to the fifth round. And regardless of the fact that Ajayi was listed as the first-team back on Miami's "official" depth chart released this week, the Fins are clearly hoping Foster can serve as their bell-cow back. As Armando Salguero of the Miami Herald recently tweeted, Foster has shown during camp that he's "head and shoulders the best running back on the Dolphins'" roster.
The group blocking for Foster and/or Ajayi could look a little different this season, especially at the guard position, where Miami added veterans Jermon Bushrod and Kraig Urbik. The latter is probably going to serve as depth, but the Dolphins reportedly want Bushrod to win the right guard job instead of Billy Turner. Bushrod, 31, is a career left tackle, and he's acknowledged the difficulty of not only moving to the interior, but to the opposite side. Miami has locked-in options at center and both tackle spots, but guard will be an area to watch during camp, as Bushrod, Urbik, Turner, Laremy Tunsil, and Dallas Thomas will all compete for time.
Miami also added trench reinforcements on the defensive side of the ball, agreeing to terms with three veteran defensive ends to augment a rotation that already includes former All Pro Cameron Wake. After losing Olivier Vernon and Derrick Shelby during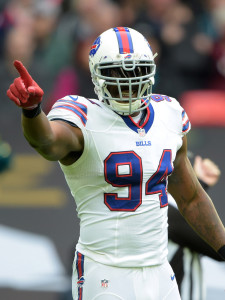 the free agent period, the club's first move was to sign former Bills defensive end Mario Williams, who had reportedly been seeking $10MM annually. While he didn't reach that mark, there's some question as to whether Williams is worth the $8.5MM average he did receive.
During his final season in Buffalo, Williams posted only five sacks and graded as the league's No. 93 edge defender among 110 qualifiers, per Pro Football Focus, and later drew criticism from Bills head coach Rex Ryan, who said Williams complained about having to drop into coverage. New Dolphins head coach Adam Gase said Williams is going to be a "different guy" in South Beach, and he'll have to be to justify his salary.
Along with Williams, Miami also signed Jason Jones, who last played for the Lions, and inked ex-Jaguar Andre Branch. Jones, for his part, was an especially solid addition, as the Dolphins were able to land him for only $1.5MM on a one-year contract. He'll act as a rotational run-stuffer behind Wake and Williams. Branch, meanwhile, can't stop the run and has never lived up to his second-round draft status, but he's a capable pass-rusher who can produce in limited snaps. Miami could conceivably move either Williams or Wake inside next to Ndamukong Suh on passing downs, allowing Branch to get after the quarterback from the edge.
Just today, the Dolphins agreed to terms with free agent cornerback Chris Culliver, signing the former 49er/Redskin to a one-year deal. Culliver, 28 next week, didn't draw much interest on the open market after being released by Washington, and that's likely due to concerns about his ACL, which he tore in November.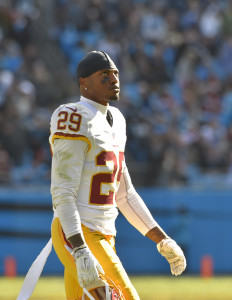 There aren't many details available about the one-year pact as of yet, but Ian Rapoport of NFL.com did note that the deal can be worth "up to $5MM." That type of phrasing can mean many different things, and we'll need to know the complete specifics before fully analyzing the deal, but it likely doesn't offer much in the way of guarantees.
Aside from a few veteran linebackers who will likely earn playing time via special teams (Spencer Paysinger, Danny Lansanah), the Dolphins' only other notable signing was that of safety Isa Abdul-Quddus, whom they lured away from the Lions with a three-year deal. Abdul-Quddus was excellent after wresting away a starting job from James Ihedigbo last year, posting 40 tackles and ranking as the No. 21 safety in his eight starts, according to PFF. However, IAQ has only posted a half-season's worth of production during his five-year career, so there's definitely some risk in this contract, but that uncertainty is somewhat negated by the modest financials.
Continue reading about the Dolphins' offseason…
Notable losses:
The Dolphins lost several interesting players this offseason, but none was more impactful than defensive end Olivier Vernon, who signed a massive deal (five years, $85MM, $40MM guaranteed) after Miami rescinded his transition tag. The argument can be made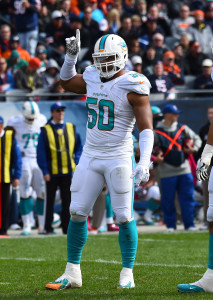 that the Dolphins made a mistake by not assigning Vernon the franchise tag — which would have been worth about $15.7MM — from the start. Mario Williams, Andre Branch, and Jason Jones account for roughly $10.7MM on Miami's 2016 cap, so for $5MM more, the club could have retained one of the league's elite edge defenders instead of signing three mid-range options.
But rationalizing the Dolphins' choice with Vernon is also possible, although it requires one to view the team's front office in a different light. Miami has traditionally employed a "stars-and-scrubs" approach to roster-building, but allowing Vernon to walk in free agency and instead sign multiple defensive ends is the antithesis of that philosophy. Once the Dolphins placed the transition tag on Vernon, and subsequently realized a number of clubs were willing to pay him far more that they were, Miami had no choice but to revoke the tag, as doing so enabled them to recoup a 2017 compensatory pick. The ideal solution, though, was probably to franchise Vernon, and either live with him on a one-year deal, or see what the trade market had to offer.
Vernon wasn't the only pass-rusher the Dolphins saw go elsewhere this offseason, as Derrick Shelby left South Beach after a four-year run. Shelby is only 27 years old and graded as the league's No. 21 edge defender last season (per PFF), but it's hard to discount that he's registered only nine sacks over his entire career. Sacks aren't everything, as pressures, hits, and hurries also affect a quarterback's rhythm, and Shelby is a good run defender, too. But the Falcons were willing to hand him $18MM over four years, including $7.5MM in guarantees, a price that the Dolphins (rightly) weren't willing to match.
Aside from Miami's two defensive line defections, the club's most notable loss was running back Lamar Miller, who left for Houston after the Dolphins never seriously entertained re-signing him. Miami (especially its prior coaching staff) never seemed to fully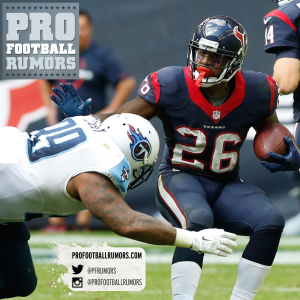 trust Miller, as his high-water mark for carries was only 217. Miller is a productive running back who's averaged 4.6 yards per carry over the duration of his career, and he actually got better when he received more carries, rushing for 5.1 yards per carry when he got those 217 attempts in 2014. Still, choosing not to hand veteran running backs multi-year contracts is a strategy that will never hear any argument from me.
Elsewhere among the skill positions, wide receivers Rishard Matthews (free agency) and Greg Jennings (release/retirement) won't be members of the 2016 Dolphins. Jennings failed to put up any sort of numbers during his one-year stint with Miami, so we won't waste much time on him. Matthews, however, posted the best season of his career in 2015, catching 43 passes for 662 yards (15.4 yards/reception) while scoring four times. The 26-year-old signed a reasonable $5MM per year deal with the Titans, but the Dolphins never had any intention of going that high to retain him.
Jumping back to the defensive side of the ball, Miami cut bait with cornerback Brent Grimes (and his wife, Miko) after the pair spent three seasons with the club. Numerous reasons could have contributed to Grimes' release, including the fact that he's now 33 and is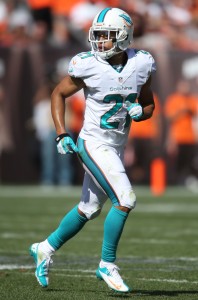 getting beat in coverage more often, but Miko's controversial comments on social media reportedly played a role in the Dolphins asking Grimes to accept a pay cut (which he refused). A number of teams refused to entertain the idea of signing Grimes thanks to Miko's antics, but he eventually landed $7MM guaranteed from the Buccaneers. Miko (shockingly) has since attacked Miami's front office and ownership with ethnic slurs.
Grimes is the more high-profile player, but fellow corner Brice McCain might be the more important loss. McCain was forced to play outside corner last year, and predictably struggled, given that he's much more suited for the slot. As Armando Salguero of the Miami Herald has argued, McCain would likely be an improvement over Bobby McCain (no relation), who is currently projected to start inside for the Dolphins, and Brice wasn't very expensive, as he secured only $1MM guaranteed from Tennessee. Fellow defensive back Louis Delmas is also gone, but he didn't play a snap in 2015 after suffering yet another knee injury during the preseason.
Two more veterans — linebacker Kelvin Sheppard and offensive tackle Jason Fox — won't be back with the Dolphins after each played more snaps than they should have in 2015. Sheppard is now a Giant after playing on more than 60% of Miami's defensive plays last season, but he's not a lock to make the final New York roster and won't be missed in South Beach. Fox, meanwhile, was forced to play more than 80% of the Dolphins' snaps thanks to injuries along the front five, but graded as one of the six worst tackles in the league, according to PFF.
Trades:
Miami and personnel chief Mike Tannenbaum clearly don't hold draft capital in the same high regard that many other clubs around the league do, as the Dolphins consistently sacrificed future value for the present, trading away multiple picks to move up and acquire single selections. It's a curious way to build a roster, and as Chase Stuart of Football Perspective wrote, it's a strategy that is "emblematic of an organization that puts little emphasis on depth relative to star power."
Take Miami's Day 2 trade with the Vikings, for example. According to Stuart's value chart, the Dolphins paid something close to 176 cents on the dollar (!) to trade up and draft draft Leonte Carroo. Minnesota, as Stuart detailed, essentially picked up a free fourth- and
sixth-round pick by simply waiting until next year to make their choices. Miami either doesn't understand this concept, or fails to recognize the extremely heavy discount that it is placing on future draft picks.
Tannenbaum & Co. also took a bath when trading for veterans, as they traded away the equivalent of a early fifth-round pick to acquire Byron Maxwell, his hefty contract, and Kiko Alonso. Miami may still have some hope that Maxwell can turn into a playable No. 1 cornerback, and Alonso will be cheap in 2016 as he plays out his rookie contract.
But Maxwell's massive contract is an entity unto itself, and even though the rest of Maxwell's prorated bonus accelerated onto the Eagles' cap and the Dolphins were able to restructure Maxwell's deal, the trade still makes little sense. Miami will pay Maxwell a guaranteed $8.5MM this season and is on the hook for $3MM guaranteed in 2017, so the fact that Philadelphia was able to both dump that contract plus acquire extra draft capital is rather astonishing.
Draft picks:
Even if he never succeeds in the NFL, Laremy Tunsil will likely be remembered for the foreseeable future given the drama that surrounded him on draft night. As most surely recall, Tunsil — who was thought to be the favorite to be selected with the first overall pick before the Titans traded down — was considered a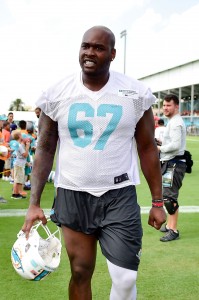 lock to be chosen in the top-six, but a free fall began a video surfaced showing Tunsil smoking out of a bong. Clubs at the top of the draft, most notably the Ravens, weren't able to gather on the information quickly enough (and also may have had injury concerns about the Ole Miss tackle), leading Tunsil to tumble down that board until Miami snatched him up at No. 13.
And though Tunsil is considered one of the premier left tackle prospects to enter the league in some time, he'll begin his career at guard thanks to the presence of Branden Albert on the blindside. Albert, however, is entering his age-32 season, and has missed time in each of the last four seasons, meaning Tunsil is quite likely to see action at left tackle this season. Offensive line expert Lance Zierlien of NFL.com compared Tunsil to Cowboys tackle Tyron Smith during the pre-draft process, and if Tunsil even comes close to matching Smith's production, the Dolphins will have made the right choice.
Miami was also counting on Xavien Howard to start early in his career, as the club has little depth behind Byron Maxwell in the secondary. The former Baylor Bear looked like the favorite to land the Dolphins' No. 2 corner job, but after suffering a knee injury during minicamp, Howard underwent surgery and is now on the active/PUP list. Rookie defensive backs nearly always face a steep learning curve, and Howard will now encounter an even more difficult challenge given that he will miss a portion of training camp.
Skill position players Kenyan Drake and Leonte Carroo, meanwhile, don't figure to play large roles during their rookie years given that they're each pretty far down the depth chart. Drake could be listed as low as fourth among Miami's running backs, and it would take a number of injuries for him to see playing time (but given that Arian Foster and Jay Ajayi are the team's top two backs, health concerns are certainly on the table). Carroo, meanwhile, has a clearer path to snaps, but he's behind Kenny Stills for the moment.
Extensions and Restructures:
Cameron Wake was already set to make roughly $8.3MM for the 2016 season, so while the Dolphins could have asked him to accept a pay cut (especially given that's coming off injury), the club instead lowered Wake's cap hit for the upcoming campaign while adding $3MM in guarantees for 2017. As Jason Fitzgerald of Over the Cap wrote in his analysis of the deal, Miami is clearly projecting Wake for a solid season, and if the veteran defensive end does return to his old form, then the team has indeed scored a below-market deal. And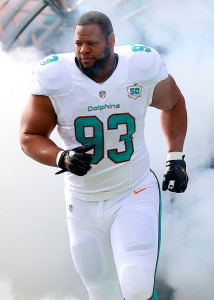 the risk is negligible, because if Wake does fall off a cliff, the Dolphins will have paid him only ~$1.7MM more than was originally scheduled.
While Wake's new deal can be rationalized, the same cannot be said for the restructuring of Ndamukong Suh's pact. Already one of the most onerous contracts in NFL history, Suh's deal now contains an extra $4MM in prorated bonus money in each of the next five years, which gives the star defensive tackle enviable protection against being released. Realistically, Miami now cannot move on from Suh until after the 2019 campaign.
That timeline will be acceptable if Suh continues his current level of production (though he's still making considerably more than any other defensive tackle), but if Suh experiences a dropoff, the Dolphins will be in an undesirable situation. Additionally, there wasn't a pressing need for Miami to restructure this deal — though they were tight on cap space, the club made other moves (releasing Brent Grimes and Greg Jennings, forcing Jordan Cameron and Koa Misi to accept pay cuts) that created fiscal room. The Fins have essentially locked themselves into a half-decade of a highly-paid Suh when they weren't required to do so.
Other:
New general manager Chris Grier will have a voice in Miami's front office, but Mike Tannenbaum clearly still runs the show and maintains final say on personnel decisions. Changes to the coaching staff will likely have a larger impact on the upcoming season, as Adam Gase landed the Dolphins' head coaching position after being considered for several openings during the 2015 offseason. Gase has been very successful during his NFL career, helping lead one of the most productive offenses in league history while with the Broncos, and turning around Jay Cutler's career with the Bears.
Gase will call the offensive plays in South Beach, meaning new OC Clyde Christensen will maintain more of a planning role, and serve as a sounding board for quarterback Ryan Tannehill. Christensen's last two pupils were Peyton Manning and Andrew Luck, so he should have a shot at bringing the best of Tannehill to the forefront. On defense, former Bengals defensive backs coach Vance Joseph secured the coordinator role after having been Denver's first choice for the same job during the 2015 offseason. He'll try to rescue a unit that ranked just 25th in Football Outsiders' DVOA last year.
One possible member of Joseph's unit is former third overall pick Dion Jordan, who earned his conditional reinstatement from the NFL and has since been cleared to practice after presumably meeting the league's requirement of counseling. However, Jordan is recovering from offseason knee surgery and apparently hasn't looked great during practice sessions, so he's no lock to make the squad, especially given that the Dolphins added a good deal of help to their defensive line over the past several months.
Top 10 cap hits for 2016:
New head coach Adam Gase has drawn rave reviews at every stop during his career, and the laudation hasn't ceased now that he's made his way to Miami. Gase is seen as the savior who can rectify Ryan Tannehill's career, and while he may able to turn around the franchise quarterback (with the help of an improved offensive line), the Dolphins' defense needs to take just as big a leap forward if the club has any serious hopes of contention in 2016.
Information from Over the Cap, Spotrac, and Roster Resource was used in the creation of this post. Photos courtesy of USA Today Sports Images.
Follow @PFRumors