Many NFL observers had not only penciled in the Colts for a lengthy postseason run, but projected Andrew Luck to be among the league's top contenders for the MVP award. Instead, Luck dealt with injuries (and wasn't all that productive when he was on the field), and though backup Matt Hasselbeck played well at times, the offense couldn't handle the loss of its starting quarterback, and finished 30th in DVOA. Indy's defense was surprisingly competent (13th in DVOA), but that performance wasn't enough to help the club finish better than 8-8, second in the AFC South.
Notable signings:
The Colts and general manager Ryan Grigson have been active spenders during the last two free agent periods, as they've attempted to augment their roster with external additions. During the 2014-15 offseasons, Indianapolis handed out an average of $38.5MM in guaranteed money while inking veterans such as D'Qwell Jackson, Arthur Jones, Andre Johnson, Frank Gore, and Trent Cole. This year, the club took a markedly different approach, limiting their free agent spending and disbursing less than $20MM in guarantees.
The majority of that money went towards re-signing one of the Colts' own free agents, as the club hammered out a four-year deal to retain tight end Dwayne Allen. The 26-year-old is coming off a platform season during which he was not only hampered by ankle and calf injuries, but posted only 16 receptions for just over 100 yards and one touchdown, so it's perhaps surprising that Allen is now among the 10 highest-paid tight ends on an annual basis.
But this contract was offered with an eye towards the future, as new Indy offensive coordinator Rob Chudzinski — a former tight ends coach who often features the position in his scheme — reportedly told Allen that he'd be more involved in the club's gameplan going forward. Allen has flashed before (he put up a 45/521/3 line during his rookie campaign), and as Scott Barrett of Pro Football Focus noted at time of the signing, Allen has always graded out well as a blocker, both in the run and pass game.
The Colts' only other notable re-signing was that of kicker Adam Vinatieri, with whom the club worked out a two-year deal. In 2015, Vinatieri connected on 25 of 27 field goal tries, for a 92.6% conversion rate. However, he did occasionally struggle with the longer extra point, missing three of 35 attempts. Still, there were few NFL kickers more reliable than Vinatieri, who is now third on the league's list of all-time leading scorers. With 2,253 points, Vinatieri should be able to make a run at Morten Andersen (2,544) and Gary Anderson (2,434) as he plays out the final leg of his career.
On defense, Indianapolis found a cornerback who can slot in opposite Vontae Davis, as it agreed to terms with Patrick Robinson, who spent last season with the Chargers. A first-round pick of the Saints back in 2010, Robinson never broke out until heading to San Diego, as he started 10 games in 2015 and graded as the league's No. 30 CB among 111 qualifiers, per Pro Football Focus.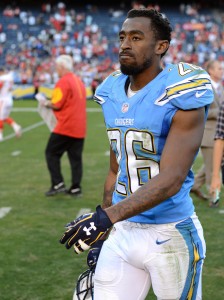 Because Davis lines up primarily on the right side, Robinson will see most of his time at left corner, although he is also capable of playing in the slot. As PFF's Nathan Jahnke tweeted earlier this year, Robinson held quarterbacks to the third-worst rating (67.7) in the league when lined up in the slot. But with Darius Butler entrenched on the inside, Robinson will likely stay on the outside most of the time, something that Grigson confirmed when the 28-year-old was signed.
Joining Robinson in the secondary will be veteran corner Antonio Cromartie, who was just signed yesterday following news that Davis will miss at least the first month of the season with an ankle injury. Cromartie, a 10-year veteran and four-time Pro Bowler, has been on the open market since the Jets released him in February. That was the end of Cromartie's second stint with New York, which lasted only one season. Pro Football Focus ranked him just 86th out of 111 qualified cornerbacks in 2015, but he'll now likely be counted on to start for a quarter of the season at minimum.
While Indianapolis is planning on Robinson and Cromartie providing consistent production in the defensive backfield, the club is surely hoping that Scott Tolzien doesn't see many — if any — snaps this year as he serves as Andrew Luck's backup at quarterback. Luck is coming off an injury-wrecked season, but the Colts were able to stay afloat thanks in some part to the play of Matt Hasselbeck.
Tolzien, meanwhile, doesn't have anywhere close to the level of experience that Hasselbeck did, as Tolzien has only attempted 91 passes during his career. As such, it's fair to wonder why Indy didn't target a more high-profile backup signal-caller. But, as former Colts offensive coordinator Tom Moore once said (in an extremely colorful way), clubs are usually finished if their starting quarterback goes down, so perhaps not investing in a No. 2 option is the smart strategy.
Indianapolis doesn't have much depth behind Luck, and the club is also short on options behind running back Frank Gore, who is entering his age-33 season. Veteran free agent additions Jordan Todman and Robert Turbin, each of whom signed minimum salary benefit deals, both figure to make the roster and would likely share carries if Gore suffers an injury. However, 2016 undrafted free agent Josh Ferguson has been drawing rave reviews, and could leap both Todman and Turbin for playing time.
Continue reading about the Colts' offseason…
Notable losses:
The Colts were always going to be forced to choose between tight ends Dwayne Allen and Coby Fleener, and according to Fleener, Indianapolis didn't seem to struggle with their decision. "The Colts' lack of interest and the Saints' interest made going to New Orleans an easy choice," Fleener told Mike Wells of ESPN.com earlier this year.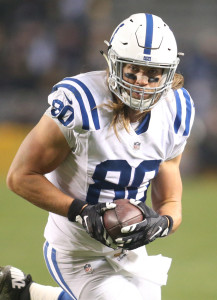 Allen is probably the more complete tight end, but Fleener holds the advantage in terms of pure receiving talent, and he could be in line for a massive season catching passes from Drew Brees. Allen scored a slightly larger annual salary, but Fleener secured $3MM+ more in guaranteed money.
Indy's passing attack will also be without veteran wide receiver Andre Johnson, who was released just one season into a three-year deal, meaning he earned $10MM+ for one campaign's worth of work. Johnson, who has since signed with the division-rival Titans, posted the worst season of his career in 2015, struggling to create separation from defensive backs while managing only 503 receiving yards and two scores. The Texans looked to have made the right decision in parting ways with Johnson after 2014, and his deal with the Colts is just one more black mark on general manager Ryan Grigson's ledger. Running back Ahmad Bradshaw, who has been incredibly productive on a per-play basis with Indy, was placed on injured reserve in November and hasn't drawn any known interest on the open market.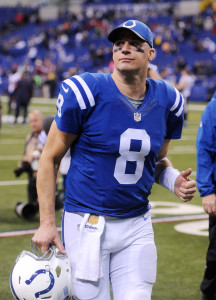 Elsewhere on offense, veteran quarterback Matt Hasselbeck — who helped the Colts stay on the fringes of the playoff race despite a bundle of injuries — decided to retire, despite the fact that he posted relatively results in 2015. In eight starts, Hasselbeck posted a 5-3 record, completed 61% of his passes for 1,690 yards, and threw nine touchdowns against five interceptions. Although he likely would have been welcomed back for another season in Indianapolis, Hasselbeck instead chose to become an analyst for ESPN.
Center Khaled Holmes and guard Lance Louis spent more than 700 snaps trying to protect Hasselbeck, but neither will be back with the Colts in 2016. Both were slightly below-average players last season, but it was a tad surprising that Indy chose to cut ties with Holmes, who is still only 26 years old. Clearly, Holmes wasn't going to continue to start after the Colts drafted Ryan Kelly in the first round, but he could have been a relatively valuable depth piece on an offensive line that has struggled with injuries.
On the defensive side of the ball, the most talented player walking out the door is linebacker Jerrell Freeman, who was lured to Chicago by a three-year, $12MM deal. There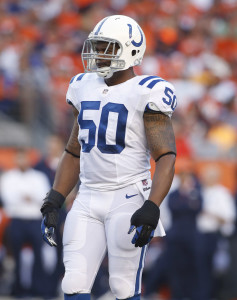 were conflicting reports as to whether the Colts were serious about retaining Freeman, a former CFLer who ranked as PFF's No. 4 linebacker last season. While Freeman says Indianapolis never actually made him an offer, other reports indicated that the Colts proposed the same contract that he ultimately signed with the Bears.
Grigson has taken his fair share of heat for failed free agent signings, but Dwight Lowery, who agree to a minimum salary benefit contract prior to 2015, was a success story, as the veteran safety started all 16 games and served as a stabilizing presence in the secondary. However, Lowery is now 30 years old, so letting him walk and sign a three-year deal with the Chargers was also an idea I can get behind. Fellow defensive back Greg Toler is gone as well, but the Colts shouldn't worry too much his loss, as he ranked about the six worst corners in the league last season, per PFF.
None of Bjoern Werner, Billy Winn, Jonathan Newsome, or Colt Anderson played more than 350 snaps on defense last year, and although all four played some sort of role on special teams, the Colts ranked in the middle of the pack on teams, so the club probably won't miss anyone from this group. Werner, notably, is a former first-round pick who only posted 6.5 sacks in three seasons in Indy, while Anderson was part of perhaps the worst play in NFL history.
Trades:
Draft picks:
Offensive line has been an issue in Indianapolis since Andrew Luck entered the league in 2012, and the club has tried a variety of combinations in order to keep Luck upright. The front five hasn't been stellar in the run game, either, as they ranked 27th in Football Outsiders' adjusted line yards metric last season. With that in mind, the Colts used their first-round pick on center Ryan Kelly, whom some evaluators considered the most pro-ready offensive lineman in this year's draft.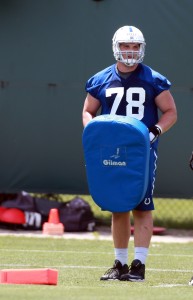 Kelly was immediately installed as Indy's first-team center, and he should prove to be an upgrade over Khaled Holmes (who was waived) and Jonotthan Harrison. PFR's scouting guru Dave-Te Thomas is a fan of Kelly, as well, writing that the Alabama alum will bring an "instant nastiness" to the Colts offensive line.
"Strength is needed [at center in the Colts' scheme] in order to stall the bull rush and help in widening the rush lanes," writes Thomas. "Quick feet and fluid retreat skills are required, as it is often the center that has to drop back and protect the pocket in passing situations. A long reach, firm anchor and great balance are important for the center, as he is usually asked to work in combination with his guards getting out in front on traps and pulls. These are all the traits that Kelly brings to the table…"
Second-rounder T.J. Green will also be expected to contribute from the get-go, as he's penciled in as the Colts' starting strong safety given that Clayton Geathers is still dealing with a foot injury. Defensive coordinator Ted Monachino says Green still has some work to do, but the former Clemson Tiger has a fan in Thomas. "Do not be fooled by Green's lack of experience," says Thomas. "He has keen football instincts and field awareness, showing good urgency taking proper angles to close and shows a good feel in zone coverage to pick up and anticipate on the switch-off and combo routes. He processes the action in front of him well and gets a quick jump on the ball in run support."
Extensions and Restructures:
The Colts made Andrew Luck the highest-paid player in NFL history on a per-year basis, but the deal still seems like an underpay, a conclusion reached by many league observers. Luck had all sorts of leverage during negotiations, even coming off a lost season, but he still failed to top the $25MM salary mark, a plateau that most believed he would easily reach. Additionally, Luck didn't overtake Aaron Rodgers in terms of guaranteed money ($54MM to $47MM), a fact that's even more stunning considering that Rodgers signed his extension three years ago.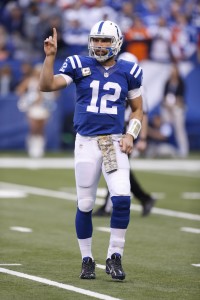 Luck, whom the Colts chose No. 1 overall out of Stanford in the 2012 draft, completed just 55.3% of his passes and logged 15 touchdowns against 12 interceptions in his injury-riddled, seven-game fourth season. Prior to that, however, he led the league with 40 touchdown passes in 2014 and helped guide the Colts to an AFC title game berth. After going 2-14 in the bridge year between the Peyton Manning era and Luck's tenure, the Colts posted three consecutive 11-5 seasons from 2012-2014. With Luck on the sideline for most of last season, Indy finished 8-8 and failed to make the playoffs.
All in all, the Colts look to have scored a team-friendly deal, and as Stephen Holder of the Indianapolis Star noted earlier this year, the contract doesn't figure to negatively affect the club's cap in years to come given that the league-wide salary cap will continue to rise. From Luck's point-of-view, the pact ends one year after the CBA expires and a year before the current TV deals are done. Although Luck will be 32 then, he could be in line for a much larger deal on the other side of this lucrative extension.
Other:
In one of the most shocking turn of events during the offseason, the Colts retained both general manager Ryan Grigson and head coach Chuck Pagano, ensuring that the pair of decision-makers are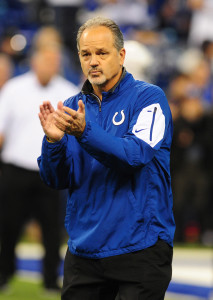 now "contractually tied" through 2019, as owner Jim Irsay put it. Despite the duo's success together, nearly every indication was that Pagano was certainly on his way out, while Grigson was also a candidate to be fired. Pagano and Grigson's relationship was reportedly "toxic," and the two lacked any sort of communication throughout the season, but it seems as though the pair's record together — 41-23 — won out over any sort of personal conflict.
Pagano will have several new coaches working under him, including one, defensive coordinator Ted Monachino, with whom he has prior experience. Monachino was Baltimore's linebackers coach when Pagano was the club's DC, so the two should be on the same page in terms of scheme and personnel. Former Dolphins head coach Joe Philbin, meanwhile, will be tasked with overhauling an offensive line that has struggled to maintain any semblance of continuity during Pagano's tenure.
Finally, veteran defensive lineman Arthur Jones will miss the first four games of the season after being popped for PEDs, but it's hard to say that Jones will represent a major loss for the Colts. After coming over from Baltimore before the 2014 season, Jones has been either ineffective or hurt (he missed all of last year with injury), and was forced to take a paycut earlier this year. Fourth-rounder Hassan Ridgeway looks like the biggest beneficiary of Jones' absence, as the could take over the starting role for the first quarter of the season, and perhaps beyond.
Top 10 cap hits for 2016:
This offseason, the Colts stopped trying to improve their club by signing over-the-hill veterans, and instead sought to augment their roster through a few cheap free agent contracts and the draft. The AFC South hasn't gotten any easier, as the Texans may have found a quarterback and the Jaguars supplemented their defense, but as long as Indianapolis has its franchise quarterback in Andrew Luck, contention should be within the club's grasp.
Information from Over the Cap, Spotrac, and Roster Resource was used in the creation of this post. Photos courtesy of USA Today Sports Images.
Follow @PFRumors