Although the Buccaneers are in the midst of an eight-year playoff drought, they appear to be on the right track after taking significant steps forward in 2015. Not only did Tampa Bay enjoy a four-win improvement and better its point differential by 58 from 2014 to 2015, but it may have found a franchise quarterback in Jameis Winston. The No. 1 overall pick in last year's draft, Winston acquitted himself well as a rookie and could soon help lead the Buccaneers back to consistent contention for the first time since the early 2000s. In a perfect world for the Bucs, their return to the postseason will come in January 2017. However, given the club's relatively modest offseason, it's likely too soon to expect it to push for a playoff spot in the NFC.
Notable signings:
General manager Jason Licht said before free agency that the Buccaneers would be "selective and strategic" in spending money and wouldn't dole out contracts with the potential to damage their cap over the long haul. Licht was true to his word, as even the most sizable deals he awarded to veterans will be easy to escape in short order if they don't work out.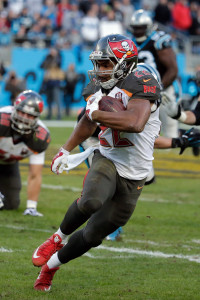 In terms of both contract (five years, $35.75MM with $15MM in guarantees) and star power, running back Doug Martin was Tampa Bay's most notable offseason signing. Given that the Buccaneers decided in May 2015 to decline Martin's $5.621MM fifth-year option for 2017, they took a financial hit this past winter in committing nearly three times that much in guarantees to their 2012 first-round pick. A year ago, though, Martin was coming off back-to-back miserable seasons that made his sensational rookie campaign look like a fluke. He revisited his first-year form last season, however, finishing second in the NFL in both carries (288) and rushing yards (1,409) en route to first-team All-Pro status.
Considering Martin's inconsistent track record, betting on the 27-year-old going forward looks like a gamble. In the event he's unable to live up to his new pact, the Bucs will be able to bail on his contract after the 2017 season, thus mitigating the risk. Should Martin keep serving as a quality option, Tampa Bay will continue to have one of the league's most well-rounded backfield duos in him and Charles Sims. Led by that tandem, the Buccaneers finished last season first in yards-per-carry average (4.8), fifth in overall rushing (2,162) and 11th in DVOA – up from 31st in 2014.
Among the players who will be responsible for blocking for Martin and Sims is left guard J.R. Sweezy, whom the Buccaneers inked to a five-year, $32.55MM pact with $14.5MM guaranteed in free agency. With a combined $2.5MM in dead money through 2020 left after this year, the Buccaneers will be able to move on from Sweezy without much difficulty if they have buyer's remorse.
Sweezy spent the first four years of his career in Seattle, where he started in all 46 of his appearances from 2013-15, though Pro Football Focus ranked him just 66th among 81 qualified guards in overall performance last season. Nevertheless, the Bucs are counting on Sweezy as the long-term replacement for the retired Logan Mankins, whom PFF placed 15th in 2015. The Sweezy era in Tampa Bay hasn't gotten off to an ideal start, though, as the 27-year-old will miss at least the first five weeks of the season with a back injury. In the meantime, the Buccaneers are likely to go with former tackle Kevin Pamphile, a third-year man with four starts on his resume.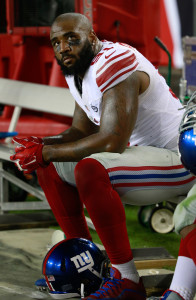 On the defensive side, the Buccaneers went into free agency looking to augment a pass rush that finished last season tied for 14th in sacks (38) and 22nd in hurries (91). To help with those issues, they added defensive end Robert Ayers, a former Bronco and Giant who amassed 21 sacks and four forced fumbles in 39 games over the previous three seasons. The soon-to-be 31-year-old Ayers missed four games in 2015, but his production was highly impressive – he picked up a career-high 9.5 sacks and added 18 hurries, placing him between the likes of Chandler Jones (16) and Olivier Vernon (20).
Ayers, who also finished last year as PFF's eighth-best edge rusher (110 qualifiers), is now on the Buccaneers' books through 2018. But that doesn't necessarily have to be the case – in the event of an appreciable decline in output, the Bucs will be able to move on from Ayers either after this season or after next without taking on any dead money. While Tampa Bay would rather see Ayers play well and remain in place for the duration of his three-year, $19.5MM deal, the fact that his contract has no cap ramifications past this season makes it a worthy gamble for the organization.
Joining Ayers in the Buccaneers' front seven is 13th-year man Daryl Smith, who's slated to start at strongside linebacker after dividing his first 12 seasons between Jacksonville and Baltimore. Notably, Smith played the first four years of his career under new Buccaneers defensive coordinator Mike Smith, who was the Jaguars' defensive chief during those seasons. Daryl Smith enjoyed some fine seasons with the Jags, and he was particularly durable as a member of the Ravens. In Baltimore, Smith started in 48 straight games from 2013-15 and racked up 120-plus tackles in each of his three seasons with the club, while also combining for nine sacks and four forced fumbles. PFF was unimpressed with Smith's play last year, though, as the outlet ranked him 71st among 97 qualified linebackers. The Ravens then cut Smith in early March, but based on his ability to stay on the field and produce, the Bucs made out well in signing the 34-year-old for a fairly meager sum of $2.5MM.
"Not only is he a really good football player, but once you get to know Daryl and the type of guy he is, I think Daryl will be a really good sounding board," new head coach Dirk Koetter told Scott Reynolds of Pewter Report. "His experience and the players that he's played with in his career, the things that he's accomplished in his career, will do nothing but help Lavonte [David] and Kwon [Alexander] advance as players."
Thanks largely to a weak secondary, Tampa Bay allowed the fourth-most touchdown tosses (31) and the second-highest passer rating (101.2) in the league last season. With that in mind, the club addressed the area over the winter by signing outside help (Brent Grimes and Josh Robinson) and re-upping Chris Conte, Bradley McDougald and Keith Tandy to new deals.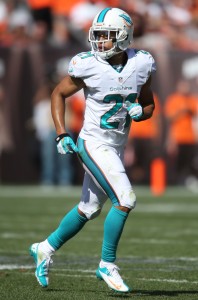 Grimes, a cornerback, is clearly the most accomplished member of the group, having started in 90 of 106 appearances with two teams – the Falcons and Dolphins – and totaling 26 interceptions since entering the league in 2007. Like Daryl Smith, Grimes also worked under Mike Smith previously. Grimes played in Atlanta from 2007-12, and Smith was the Falcons' head coach in five of those six seasons. The rapport they established with the Falcons helped lead to a reunion in Tampa Bay.
"It's a big deal for me, because I like the system,'' Grimes told Roy Cummings of the Tampa Bay Times in March. "And one thing I know about Mike Smith is, he's a great coach as far as everybody on the field knowing where they need to be and knowing what their assignment is, and he pays great attention to detail."
After leaving Atlanta, Grimes was an impressive producer in Miami, where he started in all 47 appearances over the previous three seasons and picked off either four or five passes in each of those years (though he did yield a 103.2 passer rating against in 2015). Grimes is now in his age-33 season, so he's unlikely to resemble a shutdown corner at this juncture. Still, as is the case with their other established veteran signings, the Bucs will have the option of waving goodbye to Grimes with no real harm done at season's end. Regardless of whether Grimes sees his two-year deal with the Buccaneers through, the organization will hope his outspoken wife, Miko, is capable of avoiding controversy. She already made headlines for the wrong reasons last month, which wasn't anything new.
While neither Robinson nor Tandy is expected to play a huge role at corner in Tampa Bay's secondary this year, both Conte and McDougald have realistic chances to occupy the starting safety spots. Conte performed well in 2015, his first season with the Buccaneers, starting 13 of 14 appearances and totaling 79 tackles, three interceptions and two forced fumbles. The ex-Bear's output also netted him a solid 32nd-place ranking among 88 qualifying safeties at PFF, and the Bucs elected to bring him back on a one-year deal. The team made the same decision with McDougald, whom it signed to a second-round tender for 2016. McDougald led the team's defensive backs in snap percentage last season (81.2 percent), and he piled up 87 tackles and two interceptions along the way, but the Bucs haven't been happy with his work this summer. However, with only flawed options behind McDougald, he's a good bet to open the season as the club's No. 1 free safety.
Notable losses:
Connor Barth, K: Released
Da'Quan Bowers, DL
Bruce Carter, LB: Released
Larry English, DE
T.J. Fatinikun, DE
Mike Jenkins, CB
Jorvorskie Lane, FB
Danny Lansanah, LB
Logan Mankins, G: Retired
Tony McDaniel, DT
Henry Melton, DT
Sterling Moore, CB
Bobby Rainey, RB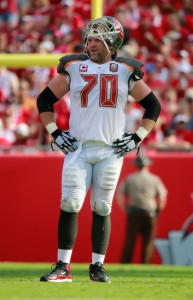 After joining the Buccaneers via trade with New England in 2014, Mankins went on to start in all 31 of his appearances in Tampa Bay, where he continued his long run as one of the league's premier guards. Depending on how Pamphile does filling in for Sweezy, Mankins' exit could have a highly negative effect on the Buccaneers' offense for at least the first few weeks of the upcoming season.
Defensively, the Buccaneers didn't re-sign cornerback Sterling Moore after he started in nine of 16 appearances last season and led their underwhelming group of corners in snap percentage (64.9) and pass breakups (six). With the additions of Grimes and first-round pick Vernon Hargreaves III (more on him in a bit), the departure of the unspectacular Moore – now in Buffalo – shouldn't serve as much of a hindrance in 2016. It might have made sense for the Bucs to re-sign the 26-year-old as depth, but that didn't materialize.
In addition to Moore, Tampa Bay let defensive tackle Henry Melton walk after only one year with the team. A Pro Bowler with the Bears in 2012, Melton – who signed with the Broncos on Sunday – is a rotational player nowadays. Nevertheless, Melton partook in all 16 games of the Buccaneers' games and finished fourth among their defensive linemen in snap percentage (46.5). Melton also logged two sacks and a pair of fumble recoveries, but PFF rated the 29-year-old a below-average 101st among 123 qualified interior D-linemen in overall performance. Without Melton and Tony McDaniel, who participated in over 26 percent of the Buccaneers' defensive snaps in 2015 and signed with the Seahawks last week, the Bucs' depth (or lack thereof) at D-tackle could be an issue. Of course, the anchor in the middle – Gerald McCoy – remains in place, and he helped Tampa Bay to the second-best YPC against (3.4) in the league last season.
Moving over to special teams, kicker Connor Barth converted a respectable 23 of 28 field goals and hit 25 of 26 extra points in 2015, but the Buccaneers went for what they hope will be a major upgrade in the draft and subsequently gave Barth his pink slip. Barth, who's now with the NFC South rival Saints, made 85 percent of his field goals (91 of 108) in two different stints with the Bucs.
Trades:
Acquired a 2016 first-round pick (No. 11) and a 2016 fourth-round pick (No. 106) from the Bears in exchange for a 2016 first-round pick (No. 9).
Acquired a 2016 second-round pick (No. 59) from the Chiefs in exchange for a 2016 third-round pick (No. 74) and a 2016 fourth-round pick (No. 106).
Draft picks: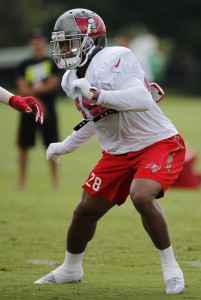 Not only did the Buccaneers gain a fourth-round pick when they made a trade with the Bears and moved down two spots in the first round of this year's draft, but they also ended up with ex-Florida cornerback Vernon Hargreaves III at No. 11 overall. So far, the decision is paying dividends. In the Buccaneers' 27-21 preseason win over Jacksonville on Saturday, the Jags targeted Hargreaves three times and failed to complete a pass – unless completions to Hargreaves count. The 21-year-old intercepted two passes and hasn't yet allowed a completion in two exhibition games. As a result, Hargreaves is PFF's highest-rated preseason corner thus far.
In assessing Hargreaves, who picked off 10 passes in three seasons with the Gators, PFR scouting guru Dave-Te Thomas wrote: "He will hustle and run down a ball carrier from across the field and seems to enjoy the contact in run force. He plays at full speed and few players in the game of football can match his quickness. He competes for the ball with no regard for his body."
Twenty-eight picks after grabbing Hargreaves, the Buccaneers chose former Eastern Kentucky edge rusher Noah Spence, who drew first-round buzz before the draft. Spence fell thanks in part to character concerns, though, as multiple failed drug tests at Ohio State caused the Big Ten to declare him permanently ineligible in 2014. Spence then transferred to Eastern Kentucky, where he recorded 11.5 sacks last year. In 2013, his second and final season as a Buckeye, Spence accumulated 14 tackles for loss and 7.5 sacks. For the time being, the Bucs will use Spence in pass-rushing situations, Smith told Jenna Laine of ESPN.com earlier this month.
"We're going to have to be very careful about what we're going to ask him to do early on in the season," said Smith.
On Spence, Thomas offered: "Despite his boneheaded mistakes off the field, Spence is an instinctive player, but not the type that will out-think himself on the field. He is a quick reactor to action in front of him and easily picks things up well, showing no problem taking plays from the chalkboard to the playing field. There should be no issues with him digesting a complicated playbook. Spence is reliable, works hard in the weight room, and is a self-starter. He takes well to hard coaching and is the unquestioned leader of the defensive unit. For his age, he had an advanced knack for reading the quarterback well, as it is rare to see him fooled by misdirection or play action."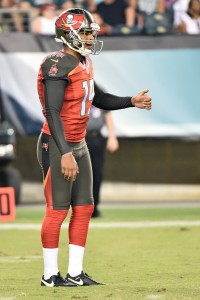 Not content to end up with just Spence in the second round, Licht swung a trade that sent a third- and fourth-rounder (Nos. 74 and 106) to the Chiefs for the 59th pick. In making that move, Licht paid a high price – 141 cents on the dollar – per Chase Stuart of Football Perspective. To Stuart (and most others), the move became that much more questionable when Licht used the selection on former Florida State kicker Roberto Aguayo, given that specialists aren't exactly in demand that early. Licht then revealed in May that the Buccaneers placed a first-round grade on Aguayo, whose pro career has begun inauspiciously.
After missing an extra point in Tampa Bay's preseason opener, Aguayo failed to convert two of his four field goal attempts in their second game over the weekend. There are now questions as to whether the Bucs will bring in a second kicker to compete with Aguayo, who's coming off three straight first-team All-America seasons with the Seminoles.
Extensions and Restructures:
Earlier this month, the Buccaneers locked up their longest-tenured player, right tackle Demar Dotson, with a three-year extension that runs through the 2019 season. Dotson, who otherwise would've been a free agent next winter, joined the club in 2009 as an undrafted free agent from Southern Mississippi. After Dotson didn't see much action during the first couple years of his career, he became a prominent member of the Buccaneers' offense in 2012 and has since started 50 of 54 appearances. Only six of those appearances and three starts came during an injury-truncated 2015 for Dotson, who missed 10 games as a result of a sprained MCL. Healthy again, the soon-to-be 31-year-old is primed to start on the right side of the team's line.
"He's been a cornerstone player for us and our extensions that we've done here recently with Gerald (McCoy), Lavonte (David) and Doug (Martin), these guys all have one thing in common. They work their (tails) off and are very consistent players, very good players in the league, and you know what you're getting out of them every day on the playing field, on the practice field," Licht said of Dotson.
Other: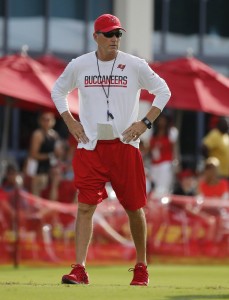 When the Buccaneers were 6-6 and in the playoff hunt last December, a January coaching change seemed out of the question. However, Year 2 of the Lovie Smith era concluded with four straight losses – three of which were one-score outcomes – and that was enough for Bucs brass to make a change. Part of the reason they moved on from Smith, perhaps, is that they didn't want to let his offensive coordinator, Koetter, get away. With Koetter garnering head coaching consideration from other organizations, the Buccaneers tabbed him to succeed Smith. The 57-year-old Koetter worked as the Buccaneers' O-coordinator for just one season, but the unit made obvious strides on his watch. After finishing 29th, 30th and 32nd in points, yardage and DVOA in 2014, the Bucs rose to 20th, fifth and 18th in those three categories last season.
Koetter, whose only previous head coaching experience came in the college ranks (he went a combined 66-44 at Boise State and Arizona State from 1998-2008), also helped guide Winston to a terrific showing. Winston started all 16 of the Bucs' games, tossed 22 touchdowns against 15 interceptions, and became the youngest QB in NFL history (21) to eclipse the 4,000-yard mark.
Although Koetter is still calling the offensive plays in Tampa, he hired coordinator Todd Monken to assist him on that side of the ball. Like Koetter, Monken has experience as a college head coach, having spent the last three seasons in that role with Southern Mississippi. Monken's familiarity with Koetter undoubtedly helped lead to his hiring — the two were on the Jaguars' staff from 2007-10 (Koetter was the offensive coordinator, Monken the receivers coach).
Koetter also has prior ties to Smith, who hired Koetter to run the Falcons' offense during the final three years of Smith's tenure. The two were also on Jacksonville's staff together in 2007. Smith is tasked with improving a defense that ended last season as a top 10 unit in terms of yardage allowed under predecessor Leslie Frazier, though that belied an 18th-place DVOA ranking and a 26th-place finish in points allowed.
End George Johnson was supposed to figure into Smith's defense this year, but he went on season-ending injured reserve with a fractured hip earlier this month. Johnson participated in 39.4 percent of the Buccaneers' defensive snaps in 2015 and racked up a pair of forced fumbles, but he failed to record a sack. Difficulty getting to the quarterback has been an issue at times for Johnson, who has gone without a sack in three of the four seasons in which he has seen action. In 2014, though, Johnson took down enemy QBs six times as a member of the Lions.
Top 10 cap hits for 2016:
The Buccaneers did an adequate job of improving their roster during the offseason, and they did well in finding upgrades whose contracts won't hurt them in the future. While the moves the Bucs made likely won't be enough to help them break their playoff drought, further progress from Winston and a finish around the .500 mark would constitute a successful campaign. It would be unrealistic to expect more from a team that went 2-14 two years ago, has a rookie head coach and shares a division with the reigning NFC champion Panthers.
Information from Over the Cap, Spotrac, and Roster Resource was used in the creation of this post. Photos courtesy of USA Today Sports Images.
Follow @PFRumors