Broncos star cornerback Aqib Talib will not be suspended for the incident that he was involved earlier in this summer, according to Ian Rapoport of NFL.com (via Twitter). To recap, Talib was shot in the leg at a Dallas nightclub in early June, and initial reports suggested that the 30-year-old had accidentally shot himself. Days later, the Dallas Police Department said Talib was a victim of "aggravated assault."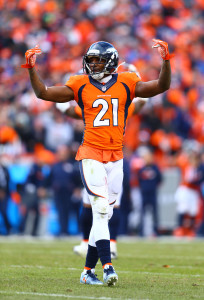 The report from the Dallas Police Department indicated that Talib told officers he didn't know who shot him, and a witness claimed they only heard a single gunshot. The report further indicated that an "unknown suspect shot the complainant," and there was no mention of Talib shooting himself. However, the Dallas PD was still investigating the incident as of the third week of August, and at that time the PD had not ruled out the possibility that Talib did, in fact, shoot himself.
If that were the case, then Talib almost certainly would be suspended, and indeed it was reported just last month that Talib would be facing discipline from the league. But now, it appears as though Talib has escaped punishment, unless the PD uncovers new evidence that might inculpate the Kansas product.
Just a couple weeks ago we learned that the Broncos were reportedly willing to trade Talib, whose off-field issues have frequently detracted from his on-field abilities. GM John Elway denied that report, and there have been no subsequent reports suggesting that opposing clubs approached Denver about a trade.
This news will surely be welcomed by the Broncos, who will likely need to rely on their defense to carry them back to the playoffs in 2016. Talib has three years remaining on his contract, and he will earn an $11MM salary this season.
Photo courtesy of USA Today Sports Images
Follow @PFRumors