The NFL's new rules for the injured reserve list allow teams to bring one player back from IR without having to designate that player for return in advance. That tweak gives teams lots of flexibility, though any player placed on IR before the season cannot be brought back before Week 8. With that in mind, the Cowboys owner and general manager Jerry Jones said in a radio interview that he will not put Tony Romo on IR, leaving open the possibility that he could return to the team sooner than that (link via ESPN.com's Todd Archer).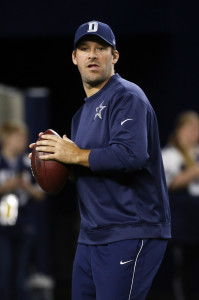 [RELATED: Romo's Prognosis Worsens]
In Jones' mind, the 53rd player on the roster would not be more valuable than what the return of Romo could mean. When asked if Romo could return before the Oct. 30 game vs. the Eagles, Jones said he would not rule anything out.
On one hand, giving up a roster spot for several weeks is a bold move for any team with playoff aspirations. On the other hand, the Cowboys are entrusting the quarterback job to a fourth-round rookie and it would be foolish for the Cowboys to keep Romo benched for an additional week or two in the event that Dak Prescott falters. Dallas added Mark Sanchez as a backup this weekend, but it's not clear what he has to offer after being discarded by the Broncos.
Photo courtesy of USA Today Sports Images.
Follow @PFRumors