After the 49ers lost to the Cardinals on Thursday night, coach Chip Kelly indicated that he is considering benching Blaine Gabbert in favor of Colin Kaepernick. Gabbert's time as the Niners' starter could be coming to a close, but it's not a given that it will be Kaepernick taking over. Multiple anonymous offensive players tell Matt Maiocco of CSNBayArea.com that they prefer Christian Ponder to both players.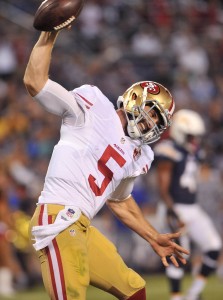 "Ponder is the best option for quarterback on the roster," said one locker-room source.
After winning in their season opener against the Rams, the 49ers have dropped their last four games. In terms of passing yards gained, they are dead last in the NFL. Gabbert can't be blamed for all of that given the offensive line's woes, but it's not a surprise to hear that he is under the gun given everything that has gone on in the last four contests.
Ponder joined the Niners late in the summer, giving San Francisco three notable QBs from the 2011 draft class. At the time, he says that he was considering retirement. Now, at least a handful of players in the locker room think he should be the No. 1 QB.
"That crossed my mind," said Ponder in August when asked if he thought he might not get another chance to play football. "My plan was to stay ready for this season anyway and see what happens. If nothing happened all year, it would be time to hang it up. I was going to give myself this season and see what happens."
Photo courtesy of USA Today Sports Images.
Follow @PFRumors