Second-year Jets head coach Todd Bowles, widely thought to be on the hot seat as a result of his club's disappointing 2016 campaign, has a good chance of righting the ship in 2017, according to Rich Cimini of ESPN.com. Cimini reports that sources familiar with owner Woody Johnson's thinking say that Johnson remains a Bowles supporter and is not planning to cut him loose.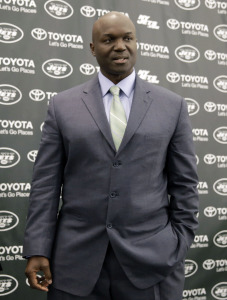 The reason, Cimini writes, is that Johnson feels he would be punishing Bowles–and GM Mike Maccagnan, both of whom were hired in January 2015–for the sins of previous regimes. Although the duo nearly lifted Gang Green to the playoffs last season with considerable help from veteran free agents, that performance was something of an illusion, as the core of the team was weak, and that weakness has manifested itself in a big way this year. As Cimini observes, only five current starters remain from the 2008 to 2014 drafts: Muhammad Wilkerson, Brian Winters, Quincy Enunwa, Calvin Pryor, and Sheldon Richardson. It is difficult to hold a new head coach and GM responsible for that poor level of inherited talent, and Johnson is therefore expected to give Bowles and Maccagnan a little extra rope (Maccagnan and Bowles are equals and report to Johnson directly, so Maccagnan has no say in Bowles' fate).
ESPN's Adam Schefter is apparently thinking along the same lines as Cimini, tweeting that there is a growing sense that Bowles' job is safe.
Of course, Johnson is an impulsive owner who is capable of changing his mind at the drop of a hat. But whether or not Bowles keeps his job, Cimini does expect there to be at least one major change in the coaching staff, and that change would likely be the ouster of offensive coordinator Chan Gailey. Meanwhile, Ian Rapoport of NFL.com reiterates the notion that Bowles is safe (Twitter link), but Rapoport is expecting a significant roster overhaul, with several big-money veterans jettisoned from the club. Players who fit that description include Ryan Fitzpatrick (whose contract will expire at the end of 2016 anyway), Darrelle Revis, Brandon Marshall, and Nick Mangold. With respect to Mangold, Cimini reports that his ankle injury is pretty significant and at least one source close to the 33-year-old would not be surprised if he decided to call it a career.
But Johnson may not even be the one operating the Jets when all these decisions need to be made. As Rapoport writes in a separate piece, Johnson is a leading contender to be the United States ambassador to the United Kingdom under President-elect Donald Trump, and if that were to happen, Johnson would likely not be running the team on a day-to-day basis. In addition, Johnson would almost certainly resign from NFL committees on which he currently serves (the NFL's Media Committee, Finance Committee, and Business Ventures Committee).
Photo courtesy of USA Today Sports Images.
Follow @PFRumors