If the 49ers aren't able to land quarterbacks Kirk Cousins or Jimmy Garoppolo this offseason, the club may express interest in veteran Jay Cutler, two sources tell Jason Cole of Bleacher Report (video link).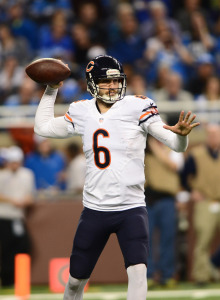 [RELATED: 49ers Hire Kyle Shanahan]
New San Francisco head coach Kyle Shanahan is expected to pursue Cousins, whom he previously coached in Washington, but the Redskins are unlikely to let their signal-caller get away without a fight. Garoppolo, too, may be on the table, but the Patriots have reportedly placed a high asking price on its backup quarterback, and the 49ers would have competition for his services. Matt Schaub has also been tossed out as a possible bridge option for the Niners, but Cutler would present an even more intriguing option in the same vein.
Shanahan doesn't have a working relationship with Cutler, but his father does, as Mike Shanahan traded up in the 2006 draft to select Cutler while serving as head coach of the Broncos. Not only does Kyle Shanahan employ many of the same offensive schemes as did his father, but new 49ers general manager John Lynch played for Mike Shanahan, and is said to be willing to accept advice from the longtime NFL coach. As such, a somewhat tangential connection between Cutler and San Francisco could appear a bit more realistic.
The Bears are fully expected to release Cutler in the coming months, clearing $14MM in cap space by doing so. If and when he becomes a free agent, Cutler — despite his lackluster 2016 results — would be among the best quarterbacks available on the open market, joining Cousins, Mike Glennon, and Brian Hoyer.
Photo courtesy of USA Today Sports Images.
Follow @PFRumors