The Tony Romo era is ending in Dallas. The Cowboys will release Romo on Thursday, according to Adam Schefter and Todd Archer of ESPN.com (on Twitter).
Dallas designated Romo as a post-June 1 release, per Mike Florio of Pro Football Talk, a decision that will save the club money in the long run. Instead of incurring $19.6MM in dead money, the Cowboys will only take on $10.7MM. However, Dallas must carry Romo's full cap charge of $24.7MM until June 1, at which point it will be granted relief.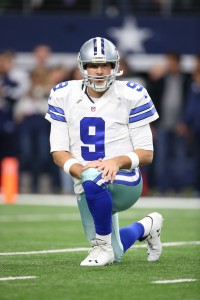 Romo's exit has been long rumored. After Dak Prescott ran away with the starting job in 2016, few expected Romo to return to the team in 2017 as the backup.
The Broncos and Texans are expected to have some level of interest in Romo and the QB is said to be fond of both teams since they could give him a chance to win right away. The Chiefs seem poised to continue with Alex Smith and apparently will not be exploring a Romo signing. At one point, the Cardinals were linked to Romo, but they probably won't be going after him with Carson Palmer still in the fold.
Romo probably won't sign with a new club anytime soon, however, as he's expected to take a "Peyton Manning style" tour throughout the league, tweets Ian Rapoport of NFL.com. Manning underwent a lengthy process that involved meetings with several teams before deciding on the Broncos, and it sounds like Romo will embark on a similar endeavor.
Romo, 37 in April, leaves the Cowboys with a litany of franchise records. Although he has not been healthy for two full seasons, he leaves behind an impressive legacy in Dallas that includes four Pro Bowl appearances. In his last healthy season (2014), Romo completed a league-high 69.9% of his passes with 3,705 yards through the air and 34 touchdowns against just nine interceptions. It's anyone's guess as to what Romo can do in 2017, but it would be foolish to write him off.
Given the reins during a Monday Night Football game in October of 2006, Romo took over for Drew Bledsoe and guided the Cowboys to the playoffs during the '06 and '07 seasons, the latter of which featuring Dallas as the NFC's No. 1 seed. The eventual champion Giants ousted the Cowboys in Round 2, but Romo picked up his first playoff win two years later in a wild-card victory over the Eagles. The Cowboys became known for late-season letdowns in the Romo years, but the former UDFA passer gave the franchise its most stable option at quarterback since Troy Aikman retired. He's the second-longest-tenured starting quarterback in Dallas history, behind only Aikman, eclipsing both Roger Staubach and Danny White in terms of longevity.
Photo courtesy of USA Today Sports Images.
Follow @PFRumors