This week, Dwayne Allen was traded from to the Colts to the Patriots and Houston unloaded Brock Osweiler's contract in a unique trade with the Browns. At the same time, the football world continues to buzz about a potential Brandin Cooks deal that could send the Saints wide receiver to the Patriots – perhaps with cornerback Malcolm Butler involved – or the Titans. Between all of that and the mountain of free agency news, you might have forgotten about rumors of the Rams discussing cornerback Trumaine Johnson with rival clubs.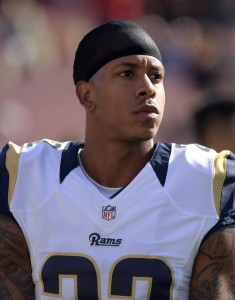 [RELATED: Follow PFR On Instagram]
Johnson could still be on the move, Ian Rapoport of NFL.com tweets. The Rams are still speaking with "multiple teams" about a deal.
So far, the Browns are the only specific team that has been linked to the standout corner. Johnson, who is signed to a franchise tender for a second consecutive season, would mark a major upgrade to the secondary for any club. With A.J. Bouye off the board, Johnson is unquestionably better than any cornerback remaining on the open market.
The Rams were expected to kickstart extension talks with Johnson sooner rather than later in order to try and smooth out his cap hit for the coming season. Instead, they could unload his pending one-year salary in a trade and get some draft compensation in return. Trade buzz usually fizzles in the NFL, but things are different now that so many clubs have extra cap space to work with.
Photo courtesy of USA Today Sports Images.
Follow @PFRumors