Whoa! The Texans are trading quarterback Brock Osweiler and a 2018 second-round pick to the Browns in order to move his $16MM salary off the books, according to ESPN.com's Adam Schefter (Facebook link). The deal will also see the Browns' fourth-round pick go to Houston and the Texans' sixth-round choice to go Cleveland. The Texans have made the deal official, announcing its completion via press release.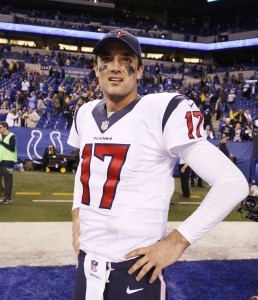 This type of deal rarely goes down in the NFL and is more of an NBA or MLB type of transaction. In this swap, the Browns are absorbing an albatross of a deal in order to acquire significant draft compensation. The wheeling and dealing might not stop here: Cleveland is not committed to keeping Osweiler and is likely to try to trade him, sources tell Schefter.
On the other hand, maybe they'll keep him. The Browns are expected to move on from Robert Griffin III and the Brock Osweiler acquisition should clear the way for that, Ian Rapoport of NFL.com tweets.
The move clears out tons of cap space for the Texans who are expected to use that money towards signing Cowboys quarterback Tony Romo, Schefter writes. The deal saves $10MM in cap space for the Texans and $16MM in cash.
The Texans signed Osweiler to a four-year, $72MM roughly one year ago today with the hope that he would be their QB of the future. That, obviously, did not work out. Osweiler's deal calls for him to earn $16MM guaranteed this year. After that, he has $18MM and $17MM non-guaranteed salaries in 2018 and 2019.
The Browns came into this week with upwards of $100MM to spend and Schefter writes that they would have struggled to spend all of it. Still, this seems like a very strange way to utilize that space. The only way this trade would make real sense for the Browns, in my view, is if they already have a final leg of the trade set up in which they deal Osweiler for something else of value. As of this writing, the Browns are spending $16MM in cash to acquire a second-round choice and that is not good business.
Photo courtesy of USA Today Sports Images.
Follow @PFRumors