Seeing another team book the AFC West's mandated January home game last season, the Broncos geared this offseason around patching up holes to augment the nucleus still in place from Super Bowl 50. However, they figure to have stiff competition from arguably the league's most competitive division.
For the second time in three years, the Broncos will have a new coach and new coordinators. While Denver's defense posted one of the best pass-deterrence seasons in NFL history, with its DVOA in that department outdoing the Super Bowl defense's work, its run defense slipped from third to 28th. But the primary obstacle in the way of a sixth Broncos playoff berth in seven years will be what happens at quarterback.
Whoever comes out of the Paxton Lynch/Trevor Siemian competition will need to deliver more if the Broncos are to avoid squandering another season of this defensive core's apex. John Elway and Co., though, invested heavily in players who could help the franchise avoid back-to-back postseason absences.
Notable signings:
Gary Kubiak's two-year return to the Mile High City did not bring the kind of impact ground game many assumed his system's installation would. These struggles largely stemmed from a lack of offensive line productivity. Save for some individual success — Evan Mathis in 2015, Matt Paradis last season — the Broncos' front was often overmatched. And for a third straight year, major changes are coming to this unit.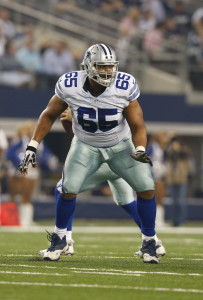 After four new starters infiltrated the 2015 Broncos' O-line, Paradis was the only starter back at his previous position from the Super Bowl unit a year later. This latest overhaul may bring three new starters. Only Paradis and Max Garcia are in line to reclaim their roles. But the team will pivot back to OC Mike McCoy's power-based scheme after two years in Kubiak's zone system. Elway made two UFA signings expected to start in Leary and Watson.
Both bring questions, but after patching up their front with bargain free agent buys or later-round draft picks the past two years, the Broncos deviated and spent in their latest attempt to improve up front.
Leary thrived when on the field in Dallas, paving the way for monster seasons from DeMarco Murray in 2014 and Ezekiel Elliott last season. But Leary, who despite being a first-time UFA is 29, won't have the luxury of lining up in between Tyron Smith and Travis Frederick this season. He'll be asked to be a key component on Denver's front as opposed to a supporting-caster, and the Broncos gave the ex-Cowboy the most money they've ever paid a guard. Leary graded well as a blocker in both 2014 and '16, but La'el Collins usurped him for most of 2015.
The Raiders continually tried to install Watson as their right tackle, but rampant injury troubles intervened. An ex-second-rounder from Great Britain, Watson played in only 27 of a possible 64 regular-season games. There's still potential attached to the 28-year-old blocker, but Watson will have to stay on the field to justify the somewhat surprising financial commitment. He's the latest player the Broncos are trying at right tackle.
Since moving Orlando Franklin to left guard prior to the 2014 season, the Broncos have used seven starters on the right edge. Denver drafted Ty Sambrailo to play there in 2015 and signed Donald Stephenson to do the same last year. It's been the most fluid position on an evolving O-line over the past few seasons.
Many of the Broncos' defenders are already signed to high-value deals, so the team did not throw much money at help here. But in bringing in Peko and Kerr, the Broncos addressed a defensive line that no longer boasted much depth. That helped lead to the porous run defense which allowed opposing offenses to largely avoid challenging Denver's elite cornerbacks in key games.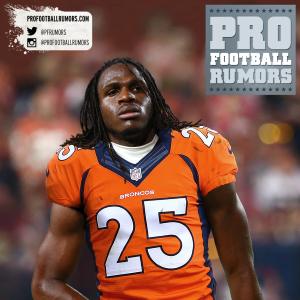 Beyond Derek Wolfe, none of Denver's D-linemen were especially reliable last season. The Broncos will at least have more options in 2017 after adding Peko, a 10-year starter with the Bengals, and Kerr.
Despite being non-tendered as an RFA by the Saints, Edebali might be the team's top off-the-bench pass rusher come Week 1. Shaquil Barrett's uncertain status after an offseason hip injury clouds the team's once-formidable depth at outside linebacker.
Charles became the Chiefs' all-time leading rusher despite being a full-time starter in just four of his nine seasons. Knee injuries derailed the 30-year-old All-Pro's final two Kansas City slates, and having undergone three surgeries since October 2015, Charles is not a lock to be part of the Broncos this season. But he remains on schedule to return to the field come camp. As one of the best backs of his era, Charles would be overqualified for the Broncos' complementary ball-carrying role if he's healthy. But Denver having this kind of talent to pair with C.J. Anderson and Devontae Booker would add much-needed elusiveness to an offense that's lacked it in recent years.
Notable losses:
Denver's UFA class became much more manageable after the Broncos reached deals with Brandon Marshall and Emmanuel Sanders to keep them off the market, so the defector contingent wasn't as damaging. That said, losing Ware to retirement could be a big blow to the Broncos.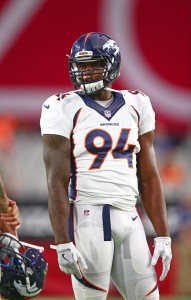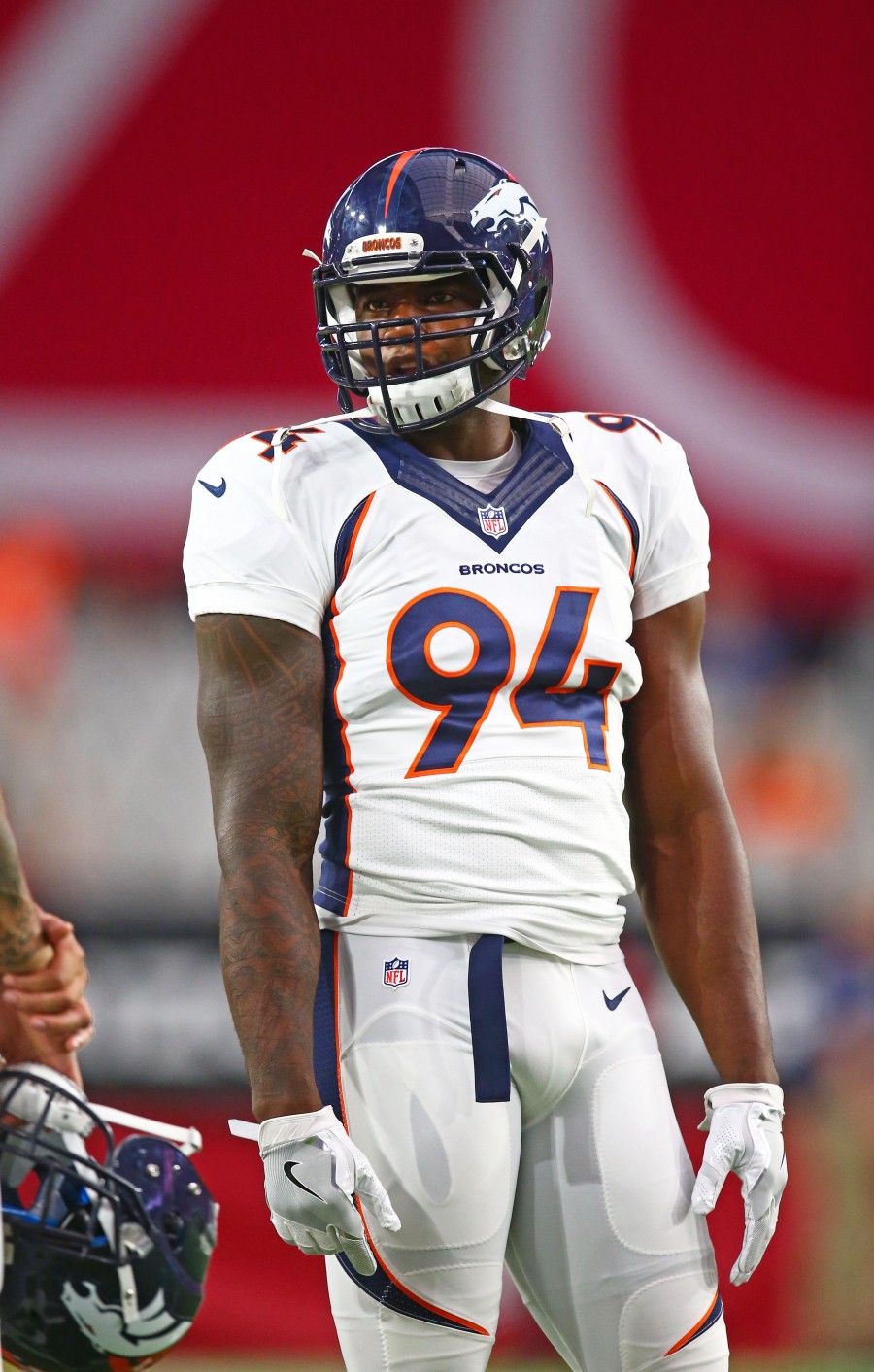 They did attempt to re-sign Ware but did not make a move to replace him, instead looking to Barrett — a part-time 2015 starter and consistent run defender — to play a bigger role behind Von Miller and Shane Ray. Ware played a pivotal part as far as leadership and as an impact pass-rushing presence. Miller deserved the accolades he received from the 2015 postseason, but the Broncos don't reach Super Bowl 50 without Ware. He ended up turning the Elvis Dumervil fax machine snafu into an eventual net gain for the Broncos, becoming a cornerstone player despite injury struggles and advancing age. Ware also gave the Broncos depth, with Ray and Barrett likely good enough to start for several teams over the past two years, that is now depleted.
Speaking of depth, Webster fell prey to one of the best cornerback contingents in modern NFL history. A former third-round pick, Webster signed with the Rams on a two-year deal. That contract's length — despite the presence of Wade Phillips in Los Angeles now — is likely because Webster's value is still unknown. Aqib Talib and Bradley Roby arriving prior to Webster's second year relegated him to seldom-used dime back and special-teamer. So, Webster's loss won't be felt on the Broncos' end too much.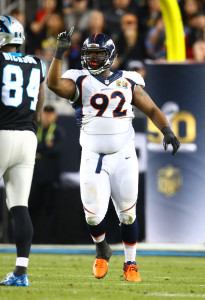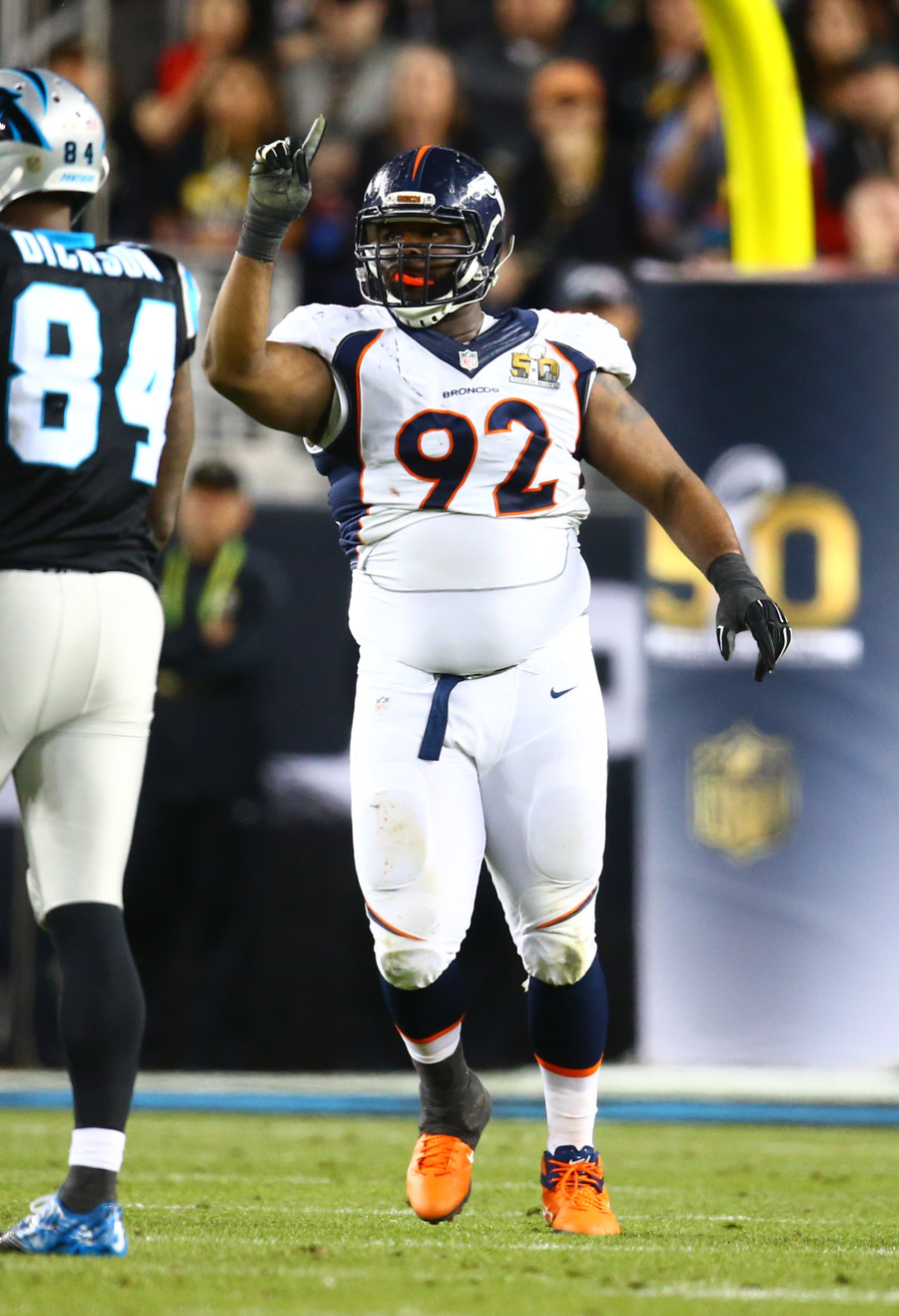 Of Elway's defensive first-round picks, Williams turned out to produce the least. As a result of this and Webster's marginalization, the Broncos did not get much from their 2013 draft class. Unlike Webster's exit, Williams' departure left a hole in the middle of the Broncos' defense since he'd started — but was mostly a two-down player — for three seasons.
The 30-year-old Walker remains in free agency after tearing his ACL during training camp last year. He could be an option for the Broncos, who hold $12.2MM in cap space, if it's determined they still don't have enough at end. Adam Gotsis underwent another knee procedure in June, and the former second-rounder's status will help determine if Denver's depth there is sufficient.
Okung was the biggest name to leave as a UFA, and despite the self-represented player making up for an iffy Broncos contract by signing for four years and $53MM ($25MM fully guaranteed) with the Chargers, the 29-year-old blocker's loss might not hit the Broncos hard. He played in Denver for one year, and said season was not exactly a memorable one for the franchise.
Trades:
Draft picks:
Elway's tenure has not featured many first-round picks at positions of dire need. The Broncos' previous roster depth allowed the best-player-available-type selections of Roby or Ray, but that kind of deep talent base isn't present on the current roster. Denver will need contributions from its early-round selections.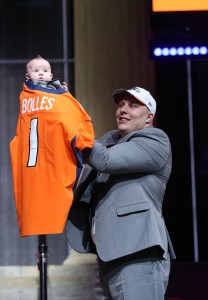 The team has yet to find a true left tackle replacement for Ryan Clady. The Broncos used a first-round pick on a tackle for the first time since Clady (2008) and will expect Bolles to be in their starting lineup this season. At 25, the Utah product was viewed as the most NFL-ready player of the three high-end tackle prospects. While the Broncos could conceivably plug in Stephenson at left tackle, he hasn't fared well at either tackle spot in his career. The Broncos likely need Bolles to be ready soon.
While Elway and Co. has located quality talent in the first round and found some later-round gems (Julius Thomas, Malik Jackson, Paradis), Round 2 has been a consistent problem for the Broncos. That's affected the team's depth. Denver's past four second-round choices have either not panned out or not started their careers well. Montee Ball (2013) is now out of the league. Cody Latimer (2014) became an underwhelming presence out of one of the greatest wideout draft classes in NFL history. Sambrailo ('15) hasn't been able to stay on the field, and Gotsis ('16) has yet to show he can do so either.
DeMarcus Walker won't be asked to start right away, with the likes of Zach Kerr and Jared Crick around, but the former Seminoles sack artist (16.0 as a senior) should factor in as a rotational cog and has a chance to be the kind of interior pass-rushing supplement to Wolfe the team's lacked since Jackson exited.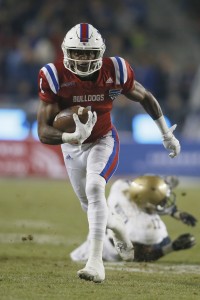 The Kubiak offense also did not have the luxury the Adam Gase attacks did in Denver. Beyond Sanders and Demaryius Thomas, there hasn't been much auxiliary pass-catching talent on the roster. Henderson represents a step toward changing that.
The Louisiana Tech talent played in a pass-heavy system and earned Conference USA offensive player of the year acclaim after amassing 1,535 receiving yards and hauling in 15 touchdown receptions. Perhaps more impressively, Pro Football Focus charted Henderson as having forced 48 missed tackles last season. The analytics site notes second place in that category among Division I pass-catchers induced 26, giving the impression Henderson could supply the Broncos with a slot presence they haven't had since before Wes Welker's concussion trouble.
Butt comes in as a bigger name but might be a PUP list candidate after tearing his ACL in the Orange Bowl. The former Michigan dynamo, though, may have a higher ceiling than the team's current batch of tight ends, none of whom having distinguished themselves thus far. McKenzie figures to contribute immediately as a return man, although Joseph already is discussing an offensive role for the 5-foot-7 rookie. He totaled six return TDs in three seasons at Georgia and could become the kind of return threat Denver hasn't deployed since Trindon Holliday in 2013.
Extensions and restructures:
Other:
Joseph has a history in Colorado from his time as a Buffaloes quarterback in the early 1990s, and as a Bengals assistant coach, he interviewed for the Broncos' head-coaching position in 2015. The Bengals blocked the then-secondary boss from becoming Denver's DC soon after, but two years later, the Broncos tabbed him as their fourth HC of the 2010s. However, Joseph's one season as a coordinator did not go especially well, with the Dolphins ranking 29th in total defense. This defense will almost certainly be better given its recent showing and it returning every key performer, save for Ware.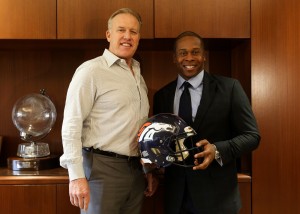 Joseph will have plenty to prove in his first HC gig, and he's inheriting a team that's not in the state it was when Kubiak took over.
McCoy vaulted onto the HC radar after leading an offensive redesign for Tim Tebow midway through the 2011 season and rearranging the offense drastically for Peyton Manning a year later. McCoy's scheme malleability regarding quarterbacks will come in handy this season.
Lynch experienced a mostly shaky go of it as a rookie in Kubiak's system that was based more on the run, and having a coordinator help tailor a scheme to a raw signal-caller could be a boon for his chances to unseat Siemian. However, Siemian fared well considering his backstory and the state of Denver's offense last season. McCoy being back should help catalyze a Broncos offensive recovery, to some degree, after they ranked 27th in total offense last season.
The Phillips-to-Woods transition will help ensure continuity to what's been one of the best defensive nuclei in the game over the past several seasons, but allowing Phillips to leave for Los Angeles could be construed as risky.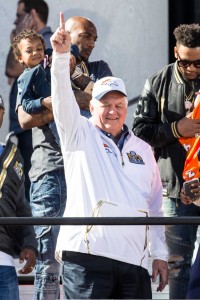 The Broncos boasted a well-regarded defense under Jack Del Rio from 2012-14, but Phillips transformed it into one of the greatest units in league annals en route to the Super Bowl 50 title. Woods oversaw Denver's secondary for two years under Phillips and has been an NFL DBs coach for 13 seasons. But given the load the Broncos' defense will likely have to shoulder, losing their proven game-planner gives the team another hurdle to surmount. Of course, the Broncos were also worried a team would pry Woods away, helping explain the promotion.
The Broncos do not use Roby as a starter, but he's essentially a de facto first-unit player. The fourth-year corner's allowed Chris Harris to shift into the slot in nickel sets, and Roby's held his own at right cornerback. While the Broncos would stand to have three corners making at least $8.5MM in 2018 — provided they stick with Talib during his age-32 season, which is non-guaranteed — exercising Roby's option now makes sense.
Top 10 cap charges for 2017:
There are still questions ahead for the Broncos, but they moved to address their biggest problems through multiple avenues this offseason. The quarterback issue will overshadow the rest of the happenings on this team, especially if it doesn't resolve itself during the preseason, but the defensive-powered team looks to again be a threat for a playoff berth. Whether that's enough in a stacked AFC West isn't certain. Though, the Broncos having added plenty and lost less than they have in recent offseasons figures to give them a better chance of qualifying for another AFC bracket.
Information from Over the Cap and Roster Resource was used in the creation of this post. Photos courtesy of USA Today Sports Images.
Follow @PFRumors