We have a new management structure in Washington, but it appears that everyone is not on the same page. With days to go before the extension deadline, there is internal disagreement over Kirk Cousins' true value, a source tells Mike Florio of Pro Football Talk.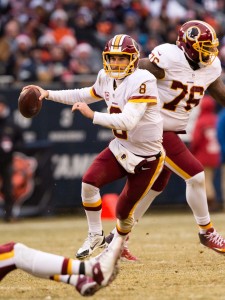 [RELATED: Why The Transition Tag Isn't A Real Option For The Redskins In 2018]
The top decision makers in D.C. have not been aligned on Cousins' value for years now. In 2015, Jay Gruden had to slug it out with the front office to have Cousins slotted in as the team's No. 1 quarterback over Robert Griffin III. Heading into the 2016 season, the Redskins missed on an opportunity to sign Cousins to a relatively reasonable multi-year deal, opting instead for the softer commitment of a one-year franchise tender. This time around, Cousins has grounds to become the league's highest-paid player and management is split on the best course of action.
Both sides are reportedly comfortable with the idea of Cousins playing out the 2017 season for $24MM. After that, the Redskins could cuff Cousins once again via the $28MM transition tag or the $34MM franchise tag. On Friday morning, we explained why the transition tag probably won't do much for the Redskins.
Photo courtesy of USA Today Sports Images.
Follow @PFRumors