The Texans finished 9-7 and won the AFC South for the second consecutive year, and they did so with quarterback play that was below average to say the least. It's fair to wonder how far Houston may have advanced with competence under center, and the club went into the 2017 offseason with signal-caller as the No. 1 item on its to-do list.
Notable signings:
When two of your six offseason signings were the re-upping of your kicker/punter combo, you didn't have very busy spring. The Texans were among the least active clubs during the free agent period, and that's a result of both cap space constrictions and roster makeup. Houston ranked in the bottom-third of the league with roughly $25MM to work with, so it didn't have an exorbitant amount of funds to spread around. But the Texans' squad was also relatively stable outside of quarterback (a position they weren't going to fill in free agency), so upgrades were difficult to find.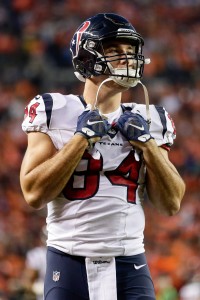 Aside from Nick Novak and Shane Lechler (obligatory Punters Are People Too link), the only player Houston decided to re-sign was tight end Ryan Griffin, whom it inked to a cheap three-year deal. Griffin played second fiddle to C.J. Fiedorowicz in 2016, but still raked in 50 receptions on 74 targets. He didn't do much else well, however, as he earned poor blocking grades from Pro Football Focus and rarely played on special teams. It wouldn't be a surprise if Griffin starts to lose playing time to second-year tight end Stephen Anderson next season.
Griffin could be lining up next to a new right tackle in 2017, as the Texans brought in former Jet/Seahawk Breno Giacomini to provide insurance given that Derek Newton won't play until at least 2018. Now 31 years old, Giacomini has struggled with injuries and ineffectiveness over the past two seasons, but he'd been roughly an average player prior to that. Chris Clark, who started 14 games in the absence of Newton a year ago, rated among the league's worst tackles in 2016, so Giacomini shouldn't have any trouble overtaking him for the starting job.
While Giacomini could end up providing surprising production at a cheap rate, it's a tad odd that Houston didn't go after a more high-profile addition at tackle. The Texans did add Bucknell product Julien Davenport in the fourth round, and while he could conceivably compete for snaps during his rookie campaign, Houston could have attempted to sign someone like Ricky Wagner (admittedly, an expensive undertaking) or Mike Remmers in free agency. Austin Pasztor, who played well for the Browns in 2016, is still available, and would still be a welcome supplement to the Texans' front five.
As PFR's Connor Byrne noted in his pre-free agency Texans analysis, Houston could have addressed the safety position this offseason, as well, but aside from selecting Treston Decoud in the fifth round, the club stood pat while losing 13-game starter Quintin Demps to the Bears. Andre Hal and Corey Moore project as Houston's 2017's starters, but both earned middling grades from PFF last year. The Texans could have targeted free agent options such as Tony Jefferson, Duron Harmon, or D.J. Swearinger earlier this year, but players such as Corey Graham and Jairus Byrd are still on the open market.
Notable losses:
While the Texans didn't make many notable additions in free agency, they also didn't lose many key players, with the one exception being cornerback A.J. Bouye, who signed a five-year, $67.5MM deal with the Jaguars. The 25-year-old Bouye, a bit player during his first three years in the NFL, started 11 games in 2017 and graded as the NFL's No. 2 corner, per PFF. Clearly, that makes him an inherent risk, as his excellent play seemingly came out nowhere. But there's a case to be made that Houston should have made a stronger effort to retain Bouye.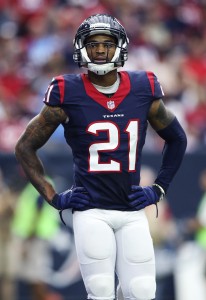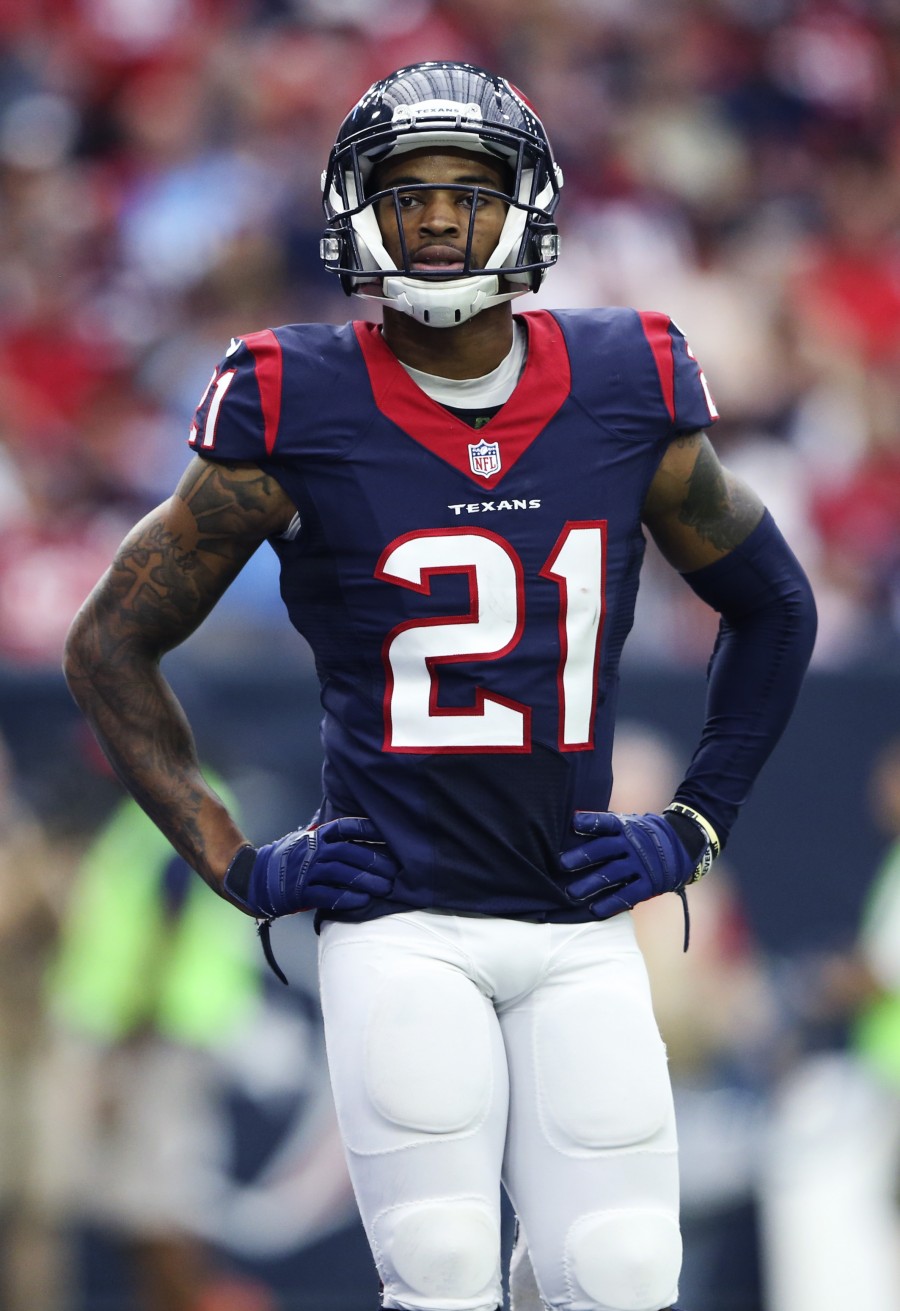 Financially, the Texans could have used the franchise tag on Bouye at a cost of $14.212MM. It's a hefty figure, to be sure, but fewer than $1MM more than what the open market decided Bouye was worth ($13.5MM). Houston could have then sought to trade Bouye, or — in a worst case scenario — be "stuck" with him for one year at a manageable cap charge. While the Texans do have a packed cornerback depth chart, they could have moved Kareem Jackson to safety, a shift they're considering even now that Bouye has moved on.
Bouye's defensive backfield cohort, Quintin Demps, is also gone, having defected to Chicago on a three-year pact. Like Bouye, Demps exceeded all expectations in 2017 by posting the best season of his career. Demps' breakout was perhaps even more surprising, as while Bouye hadn't had a chance to play during his three-season NFL tenure, Demps had started 30 games prior to last year. He played extremely well on roughly two-thirds of Houston's defensive snaps, and his presence will be missed in a secondary that ranked fifth in DVOA against the pass.
John Simon also left via free agency (joining the division-rival Colts), but his loss shouldn't affect Houston as much as Bouye's, or possible even Demps'. The Texans boast arguably the league's best front seven, including two of the NFL's most dangerous pass-rushers in J.J. Watt and Jadeveon Clowney. Brennan Scarlett and Zach Cunningham will compete to replace Simon opposite Whitney Mercilus, and Houston should be able to replicate Simon's production.
The Texans took a hard-line stance on linebacker Max Bullough and wide receiver Keith Mumphery, both of whom were waived following off-field misconduct. Bullough was hit with a four-game PED suspension, while Mumphery was cut after sexual misconduct allegations from 2015 surfaced. Neither Bullough nor Mumphery played even a quarter of Houston's snaps at their respective positions, but both spent time on special teams.
Trades:
The Texans' creative decision to trade Brock Osweiler to the Browns in order to get rid of his contract was the rare win-win move for both Houston and Cleveland. By canceling out the draft picks involved in the deal, assuming that the Texans' 2018 second-rounder will be in the middle of the round, and discounting that choice by 10% given that it's a future selection, the end result has Houston valuing Osweiler — and the remainder of his deal — as the No. 74 pick in the draft (early third round), at least according to Chase Stuart of Football Perspective's calculator.
In dealing Osweiler away, the Texans cleared out his $16MM guaranteed salary for 2017, but also saw his remaining prorated signing bonus money immediately accelerate onto their cap at a cost of $9MM. It's especially rare to see an NFL club admit a mistake this quickly, and Houston management should be given credit for doing so. Osweiler, clearly, struggled in his first season with the Texans, completing less than 60% of his passes, tossing more interceptions than touchdowns, and averaging only 5.8 yards per attempt. He also got into a Week 17 altercation with head coach Bill O'Brien, so Houston was likely ready to move on no matter the cost.
Draft picks:
After trading Brock Osweiler, the Texans had a clear need at quarterback, and they didn't wait long to find their next signal-caller. In another deal with Cleveland, Houston sent 155 cents on the dollar in order to move up to 10th overall and select Clemson's Deshaun Watson. Despite the hefty package the Texans sent to the Browns, Watson will likely begin his NFL career as a backup, as Bill O'Brien has already indicated Tom Savage will open the 2017 campaign as the club's starter under center.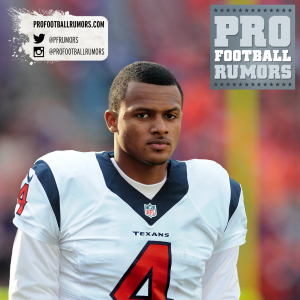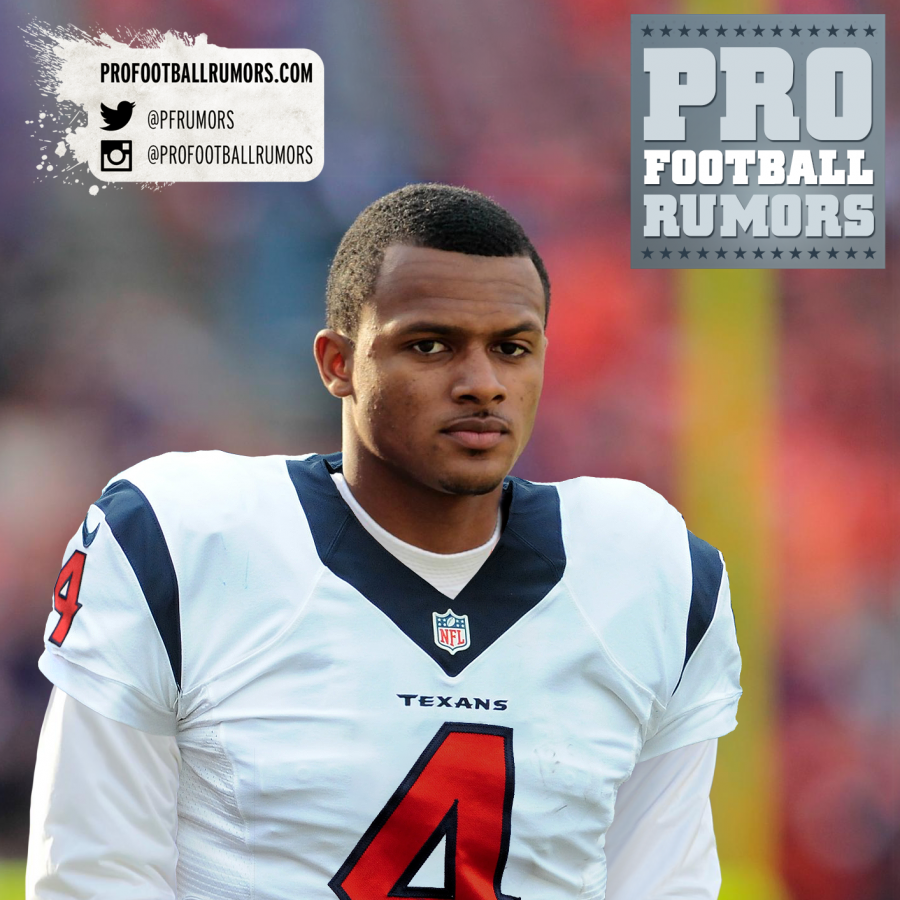 Whenever Watson does see the field, it's difficult to imagine he'll produce results any worse than what Houston quarterbacks have given the team during O'Brien's three-year tenure. Since 2014, Texans' quarterbacks have ranked 28th in both passer rating and net yards per pass attempt, and Houston's passing offense placed 30th in DVOA a season ago. Watson certainly has flaws — with "inconsistent field vision and decision-making" among them, per Lance Zierlein of NFL.com — but he'd be hard-pressed not to improve on the Texans' recent results.
Watson won't play immediately, and neither of the rest of Houston's class will either. Zach Cunningham is an inside linebacker by trade, so while he might be asked to play an edge role at some points, it's not his natural position. It would take a release of Brian Cushing, or an injury to Cushing or Benardrick McKinney, for Cunningham to see action. D'Onta Foreman will likely begin his career as the Texans' third back, while Carlos Watkins could prove to be a Day 3 steal. The Clemson product earned the 17th-highest pass rush grade among interior lineman in 2017, according to Steve Palazzolo of Pro Football Focus.
Extensions and restructures:
Other:
Picking up Jadeveon Clowney's fifth-year option was a no-brainer, as the former No. 1 overall pick posted his second consecutive stupendous season. In his age-23 campaign, Clowney graded as the league's No. 7 edge defender, per PFF, and was especially excellent against the run (third at his position). As Sam Monson and Mike Renner discussed on this week's Pro Football Focus podcast (audio link), Houston is expected to align Clowney as an interior player, allowing him to win against opposing guards. The Texans want to extend Clowney (unsurprisingly), and locking up both he and J.J. Watt would allow Houston to have two of the NFL's best pass rushers under contract for the long term.
Top 10 cap charges for 2017:
Houston decided to mortgage its 2018 draft in order to rid itself of Brock Osweiler and bring in Deshaun Watson, hoping that a change at quarterback will enable the team to take another leap in the postseason. Given that the Texans are fielding perhaps the league's best defense, any sort of proficiency under center should enable them to compete, even in an AFC South that's improved from top to bottom.
Information from Over the Cap and Roster Resource was used in the creation of this post. Photos courtesy of USA Today Sports Images.
Follow @PFRumors