After qualifying for their first AFC championship game in six seasons, the Steelers are once again positioned as one of the NFL's best teams. They are firmly in the conversation as being the top AFC challenger to the Patriots and have as good of a case as any team in that group to possess the best shot at dethroning them.
But while the Patriots made several key additions this offseason, the Steelers continued their cautious approach to outside augmentation. The team fans will see this season is largely the same as what Pittsburgh supporters observed in 2016. While that's not necessarily a bad thing given the success 2016 brought, the Patriots having appeared to improve stands to make the Steelers' task at reaching their first Super Bowl in seven years more difficult.
Pittsburgh, though, did have several notable moments during the offseason — one headlined by seminal contract outcomes for their top skill-position talents.
Notable signings: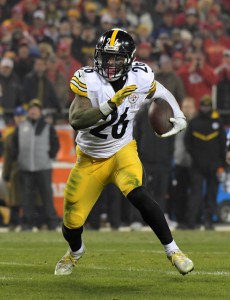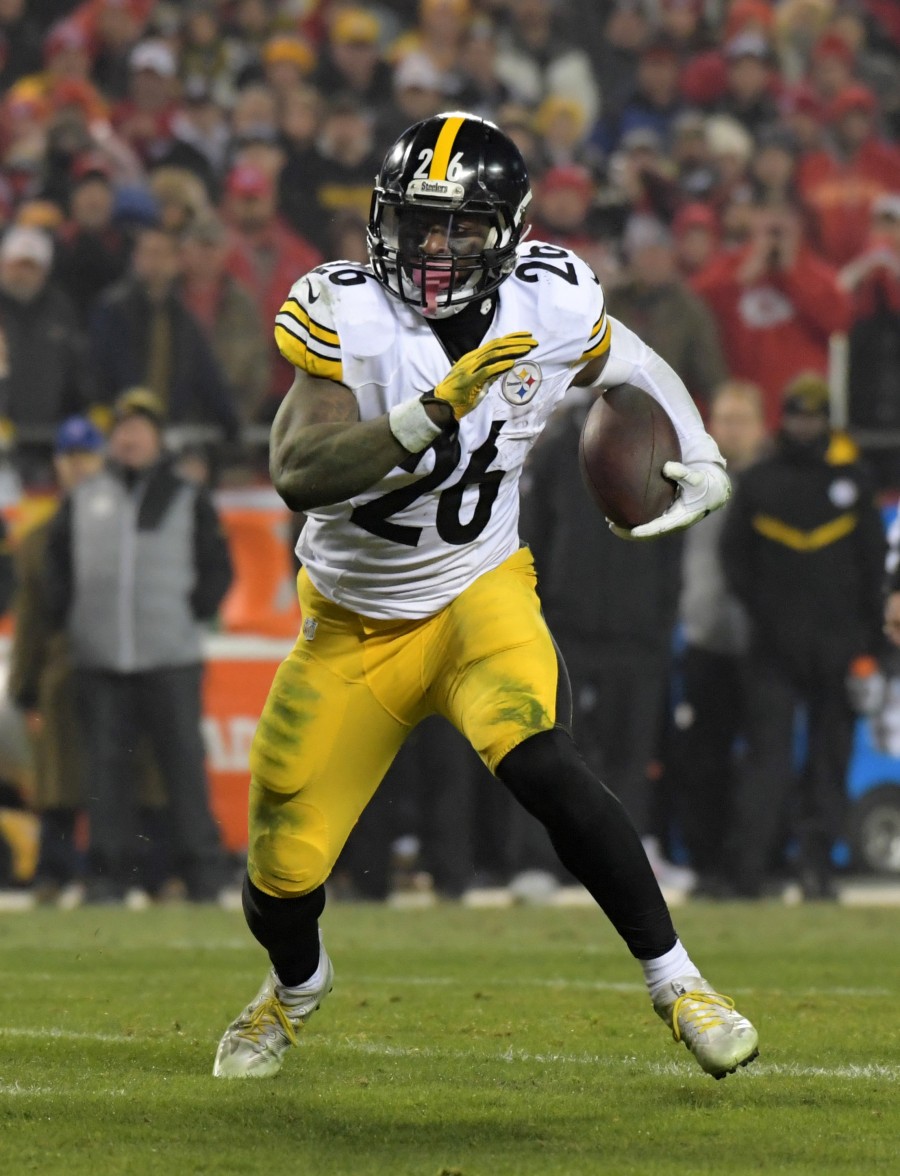 Bell and the Steelers couldn't come to terms on an agreement, and the star running back remains a holdout. While he's expected back before the season, this is not an ideal situation. The Steelers reportedly offered the All-Pro talent a competitive deal worth $60MM over five years. Ian Rapoport of NFL.com reported the proposal included $30MM in Years 1-2 and $42MM by Year 3. As a result of the impasse going past July 17, and one that possibly featured Bell reneging on an agreed-upon contract, the sides can't discuss a long-term deal until after this season.
The 25-year-old running back reportedly wanted a deal that also reflected his value to the Steelers as a receiver. While it's true Bell (227 career catches) is essentially Pittsburgh's No. 2 wideout, that's become part of the job description for modern-day backs. It's not as if this skill is overlooked by front offices, with backs who cannot threaten defenses aerially having tougher times getting work. Bell is one of the best there is at this discipline, but turning down a deal that would have placed him on his own financial tier is a risk, especially given his history with injuries and suspensions.
The NFL's suspended Bell twice for substance abuse, and he's now undergone knee and groin surgeries over the past two years. His window to sign a mammoth pact like the one reportedly offered is decreasing, especially considering how the Steelers use him. Bell averaged 28 touches per game during the 12 games be played in 2016. That workload will be tough to sustain.
However, the Steelers were willing to pay Bell $14MM on average over the first three years of this deal. His tag amount would be $14.5MM in 2018, and the Steelers — without a replacement lined up — may be amendable to that figure. If so, Bell taking the Kirk Cousins approach would pocket him nearly $30MM in two years. No other running back can match that kind of earning power. But another injury puts these hopes in jeopardy, so Bell not agreeing to long-term security now could be a pivotal moment in his career.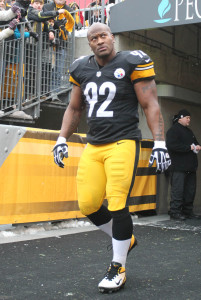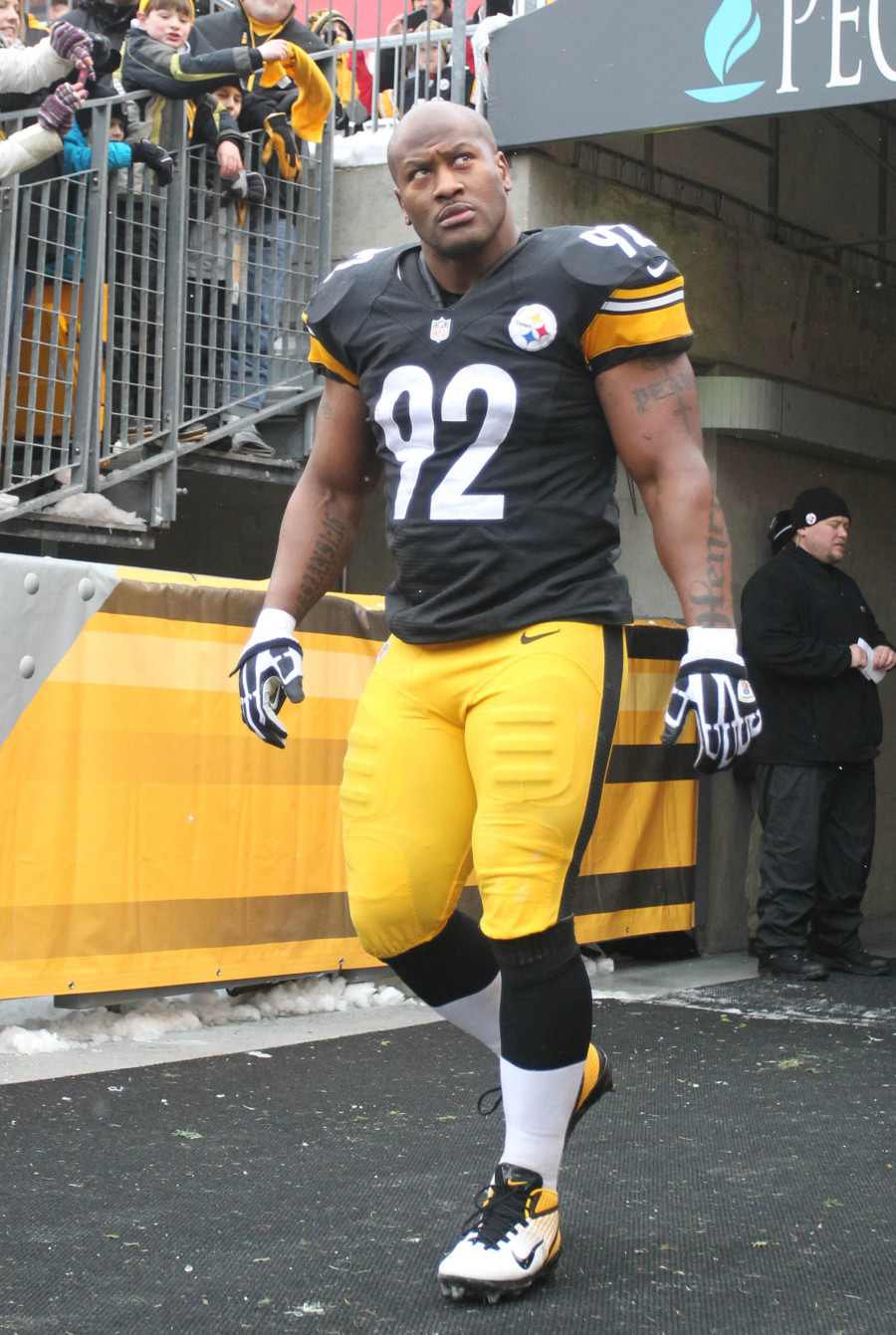 Other than this, free agency went pretty much as it usually does for Pittsburgh. The build-from-within franchise secured a host of role players' returns with low-level deals and brought back Harrison again.
Now 39, Harrison remains the oldest defender in the league. He was a revelation for the AFC North champs last season, ranking as Pro Football Focus' No. 10 edge defender — ahead of prime talents like Jason Pierre-Paul, Ryan Kerrigan and Bruce Irvin. Pittsburgh also used Harrison on 758 snaps. The workout warrior may be near the end of the line, but the Steelers still figure to coax some final months (or years?) of quality football from the 2008 defensive player of the year. Linebackers coach Joey Porter did say he plans to use the veteran as a "relief pitcher" behind the younger talents this season, though.
Jones will be back to serve as Ben Roethlisberger's backup for a third straight season. While the Steelers' capabilities diminish considerably when Big Ben is out, as he generally is at some point during a season, Jones has been in Todd Haley's system for five years now. Jones' completion rate jumped three percentage points, to 61 percent, last season. He fared better than he did in the past, but the Steelers drafted another quarterback to put Jones on notice. However, for 2017, Jones is probably still the franchise's QB2.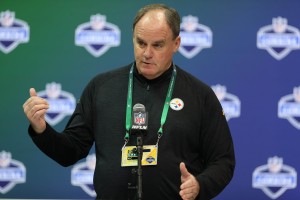 When compared to the Patriots' offseason additions — Brandin Cooks, Stephon Gilmore, Dwayne Allen and Co. — or the Raiders' (Marshawn Lynch, Jared Cook, Cordarrelle Patterson), the Steelers' approach places a premium on draft work. And it's arguable this lack of action to plug holes, especially on defense, is doing Roethlisberger a disservice. With the 35-year-old passer now on a year-to-year arrangement, Steelers management isn't exactly maximizing the championship window the quarterback's given the team the way other AFC frontrunners have in recent years.
That said, the Steelers' methods continue to produce winning teams. It's just debatable if this offseason caution has restricted them from matching up with conference powers in January during this decade.
Notable losses: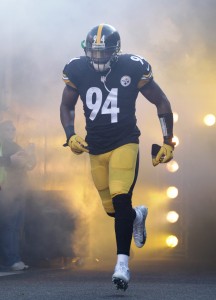 A franchise flush with linebacker tradition saw Timmons become its most identifiable second-level defender this decade. The former first-round pick started for eight straight seasons but did not receive a third Steelers contract, venturing to Miami early in free agency. Pittsburgh already has 2014 first-round pick Ryan Shazier inside, and Vince Williams — signed through 2018 at $2.5MM per year — is much more affordable. The 2013 sixth-rounder figures to move into the starting lineup. Former Broncos two-down player Steven Johnson provides depth.
Pittsburgh deviated from its usual offseason shtick last March by signing Green for four years and $20MM, but significant injury issues essentially deprived Green from making an impact in western Pennsylvania. The Steelers cut him and will carry $3.562MM in dead money on their 2017 cap. No comparable outside acquisitions came in 2017, and the Steelers are back to using in-house tight ends. Six-foot-7 Jesse James is only entering his age-23 season and looks set to start, as he did for most of last season.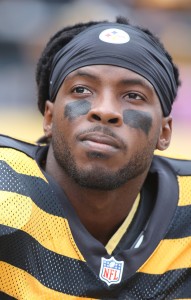 The modern-era Steelers have continued to churn out viable wide receivers and have been keen to watch most of them sign their second contracts elsewhere. From Plaxico Burress to Santonio Holmes to Mike Wallace to Emmanuel Sanders, the team has shown an incredible acumen for identifying wideouts. The Steelers' second era of Super Bowl success involved treating every receiver except for Hines Ward and Antionio Brown as superfluous cogs.
Lately, Day 2 of the draft's served as the Steelers' preference for securing talent to replace departed players. That tradition continued this offseason, just as it did when Sanders departed and second-rounder Martavis Bryant arrived shortly after. JuJu Smith-Schuster came via second-round pick to replace Wheaton, who delivered an up-and-down career.
The ex-Oregon State sprinter became a serviceable complement to Brown, averaging 17 yards per catch en route to 749 yards and five touchdown receptions in 2015. Sent to IR midway through the season, Wheaton was one of many Steelers skill-position talents absent by the time they faced the Patriots in the championship game. With Bryant, Sammie Coates, Eli Rogers and Smith-Schuster in tow, Pittsburgh has a good chance of replacing Wheaton as it has his supporting-cast predecessors.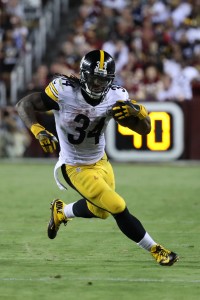 Whereas receiver's been a Day 2 priority in drafts, Pittburgh continues to pour resources into first-round pass rushers. T.J. Watt will replace Jarvis Jones, who did not make the kind of impact the team envisioned when it used a 2013 Round 1 selection on the Georgia dynamo. Even after Jones and Timmons' exits, the Steelers still have three first-round 'backers. Arthur Moats is a solid reserve as well.
Williams remains available, and he did not place his most recent employer among the teams with which he wouldn't sign. Now equipped with third-rounder James Conner to supplement Fitzgerald Toussaint, the Steelers would seemingly be covered without the 34-year-old running back if Bell returned before the regular season as he's expected to. If he doesn't, then a Williams re-up makes sense. Williams functioned impressively for Pittsburgh during the 2015 season, amassing 907 ground yards and 11 rushing touchdowns. His yards-per-carry average dropped from 4.5 to 3.5 from 2015 to '16, though.
Draft picks: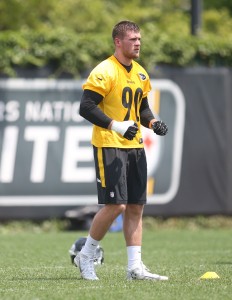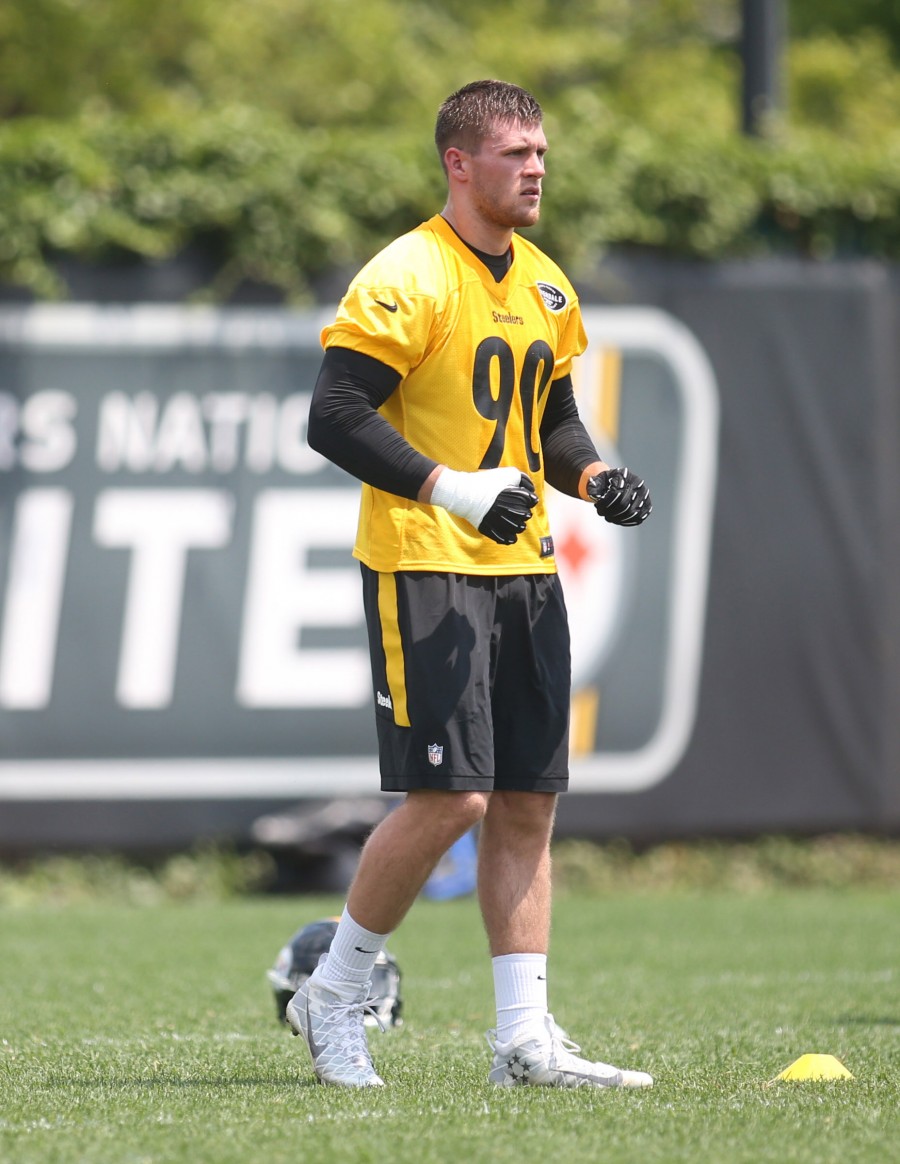 Watt continues the Steelers' aggressive investment strategy regarding pass-rushing talent, with three of the team's past five first-round picks going toward outside linebackers. The third of the Watt brothers to ascend to the NFL, T.J. Watt augments Pittsburgh's situation at outside 'backer. The Steelers have two first-rounders (Watt, Bud Dupree) and two proven veterans (Harrison, Moats) outside.
The Steelers finished 16th in sacks with 38 last season. Watt wasn't viewed as a can't-miss pass rusher, although he posted upper-echelon Combine numbers to indicate a possible future as such. And the Wisconsin standout became a much more disruptive force as a junior in increasing his pressures from 12 as a sophomore to 56 in his third college season.
Of course, 2016 was the only season that featured much Watt work, with J.J. Watt's younger brother playing 661 snaps last season compared to just 174 in 2015. So, the Steelers are pretty much going off that — and perhaps the otherworldly success J.J. has enjoyed since entering the league.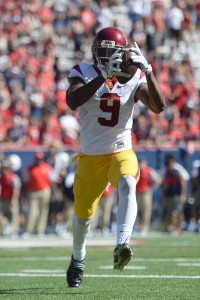 Smith-Schuster was a three-year fixture in the USC offense. His sophomore season — 1,454 yards, 16.3 per catch, 10 touchdowns — was stronger than his follow-up effort last fall. Although, the Trojans target still caught 10 touchdowns despite seeing his yards-per-catch figure plummet by more than three yards. The way the Steelers are presently constructed, Smith-Schuster won't be asked to be an instant contributor. But he could be a red zone weapon and will provide depth for a team that was short on it by the end of last season.
Receiving steady reps as the Steelers' No. 1 back, Conner steps into an interesting situation. At 235 pounds, the ex-Pittsburgh Panther could bring a complementary element to the shiftier Bell. The Steelers use Bell as a throwback bellcow-type ball carrier, but Conner has the body type — and the numbers, with 42 touchdowns during his sophomore and senior seasons combined — to be effective in short-yardage situations.
This was the third straight year the Steelers selected a corner with a Day 1 or Day 2 pick, and Sutton will push thus-far-unavailable Senquez Golson for time as a top backup behind Artie Burns, Ross Cockrell and William Gay. Golson may be on the ropes at this point, per DC Keith Butler. Dobbs profiles as a project player who can learn behind Roethlisberger and Jones.
Extensions and restructures: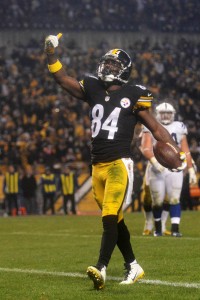 After signing what turned out to be an incredibly team-friendly contract, Brown finally secured his overdue payday. The Steelers held firm on their policy not to address contracts with more than one year remaining on them, and Brown stayed healthy to move into a position to become the league's highest-paid wideout. He's now $2MM clear of the field on the wideout salary hierarchy, on a per-year basis, and Brown's deal will undoubtedly be used when it comes time for Odell Beckham Jr. and Mike Evans to discuss extensions.
Entering his age-29 season, Brown is the only active receiver with three first-team All-Pro honors on his resume. Only three modern-era wideouts — Jerry Rice, Terrell Owens and Randy Moss — have earned more than three such distinctions. The former sixth-round pick out of Central Michigan has turned in the most productive four-season stretch any receiver's ever authored and is on a Hall of Fame course.
Brown being tied to Pittsburgh for five more seasons, with Pittsburgh being unable to comfortably jettison the contract until the 2021 season, could affect Roethlisberger's retirement decision. Big Ben considered stepping away this offseason but backed out. Now, he has Brown and Bryant tied to the Steelers for at least two more seasons.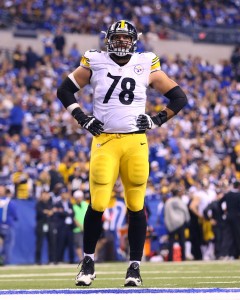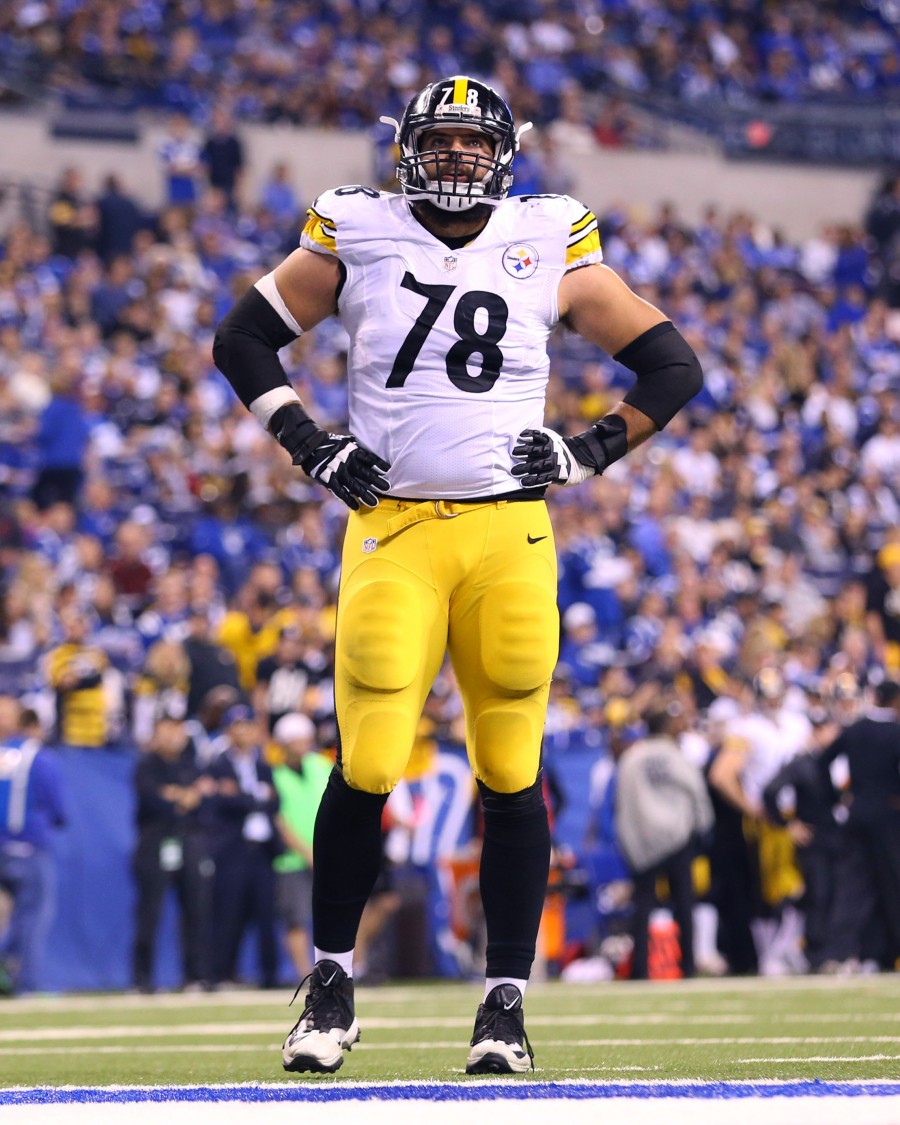 Roethlisberger's blindside protector did not have as obvious of a case as Brown for a new contract. Villanueva's late NFL entry placed him as a rare 28-year-old ERFA; two more years remained on his league-minimum deal. While the starting left tackle had outplayed that agreement, the Steelers didn't have much incentive for enhancing Villaueva's salary. And these discussions transpired for months.
But like they did with ERFA-turned-Super Bowl hero Willie Parker a decade before, the Steelers came to an agreement with Villanueva. He could have possibly gotten more per year when he became a UFA, but being that he would have been almost 30 once he hit the market, Villanueva and the Steelers came to a compromise. While $6MM AAV is lower-end starting left tackle money, placing Villanueva 20th — and essentially last among non-rookie-deal blindside blockers — the ex-UDFA accepted the terms to secure a reasonable commitment before his value potentially deteriorates.
Other: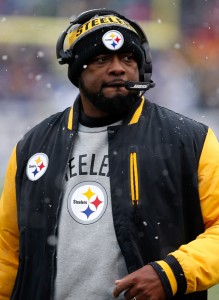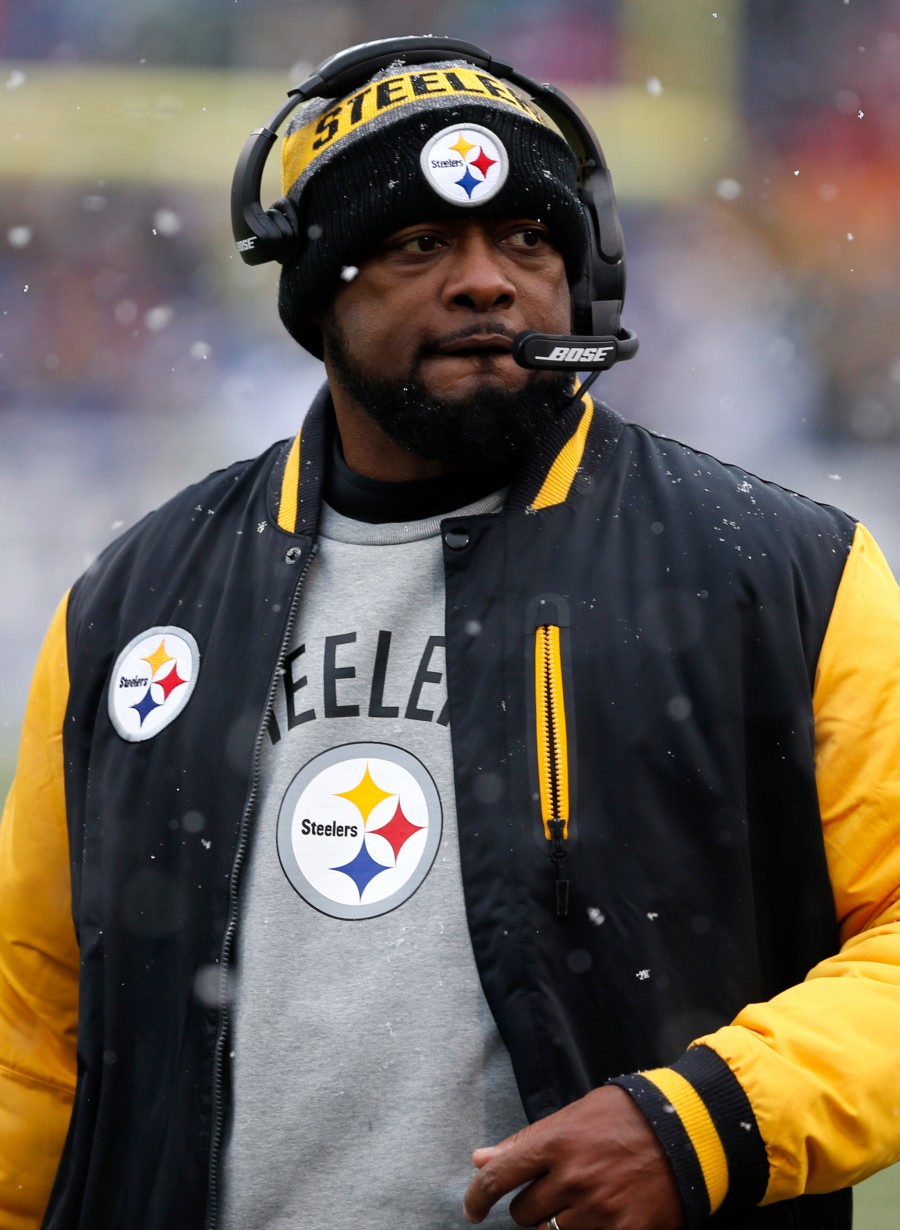 In extending Tomlin through 2020, the Steelers could be set up for an unthinkable procession of leaders. Should Tomlin coach through the 2020 campaign, which would be his 14th as a head coach, the franchise will have gone more than 50 years with just three head coaches. While Chuck Noll did the most to make this a possibility in coaching for 23 seasons (1969-91), Bill Cowher (1992-2006) and Tomlin have played big parts in the continuity associated with this operation.
Obviously leading the league with six Super Bowl titles, the Steelers are one of just two teams — joining the Broncos — to have made a conference title game in the 1970s, '80s, '90s, '00s and '10s. While Tomlin's had the benefit of Roethlisberger to help install the Steelers as perpetual contenders, Pittsburgh fielded elite defenses during its championship runs in the defensive-minded coach's early years. And the steady success will have the 45-year-old HC set to become one of the highest-paid sideline bosses in the game.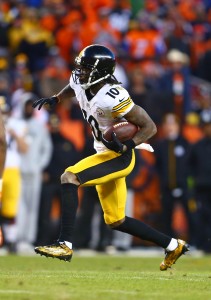 When on the field, Shazier has shown himself to be one of the most athletic pure linebackers in the game. While he's missed 14 games in his three-year career, Shazier enters 2017 as one of Pittsburgh's most important players. In addition to finishing with exactly 87 tackles and 3.5 sacks for a second straight season, Shazier intercepted three passes and deflected nine more. The versatile 'backer isn't a fan of the fifth-year option, but with none of the other 2014 first-rounders having signed extensions yet, his franchise isn't planning to buck the trend first.
The Steelers did not replace Bryant effectively last season, and it lowered their offensive ceiling. Coates has yet to show much consistency, and Wheaton's injury further limited Roethlisberger's weaponry. Bryant has scored 14 touchdowns in 21 games and is one of the NFL's premier deep threats. The Steelers still managed to rank fifth in passing last season but finished with 400 fewer yards than 2015 despite Roethlisberger playing in two more games. Roethlisberger's 328.2 passing yards per game from 2015 are by far a career high, and his 4,952 yards in 2014 easily represent his best as an NFLer.
Bryant undoubtedly adds a dimension to this offense but will obviously have to prove he's moved past the off-field trouble that's defined his career.
Top 10 cap charges for 2017:
The Steelers return many players responsible for securing three straight playoff berths, but for having a future Hall of Fame quarterback, an argument can be made the team has underachieved in recent seasons. This one represents another chance to capitalize on having Roethlisberger under center.
With upgrades coming at wideout and pass rusher, the Steelers should be better than they were in 2016. Roethlisberger's health is obviously essential. But with top AFC North rivals Cincinnati and Baltimore potentially not being playoff-caliber teams, Pittsburgh has a better chance to challenge for its first playoff bye since 2010.
The case for the Steelers having improved exists, but one based around the franchise not doing enough this offseason to present the best possible challenge to the Patriots does as well. As such, it will be on the Steelers' holdovers to make this a keystone season.
Information from Over the Cap and Roster Resource was used in the creation of this post. Photos courtesy of USA Today Sports Images.
Photo courtesy of USA Today Sports Images.
Follow @PFRumors