Carson Wentz done for the season. A likely MVP candidate, Wentz suffered a torn ACL in the Eagles' Week 14 victory over the Rams and has since been placed on injured reserve. Wentz, who had led Philadelphia to a 11-2 record in his second NFL campaign, will end the season with 3,296 passing yards, 33 touchdowns, and seven interceptions. While the Eagles will assuredly miss Wentz, backup quarterback Nick Foles managed a victory over the Giants today while tossing four touchdowns.
Marvin Lewis out in Cincinnati? After 15 seasons in the Queen City, it appears Lewis will not remain the Bengals' head coach in 2018. Adam Schefter of ESPN.com reported earlier this morning that Lewis — whose contract expires after the current season — will not return to Cincinnati next year. Following the Bengals' loss to the Vikings, Lewis denied that any decision has been made, but didn't definitively say he will return. If Lewis is out, Cincinnati could look at head coaching candidates such as the Browns' Hue Jackson or incumbent defensive coordinator Paul Guenther.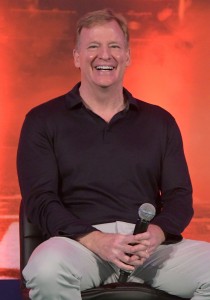 Roger Goodell expected to retire in 2024. Goodell formally received a contract extension earlier this month, and he's privately informed owners that he'll retire when that new deal expires in 2024. In fact, Goodell could even call it a career before his contract ends. He's reportedly told the league he'll guide the owners through another round of collective bargaining agreement and television rights negotiations, meaning he cold retire in 2021 or 2022.
Panthers owner Jerry Richardson faces accusations. The nationwide uprising regarding sexual harassment has hit the NFL, as the league is now investigating Richardson for inappropriate comments and contact with female Panthers employees. In addition, Richardson allegedly used a racial slur against an African American scout. Richardson reportedly has used financial settlements and non-disclosure agreements to keep accusations under wraps, but now that they're out in the open, it's fair to wonder how much longer Richardson will control the Carolina franchise.
Aaron Rodgers returns in Green Bay. After spending eight weeks on injured reserve with a broken collarbone, Rodgers returned to action today against the Panthers. The Packers likely needed to win out to have any chance at a postseason berth, so today's loss may have knocked Green Bay out of contention. As such, the Packers will need to decide whether playing Rodgers over the next two weeks in worth the risk.
Photo courtesy of USA Today Sports Images.
Follow @PFRumors