In advance of March 14, the start of free agency in the NFL, Pro Football Rumors will detail each team's three most glaring roster issues. We'll continue this year's series with the Cleveland Browns, who have established the NFL futility standard by being just 1-31 over the past two seasons. There are many areas in need of upgrades for a franchise that went 0-16 last season, but one obviously dwarfs the rest.
Pending Free Agents:
Top 10 Cap Hits for 2018:
Other:
Projected cap space (via Over the Cap): $110,849,880
First and fourth picks in draft
Must exercise or decline 2019 fifth-year option for DT Danny Shelton
Three Needs:
1) End a complex QB search with a franchise player: Browns fans know the list of failed quarterback investments by now that there's no point in rehashing them. But the Sashi Brown-era decisions to trade out of the Carson Wentz and Deshaun Watson draft slots did not bode well for the organization. It has a chance to rectify those missteps in April, but the decision won't be easy.
Unlike past years that featured No. 1-selecting teams making choices between two players — Jared Goff-over-Wentz (2016), Jameis Winston-over-Marcus Mariota (2015), Andrew Luck-over-Robert Griffin III (2012) — the Browns could possibly have four passers on their radar at No. 1. No draft has featured three QBs go in the top five since 1999, which is unique symmetry considering the Browns' Tim Couch decision set their rebooted franchise on this course.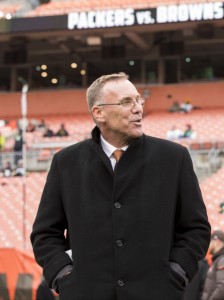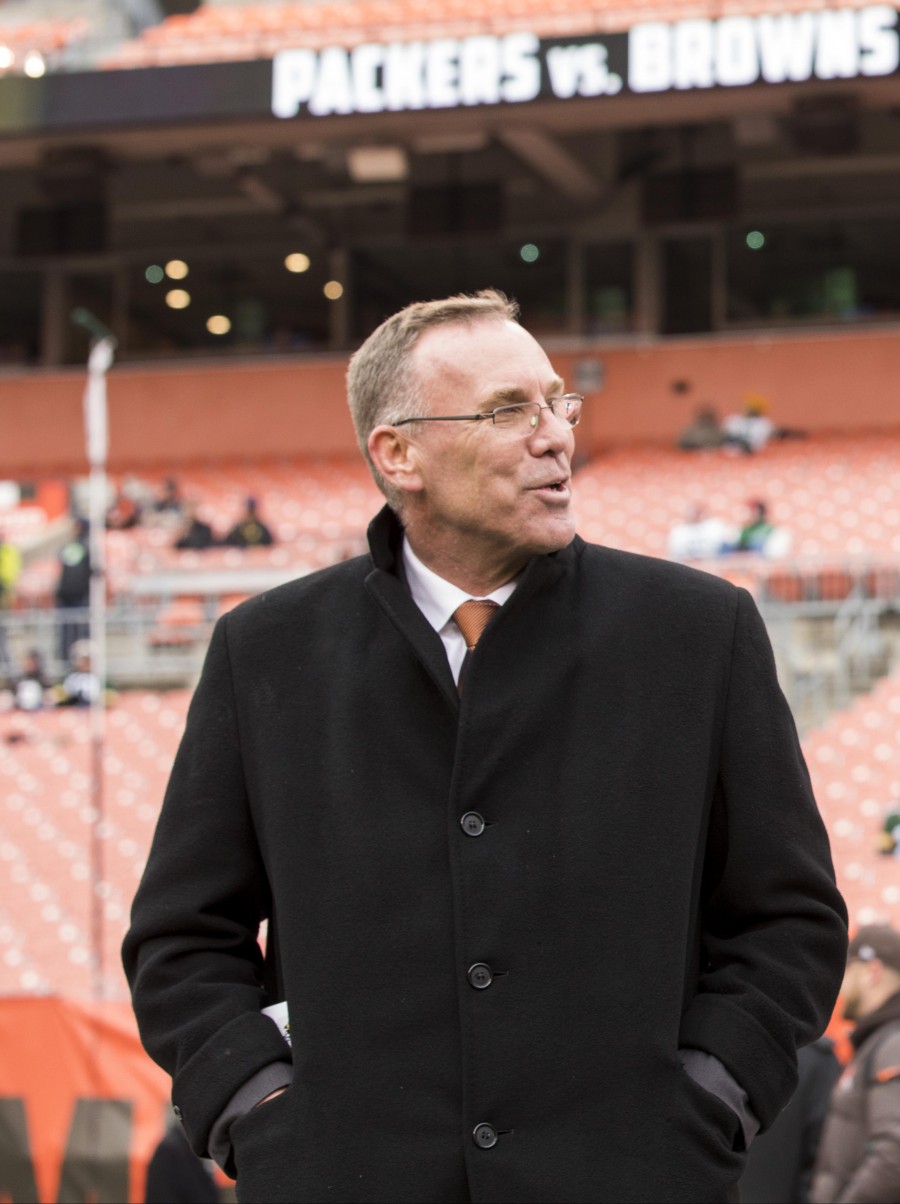 The Browns are expected to decide between Josh Rosen, Josh Allen, Sam Darnold and Baker Mayfield at No. 1. But the franchise is sending some mixed messages about its plans at American sports' premier position.
Cleveland attempted to unload one of its three second-round picks for Alex Smith, who almost certainly would have been good enough to keep whomever the team selects at No. 1 on the bench throughout the 2018 season. Is that how a franchise that went 0-16 last season and 2-43 in its past 45 games should be operating? Now with A.J. McCarron on the UFA radar, might the Browns be considering him again after being willing to fork over two Day 2 picks for him at the trade deadline?
A bridge quarterback could make sense here. If the Browns go with ESPN draft guru Mel Kiper Jr.'s choice and pick Allen, who is considered raw but a player potentially possessing the highest upside of the '18 passer crop, they would probably need a veteran to take the snaps while the Wyoming prodigy learns. The same could be said for Darnold or Mayfield, with Rosen being viewed as the readiest pro prospect of this quartet. But the Browns approaching this QB market like they need a multiyear starter doesn't seem logical.
The Browns' insane amount of cap space would put them in position to outgun any Kirk Cousins suitor, but that doesn't really make much sense given Cousins' preferences and the team's trajectory. Even a deal for McCarron, who could be viewed by some as a Cousins backup plan, may be too steep for this franchise's purposes. If the Browns do go after a starter-level veteran as Hue Jackson has said he may want (possibly to increase his chances at keeping the HC job beyond next season?), it should be a player whose market did not meet expectations. Injury-risk Vikings Sam Bradford or Teddy Bridgewater come to mind here.
For their short-term mentor type, it would make sense for the Browns to target a veteran with experience but someone who doesn't profile as a multiyear starter. It's difficult to envision, barring an over-the-top offer, a starter-level UFA choosing the Browns over a comparable proposal from another team. But high-level backup types like Chase Daniel — a John Dorsey addition while he was in Kansas City and Smith's backup for three years — or Matt Moore would make sense. An agreement with a nearing-retirement player like Ryan Fitzpatrick or a reunion with Josh McCown, would make more sense as a groomer for the No. 1 pick-to-be.
None of these options are as exciting as Cousins or even McCarron. But if the team is going to pick a quarterback at No. 1, over-investing here to help only the 2018 team seems short-sighted, as the 2017 Bears' plan showed.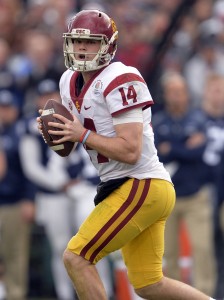 Since the sports media landscape has expanded significantly since the Couch/Donovan McNabb/Akili Smith trio went Nos. 1-3 in 1999, the next two-plus months should be flooded with headlines involving Darnold, Rosen, Allen and Mayfield. As of now, not much appears to be separating these passers, making the Browns' decision all the more interesting. After misfiring on Brady Quinn, Brandon Weeden and Johnny Manziel, Cleveland will face pressure to get this one right.
Darnold's been mentioned as a Browns pick, with Yahoo.com's Charles Robinson reporting multiple evaluators believe it will be a Darnold-or-Mayfield decision by late April. The USC product left two college seasons on the table to leave but has been deemed a candidate for the No. 1 overall pick since his redshirt-freshman campaign. He's viewed as a better athlete than Rosen but a player whose delivery might need some ironing out before becoming a starting professional passer.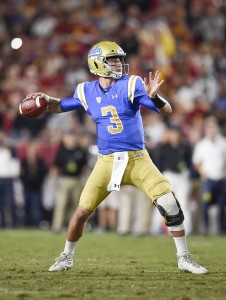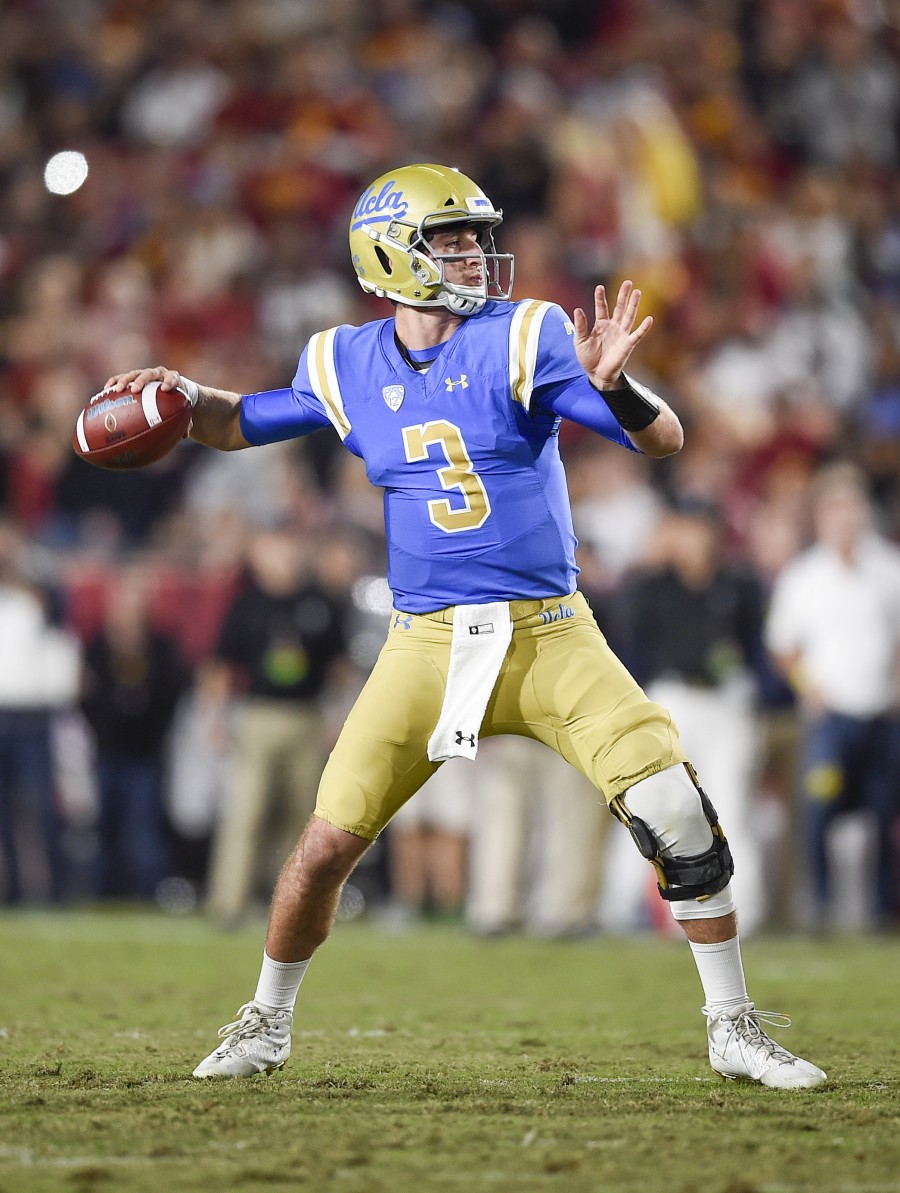 Rosen may be the safest pick from a pure passing standpoint, but the outspoken former UCLA centerpiece hasn't made a secret of the fact Cleveland might not be the best place for him. And his interviews and visits may be critical leading up to the draft. But the polished signal-caller would probably be the least likely of these quarterbacks to require a bridge passer, and with Jackson wanting to have such a setup in place, maybe the Browns do opt for one of the others over the outspoken signal-caller. However, the longtime offensive coach has been reportedly enamored with the ex-Bruin. Again, it's too early in the process to make a prediction here.
A high-level personnel executive — one that said in early 2016 the Browns would be set for 15 years if they took Wentz — told cleveland.com's Mary Kay Cabot that Allen-to-Cleveland would be the most likely scenario unfolding. Allen has been compared to Wentz and Ben Roethlisberger, and the high-ceiling/possibly low-floor talent will obviously be a player to monitor here as the workout season commences.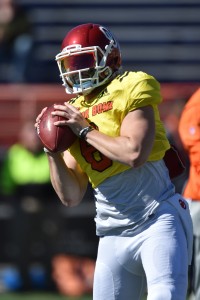 Mayfield's path may be the most interesting. The most accomplished college quarterback of this group, the Heisman Trophy winner has turned off some execs with his attitude and drawn Manziel comparisons from scouts and execs. He also is seen as more of a developmental player and one whose 6-foot stature could steer Dorsey and Jackson elsewhere.
But Dorsey also is believed to be a fan of Mayfield's competitiveness, and recently hired Browns draft consultant Scot McCloughan — the former Redskins GM who also has a path toward a job in Cleveland — has been talking up Mayfield for months. McCloughan said Mayfield would be his No. 1 overall choice when asked, and with the ex-Washington exec having already known he was en route to this consulting role when he made this comment, that proves interesting. Mayfield already has a meeting scheduled with the Browns, who are expected to bring in all four QBs for pre-draft summits.
So, this will get interesting soon. And a Browns team that's featured rampant dysfunction and a lack of continuity at key spots for years will have a new face of the franchise come OTAs.
2) Install talent in the secondary: Unless the Browns are convinced they can lure Cousins with a Godfather offer and reshape their supporting cast around him via free agency and the draft, which wouldn't be too crazy of a strategy if this was just about any other team and not one with the Browns' current reputation, quarterback shouldn't be where this franchise allocates much of its free agent funds. However, free agents in the secondary should see some wild offers coming from the 216 area code.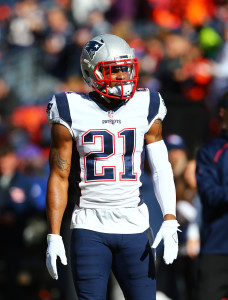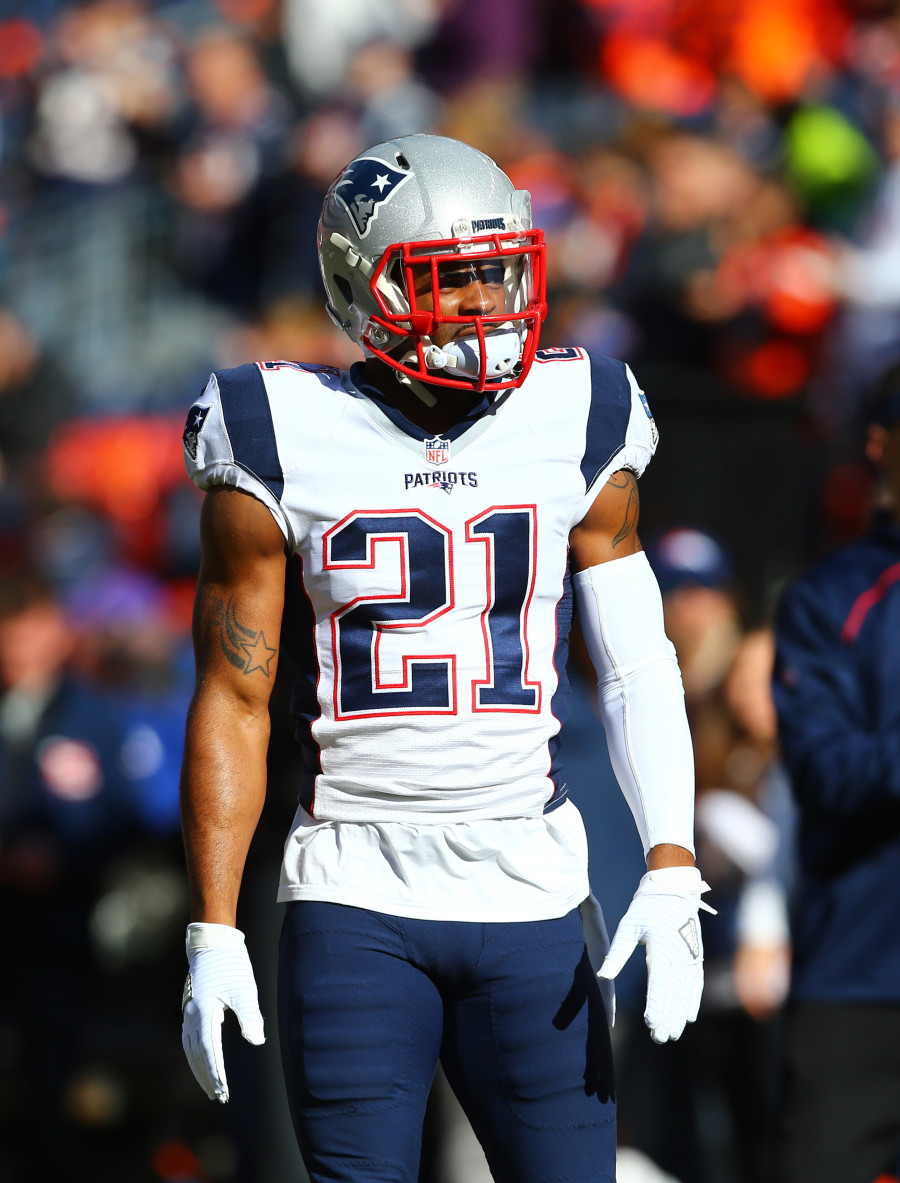 The Browns do not have a long-term answer at cornerback. Jason McCourty did play well as a late-arriving SFA last season, but he'll be 31 before this coming season begins. Help needs to arrive via free agency and the draft. Fortunately, this franchise has an unbelievable amount of resources it could use to restock this position.
Players like Trumaine Johnson, Malcolm Butler and Kyle Fuller should expect to field offers from the Browns — proposals that could place them on the Josh Norman/Richard Sherman/Patrick Peterson/Xavier Rhodes salary plane. The Browns have the luxury of not having to worry about overpaying players; they just need talent to help here.
Of these top-tier UFA corners, Johnson has the longest sample size of upper-echelon play. But at 28, he's also the oldest of the group and will be going into his seventh season. Butler and Fuller are fifth-year players, and the former Patriots defender played like a high-end corner during the 2015 and '16 seasons. He contributed the fourth-most pass breakups in both seasons. Butler's best work came in 2016, inducing the Pats to place a first-round tender on him. He was benched for Super Bowl LII and had an uneven 2017, but there will be an immense market for the ex-UDFA's services. And although other teams will be interested, none can outmuscle a Browns offer.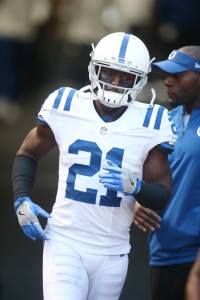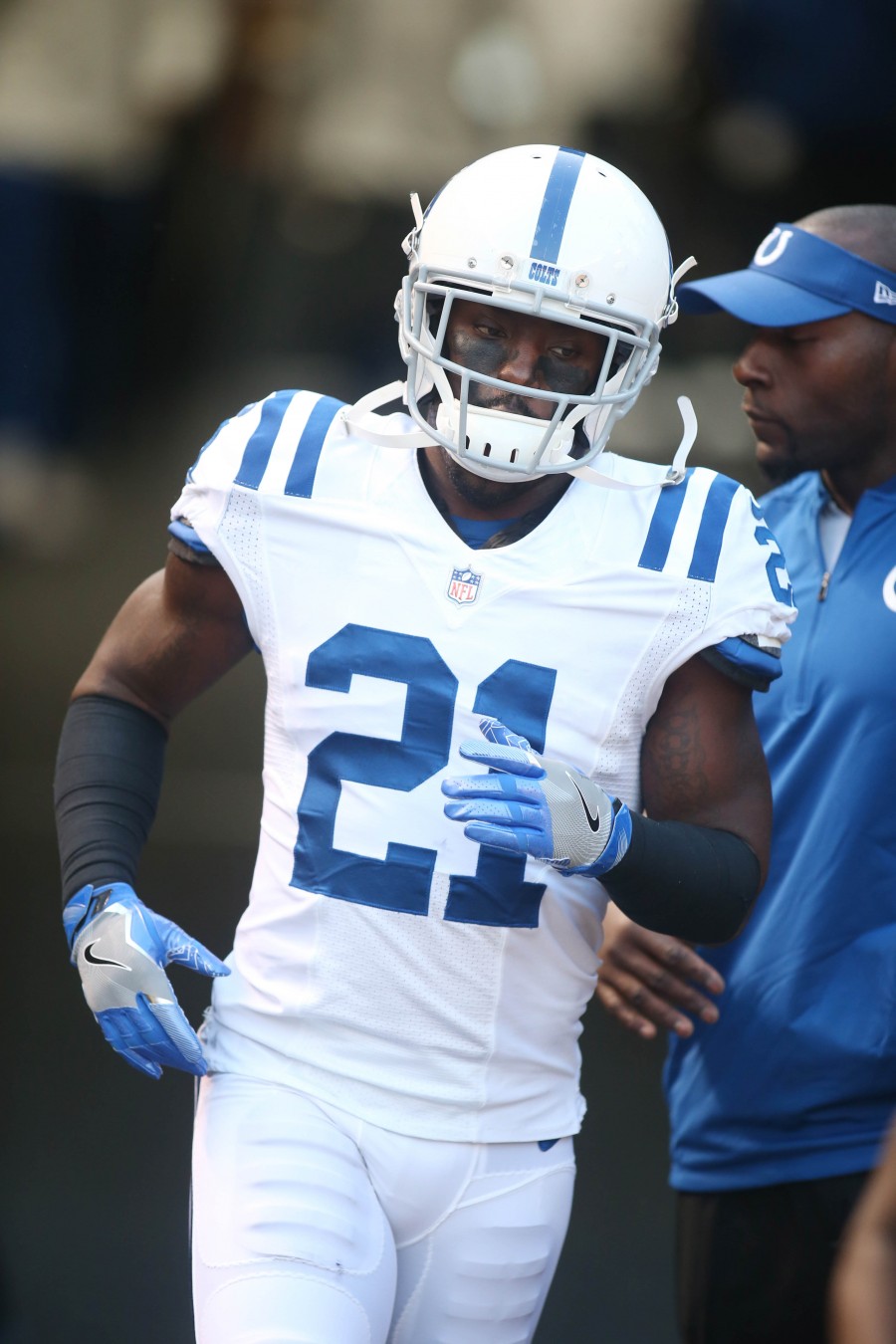 Fuller doesn't have the multiyear sample size of success Johnson and Butler do, but the 2014 first-round pick — whose fifth-year option the Bears declined last year — did play well in his contract campaign. The Bears defender led the NFL with 17 pass breakups last season, one Pro Football Focus tabbed as a better year than Johnson or Butler enjoyed. But the 26-year-old Fuller, who missed all of 2016, will be the biggest risk of these players because of his only stellar play coming in a contract year. However, multiple NFL personnel men rank Fuller second in between Johnson and Butler among this year's top UFA corner group. It's not out of the question the Bears place their franchise tag on Fuller, however.
Other corners who are slated to hit the market include E.J. Gaines, Prince Amukamara, Aaron Colvin, Patrick Robinson and Vontae Davis. The Browns visited with Davis late last week.
Amukamara has been undervalued the past two offseasons, and Davis gave the Colts his best years. However, the Browns should be going after one of the top-level UFAs; they have no reason not to. But if Cleveland is opting to supplement one of them with a second-tier player or a slot defender — which Colvin, Robinson and Nickell Robey-Coleman are — that would a strategy worth considering.
The Browns have been linked to Saquon Barkley with their No. 4 overall pick, but if the Giants or Colts — both running back-needy teams — decide to draft the Penn State dynamo, it could open the door for Cleveland to select Minkah Fitzpatrick.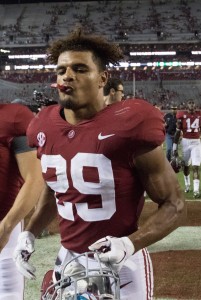 Needing help at both defensive back spots, but not as much at safety since the franchise selected Jabrill Peppers in last year's first round, the Browns could look to Fitzpatrick or Denzel Ward at No. 4. Ward is a pure cornerback from an Ohio State program that's produced plenty of first-rounders in recent years, with Bradley Roby and Marshon Lattimore showing the talent the recent Buckeyes have possessed.
A Fitzpatrick choice could be contingent on whether the Browns believe he fits as a corner or safety. A hybrid player at Alabama, Fitzpatrick has drawn Jalen Ramsey comparisons. And the Browns' decision at safety in March figures to play into how they view Fitzpatrick — a surefire starter if he were northeast Ohio-bound.
This safety market features maybe the deepest UFA talent pool of any position. Numerous starters figure to be available.
The Rams will have a decision to make on Lamarcus Joyner, a franchise tag candidate who could induce a bidding war if he hits the market. Other young talents like Eric Reid, Kenny Vaccaro and Tre Boston are headed for free agency. Boston delivered a strong contract season as a top-10 cover safety in 2017, and Reid wasn't far off that pace despite the 49ers being ready let him walk. Reid, Boston and Vaccaro may not land in the salary stratum Joyner would if not tagged, but each would be an upgrade alongside Peppers.
And with the Browns being able to outflank any competition for these players, it would be a shock to see them not end up with at least one high-caliber UFA in the secondary. More than likely, there will be at least two new starters — and they figure to come via impact free agency buys or via first- or second-round pick — coming to Cleveland to help Gregg Williams' defense. Perhaps they will have enough talent to avoid stationing Peppers in another dimension from quarterbacks next season.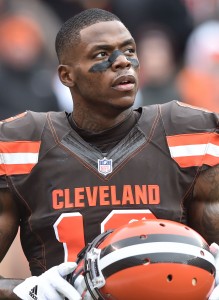 3) Sort out skill positions: Employer of one of the most mercurial talents in NFL history, the Browns do not have much in the way of reliable pieces at any of their skill spots.
Josh Gordon returned in December and easily looked like the Browns' best pass-catcher despite a three-year absence. Because of the litany of suspensions he's incurred, Gordon will only be an RFA after next season. His service-time clock being stalled to a historic degree benefits the Browns, but they can't exactly count on the inconsistent star talent (who is still only 26) to be available. Corey Coleman has also failed to live up to his draft status, twice sitting out extensive time due to hand breaks. David Njoku is a work in progress, and Isaiah Crowell is a UFA. There will be new faces moving the chains in Cleveland next season.
Wide receiver is another area where the Browns should consider going big. They have two rookie-contract players as starters presently and can afford a top-market deal at this position. Although, teams' franchise tag decisions will affect how the Browns can proceed here.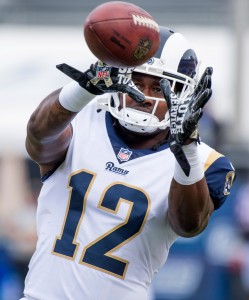 The Dolphins surprisingly tagged Jarvis Landry, who was set to be the top wideout available, and the Rams and Jaguars have nearly two weeks to decide if Sammy Watkins and Allen Robinson are worthy of their respective tags. Robinson would cost the Jaguars $16.2MM to tag on a payroll that will have Blake Bortles attached to a $19MM salary. But that's in play, as is a Watkins tag, though the Rams may see Joyner as a better fit long-term and tag the safety instead.
Despite Watkins' shaky season in Los Angeles (39 receptions, 593 yards, eight touchdowns), he will command eight figures per year on the open market. So will Robinson, who delivered the best season any UFA wideout has with his 2015 performance — 80 receptions, 1,400 yards, 14 touchdowns. The 24-year-old pass-catcher should still be an ascending player despite his ACL tear, but his other seasons — two of which seeing extensive time missed because of injuries — make 2015 look like an outlier year. A Watkins pursuit would be interesting considering the Browns, two GMs ago, traded out of the position (No. 4 overall) that ended up sending the Clemson wideout to the Bills in 2014.
Neither would have been as good of a fit as Landry, but both should warrant Browns consideration. Marqise Lee or Paul Richardson also could be options, but they would be second-level solutions behind Robinson or Watkins. And the Browns could target a receiver with one of their second-round picks as well.
Despite a brutal Redskins season, Terrelle Pryor has popped back up on the Browns' radar. He will likely be available for less than he was last season, and the converted wideout might want to return after the Browns' Kenny Britt-over-Pryor decision (a no-winners outcome) forced the Ohio State product to look elsewhere for his UFA money. Cleveland's previous regime also tried to reacquire Pryor via October trade. A reunion would be an interesting gamble, but Pryor did surpass 1,000 receiving yards in a season that featured a revolving door of QBs throwing to him.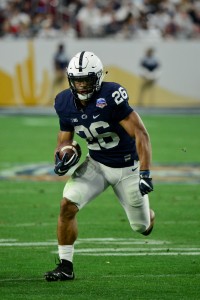 The previous Browns regime and Crowell attempted for months to reach an extension agreement, but the multiyear starter's contract season featured a bit of a regression (853 rushing yards, two touchdowns, 4.1 yards per carry) from his standout 2016 work (952/7/4.8) despite the Browns devoting attention to their offensive front last March. Of course, DeShone Kizer's disastrous debut season made it harder for Crowell and his skill mates.
If Crowell is to leave as a free agent, the best option the Browns have is to draft Barkley. However, how big of a priority is it the Browns take the top Nittany Lion of recent years? If the Browns view Barkley as a transcendent back, might they use the No. 1 overall pick on him? If that happens, though, other teams will be dictating which quarterback the Browns can select. It's hard to believe a running back would be worth bypassing that privilege.
The Browns have a pass-catching back already, although Duke Johnson is entering a contract year, so would Dion Lewis be a superfluous commodity? Also available as fifth-year players: Carlos Hyde, Jeremy Hill and Jerick McKinnon. DeMarco Murray might become available as well, but does the likely declining match the team's timeline? The Browns may bypass the higher-end backfield market in March in hopes of getting Barkley, whose abilities could induce Cleveland to part with one of its second-round picks and maybe more to trade up from No. 4 to make sure he ends up in orange and brown. If the Browns do dive into the back market, it's not an impressive contingent.
However, numerous backs have proven they can thrive as Day 2 or Day 3 picks, as this year's Kareem Hunt–Alvin Kamara offensive rookie of the year duel illustrated. Using a second- or third-round pick on a back might be a better way for the Browns to go if they don't land Barkley. USC's Ronald Jones III, Georgia's Nick Chubb/Sony Michel combination and Oregon's Royce Freeman are possible Day 2 options.
Photo courtesy of USA Today Sports Images.
Follow @PFRumors