This offseason, we have (rightfully) heard a great deal about potential extensions for star defenders Aaron Donald, Khalil Mack, and Jadeveon Clowney. That discussion has overshadowed Geno Atkins, to some extent, as he pushes for a new deal.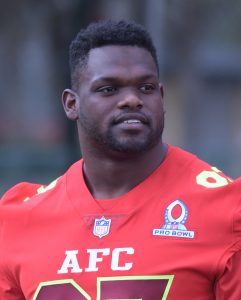 The defensive tackle inked a five-year, $53.3MM extension with the Bengals back in 2013, which has him in place through the 2018 season. The deal has proved to be a winner for both sides. For the Bengals, the deal allowed them to keep a top performer under contract at roughly $10.6MM per year while the market advanced at a sharp rate. Atkins, meanwhile, made more cash than he could ever hope to spend and is now primed to do it all over again at the age of 30.
When Atkins' deal began in 2014, he was the NFL's third-highest paid 4-3 defensive tackle with a $9MM cap number. Today, his $9.5MM cap figure for 2018 places him seventh in the same category. After finishing the year as Pro Football Focus' No. 2 ranked interior defender – behind only Donald – something has to change.
Like Donald, Atkins is a stout run defender with the ability to also disrupt opposing quarterbacks from the interior. Atkins has notched at least nine sacks in each of the last three seasons, and, save for the 2013 season cut short by an ACL tear, he has never missed a game. Donald is still three years younger and in a class of his own, but Atkins has been far more dominant than many outside of Cincinnati realize.
If Donald signs first, Atkins' camp will have a favorable comp to work off of, even though his deal will be worth less. The Bengals aren't technically on the clock here, but they may want to get a deal done sooner rather than later.
A new deal for Atkins will definitely cost eight figures per year, but it remains to be seen how far the Bengals will go. With a fluid cap situation both this year and next, you can expect the Bengals to lock up Atkins on a multi-year deal worth around $12MM per season.
Photo courtesy of USA Today Sports Images.
Follow @PFRumors