Dez Bryant, to our knowledge, has not drawn a significant offer since turning down a three-year, $21MM offer from the Ravens. As his market stagnated, Bryant's camp leaked word that he would not be signing until July. Well, here we are.
We've heard very little about Bryant over the last four weeks, so it's anyone's guess as to where he'll land. And, if it's anyone's guess, it might as well be our guess. Before we ask you predict where Bryant will land, let's run down some of the possible contenders: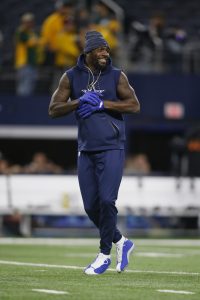 49ers – Bryant has openly lobbied for an opportunity with the Niners and there's reason to believe that could become a reality. The 49ers stayed away from the wide receivers at the top of this year's free agent market, but Bryant's price tag figures to be a lot lower than that of Sammy Watkins or Allen Robinson. With more than $45MM in cap room – good for third-highest in the NFL – the Niners certainly have the space to take on a player of Bryant's caliber. And, because they have an eye on the future, they could be willing to give Bryant the one-year platform deal he is seeking. The 49ers have some talent at wide receiver including Pierre Garcon and Marquise Goodwin, but none of the receivers expected to make the roster are above 6'0″. Bryant – billed at 6'2″ – would give provide them with a tall red zone target.
Bills – Outside of No. 1 WR Kelvin Benjamin, the Bills have tons of question marks at the position. Bryant is the best wide receiver still available (or, at least, the biggest name left), so he could make some sense as the player to supplant the unreliable Zay Jones as the team's No. 2 WR. Bills GM Brandon Beane didn't sound enthusiastic when talking about Bryant back in April, but he didn't explicitly rule him out either.
Cardinals – After losing both John Brown and Jaron Brown, the Cardinals could be interested in adding some talent to their wide receiver group. Then again, they may already feel comfortable with J.J. Nelson, rookie Christian Kirk, and free agent addition Brice Butler behind Larry Fitzgerald. The Cardinals have upwards of $13MM in cap space, according to the NFLPA, so they have the cash necessary to sign Bryant if they want him.
Cowboys – When the Cowboys released Bryant earlier this year, they were not aware of Jason Witten's impending retirement. Months later, could they circle back to Bryant in order to fortify their lackluster WR group? Probably not, but we'll put them on the board anyway and let you decide.
Eagles – After Bryant was released, he indicated that he wanted to play in the NFC East in order to face the Cowboys pay twice in 2018. The Eagles, in theory, could make some sense now that Torrey Smith is out of the picture and Alshon Jeffery is out for the offseason with a shoulder injury. However, the Eagles already have a new veteran in Mike Wallace and their $6MM in cap space might not be enough to land Bryant, even if they wanted him.
Packers – The Packers have been speculatively linked to Bryant over the last few months. Some see a potential fit, but others, such as Aaron Rodgers, do not. The Packers are now without Jordy Nelson, but they drafted three wide receivers while retaining Davante Adams, Randall Cobb, and Geronimo Allison, so there might not be any room in the inn.
Patriots – The Patriots will be without Julian Edelman for the first four games of the year, which could lead them to consider Bryant. They also have a history of signing older big-name wide receivers with reputation problems, including Randy Moss and Chad Johnson (some worked out better than others), so the possibility of adding the mercurial Bryant cannot be discounted. On the other hand, they have plenty of weapons to get them through the opening month of the season in Chris Hogan, Kenny Britt, Jordan Matthews, Phillip Dorsett, and Cordarrelle Patterson, not to mention Malcolm Mitchell and speedy rookie Braxton Berrios, who may or may not make the final cut. There's also a tight end by the name of Rob Gronkowski who should be able to catch an extra pass or two while Edelman is out.
Saints – With a wide receiver group of Michael Thomas, Ted Ginn Jr., free agent addition Cameron Meredith, third round pick Tre'Quan Smith, and Brandon Coleman, is there room for Bryant? Not necessarily, but there also wasn't a clear spot for Adrian Peterson in New Orleans before the Saints signed him last year. The Saints have a little more than $7MM in cap space, which could be enough to sign Bryant depending on his market at this stage of the offseason and his desire to play for a contender.
Redskins – Former teammate Orlando Scandrick has advocated for Washington to sign Bryant and the Redskins would give him the opportunity to face the Cowboys twice per year. The problem, however, is that the Redskins seem pretty set at the top of the order with Josh Doctson, Jamison Crowder, and Paul Richardson.
Titans – The Titans have talent at wide receiver, but Rishard Matthews' support staff is decidedly inexperienced. With Corey Davis, Taywan Taylor, and Tajae Sharpe all yet to celebrate their 24th birthday, could the Titans consider Bryant? In theory, he would add some experience to the group, but he might not be a great influence on the younger guys.
Click below to make your choice and defend your decision in the comment section:
Follow @PFRumors