With so much attention being paid to a potential extension for Falcons receiver Julio Jones, it's easy to forget about the Falcons' other player by the same surname who is pushing for a new deal. Linebacker Deion Jones has been discussing an extension as he enters his walk year, but we haven't heard much news regarding his situation in recent weeks.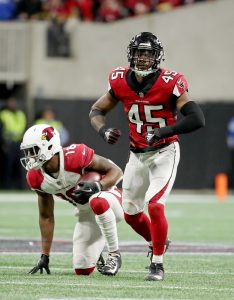 As a former second-round pick, Jones is slated to earn less than $1.1MM in 2019, with no club option for a fifth season. In theory, the lack of an option is a good thing for players like Jones who have outperformed their draft slot, but the Falcons still have leverage thanks to his laughably low salary for the coming year. Jones isn't necessarily the priority either – the Falcons are likely putting a greater focus on Grady Jarrett's contract and the aforementioned contract of J. Jones.
Jones, who won't celebrate his 25th birthday until November, has proven to have a nose for the ball. In three seasons, he has eight interceptions to his credit, including three pick-six plays for touchdowns. He was also a tackling machine in his first two seasons, though a broken foot suffered in Week 1 of the 2018 season kept him to a total of six games last year.
The injury undoubtedly hurt his negotiating position, though a broken foot is not as devastating as a ligament tear to the knee. Jones still has serious potential at the linebacker position with plenty of room to grow before entering his prime years.
The Falcons would obviously love to keep Jones in the fold for years to come, but the skyrocketing rate for inside linebackers may prove to be a barrier. In March, C.J. Mosley passed Luke Kuechly on a rocket ship with a five-year, $85MM deal that includes $43MM fully guaranteed. Granted, this was a free agent deal, and Mosley is more accomplished than Jones, but Jones' camp undoubtedly has those specs in mind. Meanwhile, Seahawks star Bobby Wagner is also in the hunt for a new deal, and the market could balloon even further if he puts pen to paper before Jones.
Ultimately, we expect the Falcons to get something done with their young linebacker, but he might have to wait until the other stars are addressed.
Photo courtesy of USA Today Sports Images.
Follow @PFRumors