While favored to take Ohio native Joe Burrow at No. 1 overall, the Bengals are considering three other players for the top pick. The LSU standout is, of course, among this group. But the team is also studying Tua Tagovailoa, Justin Herbert and Chase Young for the pick, Albert Breer of SI.com reports.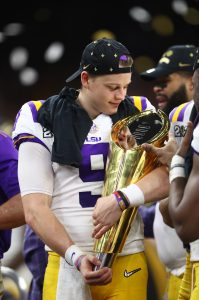 The Bengals have stepped back from a report indicating they will not trade the No. 1 pick, but Breer notes the team is not expected to move down. Bengals brass praised the Heisman winner recently, and while it would be a borderline shock if they did not draft Burrow, the team plans to conduct on-campus visits and bring in each player for pre-draft workouts. Burrow, however, is still believed to be the frontrunner, per Breer.
Young is regarded by some as the best pass-rushing prospect available in years, and both Tagovailoa and Herbert entered the 2019 season with much higher profiles than Burrow. Young remains a strong bet to go to the Redskins at No. 2, and if the Bengals do draft Burrow, there could be some jockeying for position at the Nos. 3-4 slots (held by the Lions and Giants) for Tagovailoa and Herbert.
After throwing 16 touchdown passes in 13 games as a junior, Burrow tossed a record-setting 60 in the Tigers' national championship season. Zac Taylor asked Burrow's father, Jimmy — who, like Taylor, played at Nebraska — to see if Joe would go to the Senior Bowl, Breer adds. But Joe Burrow declined to attend the Mobile, Ala., showcase.
It is interesting as well to see a pecking order emerge before the Combine, though the Bengals' top need is not exactly a secret. As such, Young may be trailing the three passers.
"We know what Joe is on tape; we know what Tua is on tape; we know what Justin is on tape," Bengals player personnel director Duke Tobin said, via Breer. "Our role right now is to try to find out what we don't know — how his leadership works, how his football mind works, how quickly he adapts to different situations, what his overall personality is, what it's like being around him on a regular Tuesday. How much passion do they have for the game? … We're trying to get at those types of things, with every player we do, but particularly the quarterbacks.
"… I feel like I've got a long way to go, because I'm just now starting the process of asking people close to them what they think of them."
Photo courtesy of USA Today Sports Images.
Follow @PFRumors