Much of this year's draft buzz is centered around LSU quarterback Joe Burrow and Ohio State edge rusher Chase Young. Beyond those two, however, this year's crop is chock full of potential superstars, including Young's teammate Jeff Okudah.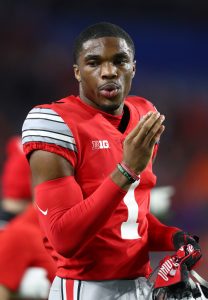 No one was surprised when Okudah, one of the nation's best cornerbacks, decided to forego his final season of eligibility to go pro. As a junior, Okudah notched 34 total tackles, three interceptions, and effectively turned his side of the field into a no-fly zone. Physically, he checks pretty much every box you could want for an NFL corner – he's 6'1″, well-built at 200 pounds, and has the speed to keep up with just about any receiver.
Thanks to his tools, the Buckeyes were able to deploy him in man-to-man coverage whenever they wanted. He's been lauded for his instincts as well. Okudah has a natural feel for guarding defenders and the general belief is that he won't have a serious learning curve as he adjusts to the speed of the pro game.
Those intangibles were on display throughout the year, but they were especially apparent in Ohio State's September win over Nebraska. In that game, Okudah came away with two of his three picks on the year. The first interception saw Okudah read the eyes of Adrian Martinez and turn on the jets to come away with the ball – making a huge play when most cornerbacks would have been forced to settle for a completion. The second interception was a SportsCenter producer's dream – Okudah slips as he covers Wan'Dale Robinson, but continues to keep his eyes on the ball and manages to snag the interception while laying on his back. It's the sort of thing that you could teach, or drill for, yet Okudah has the natural instincts to make the big play.
He's also craftier than your average rookie CB, which should help him navigate around NFL zebras.
"Being on an island does not faze him," The Athletic's Dane Brugler recently told Ethan Greenberg of the Jets' team website. "He's able to make contact without drawing flags and that's something that's a subtlety that's a strength to his game. He's able to get physical and be aggressive but do so without attracting the yellow flags from officials."
There aren't many knocks on Okudah – Brugler notes that he'll have to improve on his footwork, for example, but evaluators generally view Okudah as a safe top-end choice with the potential to eventually become one of the very best CBs in the NFL.
With all of that said, Okudah probably won't garner consideration for the top overall pick. At No. 1, the Bengals are widely expected to tap LSU's Joe Burrow, giving them a signal caller that can usher the club into their latest rebuild. Then, at No. 2, many feel that Chase Young is a slam dunk for the Redskins and new head coach Ron Rivera.
Okudah, who would be a true candidate for the No. 1 overall pick in most drafts, might not have to wait much longer than that. The Lions have the third overall pick and they could certainly use a game-changing corner like Okudah. If the Lions choose to fill multiple defensive holes by trading down, the Chargers and Jaguars are just two of the Top 10 clubs that could consider a top-flight corner just as Okudah. The No. 9 pick – owned by Jacksonville – pretty much represents his floor. And, right now, we're expecting him to be long gone by that point.
Photo courtesy of USA Today Sports Images.
Follow @PFRumors