Devonta Freeman's free agency has dragged into June and could continue deep into the summer. For what it's worth, the running back isn't too concerned. On Twitter, Freeman let his fans know that "a number of teams are interested" in signing him.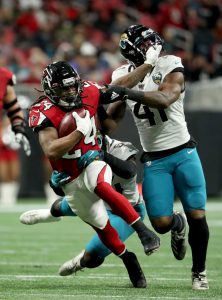 [RELATED: Devonta Freeman's Asking Price Too High For Bucs]
"I read in the media that Tampa Bay Buccaneers are interested. A number of teams are interested, but we can't negotiate through the media, the Buccaneers can reach out to me directly," Freeman tweeted.
The Bucs – Freeman's longtime divisional rival – do indeed have interest in Freeman, as conveyed by head coach Bruce Arians. However, Arians says that Freeman's current sticker price is too rich for their blood. Previous reports indicated that the Bucs put an offer on the table for Freeman, but based on what the running back is saying, it sounds like the conversations came to a hard stop.
Freeman also received, and rejected a one-year, $3MM offer from the Seahawks. It's not clear what the longtime Falcons star is demanding, but it'll take more in the way of base compensation and probably an achievable incentives package to get him to sign right now. As we get closer to September, Freeman may or may not ease up on his stance. No matter what, Freeman says retirement is not on the table.
Freeman's last deal was set to pay him about $8MM in 2020. There's no way he'll come close to that salary in base pay, but it stands to reason that he could find middle ground with the Bucs. The Bucs have upgraded much of their roster around Tom Brady, but RB remains a problem area. As of this writing, they're set to roll out the promising yet inconsistent Ronald Jones as their top rusher with support from rookies Ke'Shawn Vaughn and Raymond Calais.
The Eagles are also interested in Freeman, though they may prefer the familiarity and price tag of LeSean McCoy. However, they have yet to make an offer to Shady.
Photo courtesy of USA Today Sports Images.
Follow @PFRumors