When Brandin Cooks was traded to the Patriots in 2017, there was hope that the wideout would stick around New England as one of Tom Brady's top targets. About 13 months later, Cooks tenure with the team had come to an end. On this date in 2018, the Patriots traded the wide receiver to the Rams.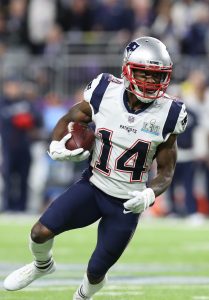 Cooks was plenty productive during his lone season in New England, with the wideout leading the air attack (alongside Rob Gronkowski) following Julian Edelman's season-ending injury. The receiver finished the regular season having hauled in 65 receptions for 1,082 yards and seven touchdowns, and hee continued producing in the postseason, catching another 19 receptions for 292 yards.
That performance apparently wasn't enough, as the Patriots sent him out on April 3, 2018. Perhaps the team was wary of Cooks' impending free agency following the 2018 campaign, or perhaps they thought Brady and Bill Belichick's clout would land them a comparable (and/or cheaper) receiver via free agency. Either way, New England ultimately sent Cooks and a fourth-rounder to the Rams in exchange for a first-rounder (a pick that eventually turned into lineman Isaiah Wynn) and a sixth-rounder. The Rams subsequently signed the receiver to a pricey five-year, $81MM extension (including $50.5MM guaranteed).
Even though Cooks didn't last all that long is Los Angeles, it's hard to be too critical of the Rams. Cooks had a 1,200-yard season during his first year with the Rams, but he fell off in 2019, compiling only 635 yards from scrimmage in 14 games. Following the season, the Rams paired Cooks with a fourth-rounder and sent him to the Texans for a second-rounder (which ultimately turned into receiver Van Jefferson).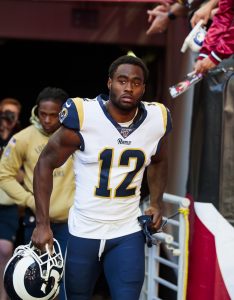 Similarly, it's hard to be too critical of the Patriots; after all, Wynn is a fine consolation. However, the Patriots' motivation for the trade has never really been explained. While the financial reasons were obvious, it was assumed that the organization would subsequently replace Cooks spot in the lineup. The team was also especially shallow at wideout after Danny Amendola signed with the Dolphins.
While New England would be connected to a number of receivers throughout that 2018 campaign, the team never did anything to significantly improve their receiver corps. That 2018 squad finished without a 1,000-yard receiver, with running back James White leading the squad in receptions. Per usual, that didn't end up mattering all that much; the Patriots still won the Super Bowl that season after beating (you guessed it) the Rams. While the Patriots selected receiver N'Keal Harry in the first round of the 2019 draft, they never really added another veteran receiver like Brady desired, an issue that was exacerbated after Gronkowski's sudden retirement. That 2019 campaign would ultimately be Brady's final season in New England.
Is there any takeaway from this trade? Maybe, but I'll probably end up pulling something with this stretch. Brady was clearly dissatisfied with his weapons during his final seasons in New England. At the time of this trade three years ago, there were already whispers of tension within the Patriots organization. We can only assume that the quarterback wasn't happy about the trade made on April 3, 2018, and it could have been one of the many reasons (or at least a contributing factor) that ultimately led Brady to walk away from the organization.
Photo courtesy of USA Today Sports Images.
Follow @PFRumors