The Panthers expressed significant interest in Deshaun Watson this offseason but backed off after the slew of off-field issues surfaced. They were thought to be re-entering the sweepstakes ahead of the Nov. 2 trade deadline, but it no longer looks like they are moving forward here.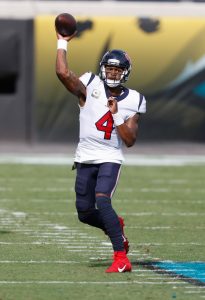 Carolina is no longer expected to pursue a Watson deal before the deadline, Ian Rapoport of NFL.com tweets. The Panthers did re-engage the Texans on Watson last week, SI.com's Albert Breer tweets, after not having previously discussed the Pro Bowl quarterback since before the season started. As of Wednesday morning, however, Watson has only waived his no-trade clause for the Dolphins, Rapoport adds.
This does not mean the Panthers are done with a Watson pursuit, with The Athletic's Joe Person adding the no-trade clause is not an issue regarding a deal to Carolina (Twitter link). This would mean the Clemson alum would not be expected to veto a trade to the Panthers. While that would be a critical matter for a possible 2022 offseason trade, the Panthers standing down for now opens the door for the Dolphins.
The Panthers made the Texans an offer for Watson, and if the quarterback is on board with a relocation to Charlotte, it is interesting now that Carolina is bowing out. For 2021 at least, this breaks up a lengthy Panthers-Watson connection.
This past offseason, Carolina was set to outbid everyone for Watson, Jeremy Fowler of ESPN.com notes (video link). Given the reports depicting David Tepper's interest in acquiring Watson — before the off-field issues surfaced — this is certainly not surprising. But 22 women have since accused Watson of sexual assault or sexual misconduct. In addition to potential criminal charges, the 26-year-old quarterback faces a lengthy suspension. That ban is unlikely to come down until 2022, but teams are certainly leery of surrendering prime assets for Watson without knowing what his future holds. The Texans have asked for three first-round picks and at least two seconds for the three-time Pro Bowler.
A report last week pegged the Panthers and Eagles as non-serious Watson suitors, but after Matt Rhule benched Sam Darnold in Carolina's fourth straight loss Sunday, the Watson-Carolina connection resurfaced. For the season's remainder, it appears Darnold and P.J. Walker will be Carolina's QB options. Should the Dolphins not trade for Watson by next week, it should be expected the Panthers will be back in the mix in 2022.
Follow @PFRumors