As Pittsburgh rolls into the post-Roethlisberger era, they are in the less than common situation of having four drafted quarterbacks on the roster. Mind you, the Steelers did not originally draft Mitchell Trubisky, but the point is that while most teams' third- and/or fourth-string quarterbacks tend to be undrafted long-shots, every quarterback on Pittsburgh's roster had draft capital invested in them. Mark Kaboly of The Athletic gave a breakdown this weekend of where each of these quarterbacks has slotted through spring practices.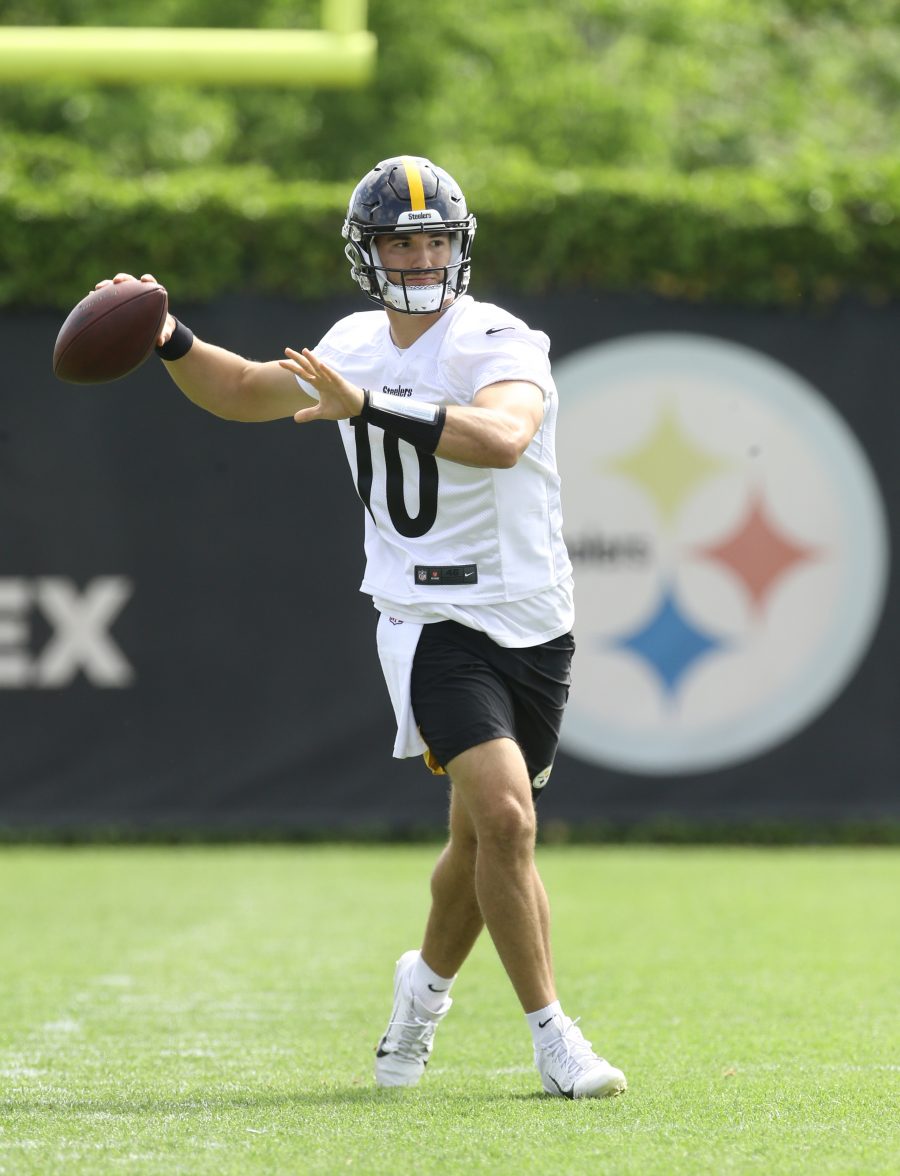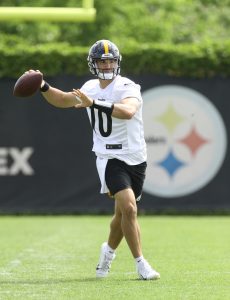 Pittsburgh acquired Trubisky in free agency this offseason after also considering then-free agents Teddy Bridgewater and Jameis Winston. Despite the hole left behind center, the Steelers never seemed to consider trade options such as Baker Mayfield or Jimmy Garoppolo and made it known early that they were not going to acquire Deshaun Watson. Trubisky signed a reasonable two-year deal to compete for the starting job in Pittsburgh after spending last season as Josh Allen's backup in Buffalo.
Trubisky saw all of his work this spring come with the first-team offense, throwing almost solely to Diontae Johnson, Chase Claypool, and Pat Freiermuth. Not only did he only work with the first-team, he was the only quarterback to work with the first-team receivers and offensive line combination. Trubisky appears to be a good fit with offensive coordinator Matt Canada's motion-heavy offense. Regardless of whether or not this is a clear indication of who will start Week 1, Trubisky is in the mindset that he will win the job saying, "I'm preparing to be a starter. I feel like, no matter what position you're in, that's the way you should prepare."
The quarterback taking snaps with the second-team is not who most would assume. Third-year Steeler Mason Rudolph is currently the second-string quarterback. The former third-round draft pick has started 10 games over his career (eight in his rookie season) with limited success. Despite the potential for him to settle in as someone who had their chance and watched it pass by, Rudolph reportedly "looked the best of the four quarterbacks" this spring. Rudolph is a meticulous worker and preparer and threw the most consistent ball with the biggest body in the group. While many considered him to be nothing more than a camp body, Rudolph put himself in the quarterback conversation, even if it will require some failures from Trubisky and Pickett to get him to the top of the depth chart. "This is the best opportunity I've had in four years," Rudolph told Kaboly. "I am excited, and I look forward to competing."
Working as the third-string quarterback this spring has been rookie first-round pick Kenny Pickett. Head coach Mike Tomlin and Canada both offered that their current snap distribution is based solely on seniority, with Pickett falling behind Trubisky and Rudolph despite the possibility that he may be the most talented of the bunch. The idea is for Pickett to take the time this spring "to learn how to be a pro," getting comfortable with the scheme and playbook now so that he can focus on competing for his depth chart spot in the summer. Luckily for Pickett, he has a bit of a leg up in terms of the language of the playbook with some familiarity from the time Canada recruited Pickett to Pitt. Pickett didn't have too many snaps fewer than Trubisky or Rudolph, but his third-string status had him throwing to a very different receiver group. Pickett said he was "trying to be the best pro (he) can be," calling this spring "100 percent successful."
Lastly on the roster is rookie seventh-round draft pick Chris Oladokun. Oladokun transferred from South Florida to Samford to South Dakota State throughout his college career, spending that whole time outside of consistent Power 5 football. According to Kaboly, it showed, as Oladokun "looked like a guy who didn't get many reps and came from a small college." Oladokun is a project and his dearth of playing time reflected that, with Oladokun pointing out the importance of staying "locked in" mentally. The benefit of Oladokun's lowly roster status is that he gets plenty of exclusive time working with David Corley, the assistant to quarterbacks coach Mike Sullivan. Whether or not Oladokun ever competes for starting snaps in Pittsburgh, his dedicated time with Corley will foster benefits throughout the future of his career.
For now, the spring depth chart reflects the level of experience, just as Tomlin and Canada have intended. Based on the amount of time Trubisky has had with the first-team, it's hard to imagine anyone else starting behind center in Week 1 at Cincinnati. Though, with Rudolph coming into his own and the talented rookie, Pickett, hot on their heels, it's anyone's guess who the Bengals will face in their season opener.
Follow @PFRumors