Aaron Donald will be back with the Rams in 2022 and likely into the mid-2020s. The team gave the perennial All-Pro defensive tackle a raise. While no new years were added to Donald's through-2024 deal, he will receive considerably more cash than he would have under the terms of his 2018 extension.
Donald, who has discussed retirement for months, is now set to earn a whopping $95MM by 2024, Ian Rapoport of NFL.com tweets. The 31-year-old pass rusher will collect a $40MM raise on his old deal, Rapoport tweets, and again become the highest-paid non-quarterback in the game — a title the future Hall of Famer held for a few days prior to Khalil Mack topping him four years ago.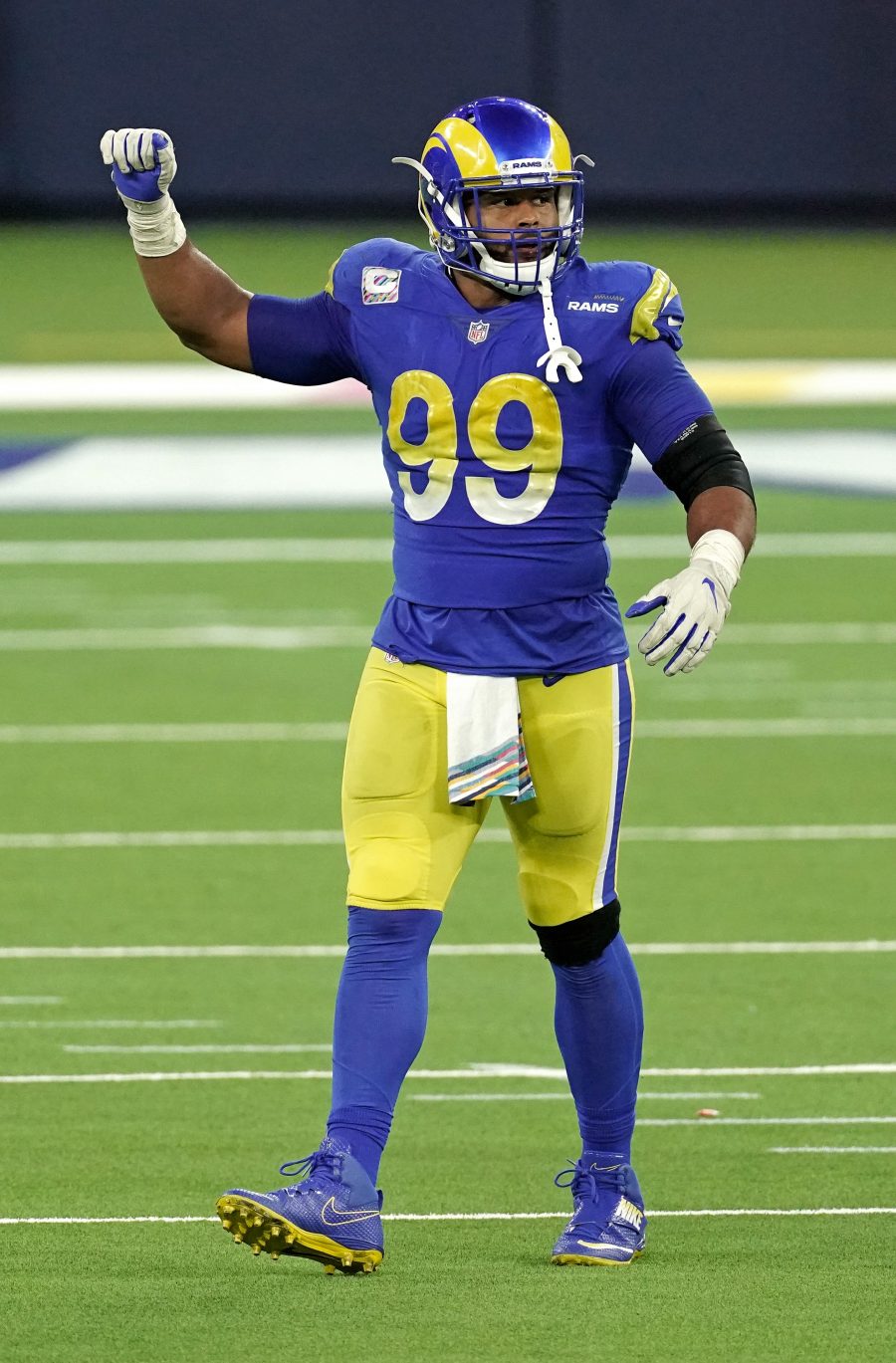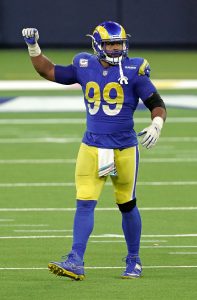 The eight-year veteran is returning to his place anchoring the Rams' defense. The seven-time All-Pro is set to collect $65MM over the next two years of his contract, per Rapoport. It will be interesting to see if the Rams added void years to spread out the cap hits. The Rams have announced Donald's return; he reported to the team's facility Monday ahead of minicamp.
As far as guarantees go, Donald will receive a $25MM signing bonus and $6.5MM in additional 2022 guarantees, Mike Florio of Pro Football Talk reports. His $13.5MM 2023 base salary shifts from an injury guarantee to a full guarantee on Day 3 of the 2023 league year. A $5MM roster bonus also will come Donald's way if he is a Ram on Day 2 of the '23 league year. Donald can collect the final $30MM if he remains a Ram on Day 5 of the 2024 league year. If Donald intends to play in 2024, the Rams would pay him a $20MM option bonus and $10MM base salary, Florio adds. No offset language is present.
This allows the team some flexibility beyond 2023, but Donald has been one of the NFL's most durable players throughout his career. Donald would not reach free agency until the offseason ahead of his age-34 campaign. Still, the all-world defender's through-2024 sum and his not being forced to add any new years to the deal illustrates both his value and the seriousness of his retirement threat. Donald's previous contract carried a $23.5MM 2023 cap charge. The biggest difference of the pre- and post-raise cap hits will be a $38MM cap charge next year, Jason Fitzgerald of OverTheCap.com estimates. Void years are indeed present here, per SI.com's Albert Breer (on Twitter).
Retirement rumors emerged shortly before Super Bowl LVI's kickoff, and while Donald seemed to backtrack at the team's parade, he still mentioned leaving the game after eight seasons last week. Sean McVay and Les Snead insisted throughout the offseason the team would take care of Donald, with McVay expressing confidence last week. It is fairly clear now why that was the case.
Money always hovered at the forefront here. Although no interior D-linemen passed up Donald in earnings over the course of his second NFL contract, several edge players did. T.J. Watt's $28MM-per-year pact topped the defender market entering the week. Tied to what amounts to a three-year, $95MM deal, Donald is the first non-quarterback to secure a contract north of $30MM per year.
Wide receivers made inroads toward the $30MM-per-year mark this offseason, but it took inflated figures in the final years of Davante Adams and Tyreek Hill's deals to balloon those contracts to their $28MM-AAV and $30MM-AAV marks. By not adding any new years on Donald's contract, the Rams have moved into new territory with Monday's deal. Given Donald's resume and impact in the Rams' second Super Bowl win, it is tough to argue he did not deserve a significant raise.
Since going 13th overall in the 2014 draft, Donald has become one of the greatest players in NFL history. Only Donald, J.J. Watt and Lawrence Taylor have won Defensive Player of the Year acclaim three times. The Pitt alum has maintained top form into his 30s, as evidenced by his Super Bowl-sealing takedown of Joe Burrow, which punctuated a dominant performance. Donald is the only active player to be named a first-team All-Pro seven times. The player with the second-most such honors among active performers, Bobby Wagner (six), will join him in L.A. this season. Donald has only missed two games in his career — both due to a 2017 holdout.
The Rams have taken care of their offensive and defensive pillars this offseason, with the Donald deal following their Matthew Stafford extension. The team remains at work on augmenting Cooper Kupp's contract, following his stratospheric 2021 season.
Follow @PFRumors