Going into just his second game as a full-time 49ers starter, Trey Lance is not in a situation that compares to the ones most high-level quarterback prospects have encountered upon entering the NFL. Jimmy Garoppolo's restructured deal to stay with the team has undoubtedly shortened Lance's leash, creating what could be unusually high Week 2 stakes for a first-year starter.
Heavy favorites for a second straight week, the 49ers hoped their schedule's first two games — against a rebuilding Bears team and a Seahawks squad that moved on from a Hall of Fame-caliber quarterback this offseason — would represent a nice onramp of sorts for Lance, Jason La Canfora of the Washington Post notes. After a waterlogged mess of a season opener, the 49ers are 0-1. And a pivot to Garoppolo could loom if a second straight shaky Lance start happens.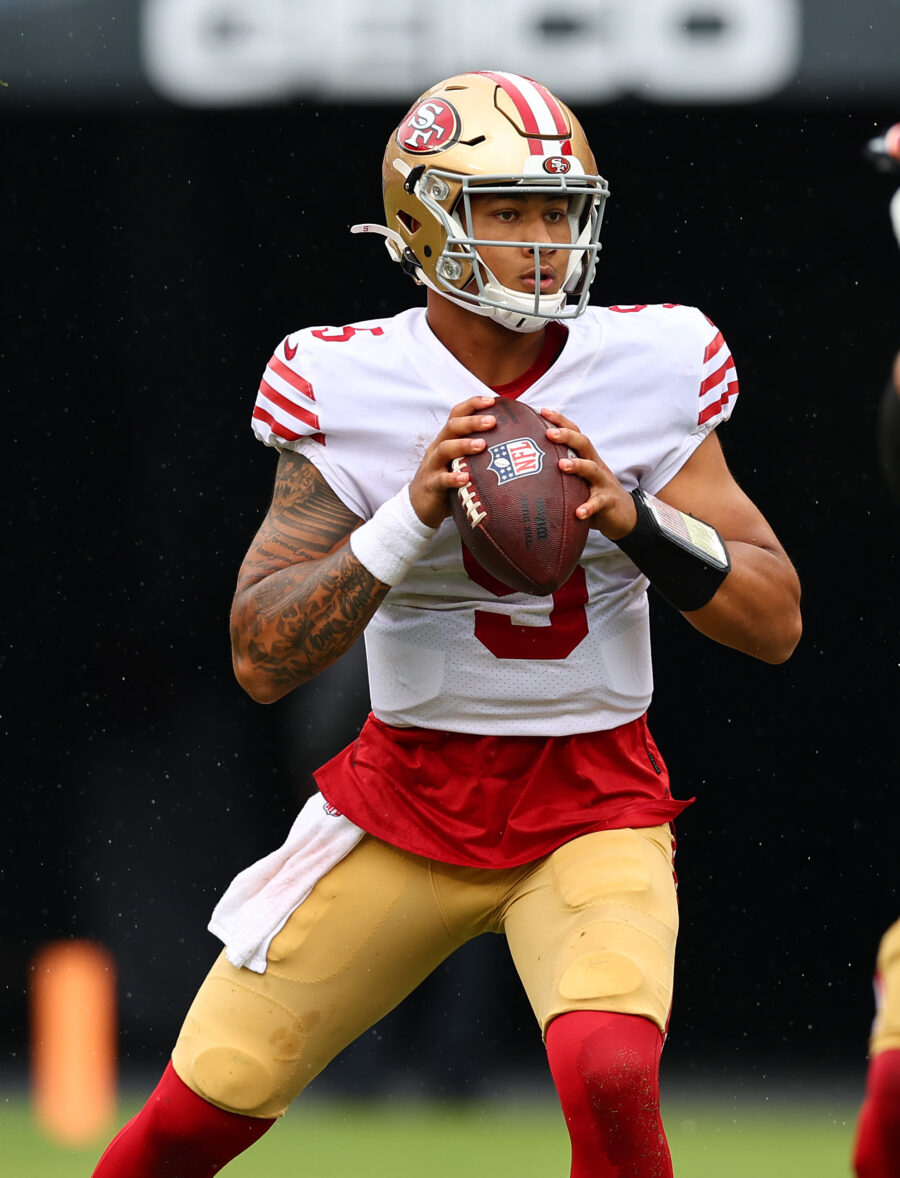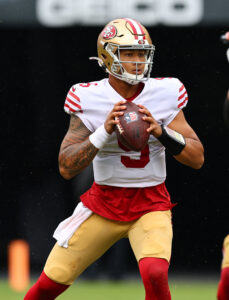 A 49ers loss to the Seahawks has led some who have worked with Kyle Shanahan to expect he would bench Lance before a Week 3 game in Denver, La Canfora adds. This would be one of the most unusual developments in recent NFL history, given what the 49ers gave up to draft Lance third overall. But Lance entered the league as an atypical prospect. And he ended up with a team with a Super Bowl-caliber roster, a setup that obviously differs from most teams that draft a quarterback at No. 3.
The 49ers threw their support behind Lance this offseason, spending months trying to unload Garoppolo. When nothing materialized by training camp, Shanahan approached his former starter about a reworked contract that kept him in San Francisco as Lance's backup. Despite the 49ers assuring Lance this did not affect his status, some close to the situation — along with others around the NFL — did not see the Garoppolo reunion that way. Pushback against Lance having a short leash has emerged, but it is hard to envision the 49ers showing the patience most teams would with a top-three QB draftee considering their status as one of the NFC favorites.
Lance has barely thrown 400 regular-season passes since his high school graduation, seeing the COVID-19 pandemic wipe out his sophomore season at Division I-FCS North Dakota State. Shortly after the pandemic nixed the 2020 FCS fall season, the dual-threat QB parlayed his dominant freshman slate into following Carson Wentz as a top-three draftee from the FCS level's premier program. A finger injury hindered Lance as a rookie, leading to him not threatening Garoppolo's job security despite the veteran starter battling a slew of ailments himself. An inconsistent Lance performance in the 49ers' preseason finale provided the final push for the 49ers to reach a revised contract agreement with Garoppolo, per La Canfora.
While Garoppolo re-emerging as San Francisco's starter early this season would represent an extraordinarily quick hook for a player in whom the team invested so much (2022 and '23 future first-rounders and a 2022 third), the 49ers have assembled one of the NFC's best rosters. Garoppolo does not offer a high ceiling, but his floor is probably above Lance's at this point. Garoppolo's deal expires at season's end, which could effectively lead to a second redshirt season for Lance — in the event a benching does occur. But Garoppolo's injury past points to Lance being needed as well.
Lance's rookie deal runs through 2024, with a fifth-year option in place to extend it to 2025. The 49ers deciding they need a more experienced option under center soon would not prevent them from going back to Lance next year, but it would make for a rather unusual early-career arc and a potentially strained relationship. Lance can quiet benching speculation with a bounce-back performance Sunday, but this storyline probably will not move to the back burner anytime soon.
Follow @PFRumors