At halftime of today's game against the Bengals, the Panthers' offense had struggled to historic proportions, and it resulted in a quarterback change. Baker Mayfield replaced P.J. Walker for the second half of Carolina's 42-21 loss.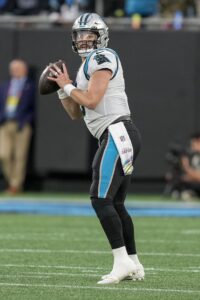 Carolina faced their largest halftime deficit in team history (35-0) after Walker's performance through the first two quarters. The former XFLer posted just nine passing yards and a pair of interceptions before being benched. As a whole, the team's offense managed just 19 yards of offense, setting the stage for the switch.
Mayfield had returned to health last week, after suffering a high ankle sprain. His absence was limited to just two games – a shorter recovery time than expected – but interim head coach Steve Wilks made it clear that Walker would remain the starter for the time being. Especially given Mayfield's struggles during his five-game stretch as the No. 1, that led to serious doubt that he would see the field again as a Panther.
Amidst the uncertainty, however, the pending free agent revealed earlier this week that he is open to the possibility of re-signing in Carolina. In his return to a starting role this afternoon, Mayfield completed 14 of 20 passes for 155 yards and two touchdowns and a QBR of 126. While the circumstances related to the score certainly affected that statline, it will lead to further questions at the position moving forward.
Sam Darnold has yet to suit up this season, as he recovers from his own high ankle sprain. The team has until Wednesday of this week to activate him from IR, something Wilks has not entirely confirmed will take place. Doing so would leave the team with three quarterbacks as they try to evaluate their immediate pecking order and potential replacements in the offseason.
When speaking after the game, Wilks declined to name a starter for Carolina's next game (Twitter link via Joe Person of The Athletic). That contest will come on Thursday against the Falcons, so a decision on Darnold will have been made before it happens. The Panthers' QB plans will be interesting to watch throughout the week.
Follow @PFRumors